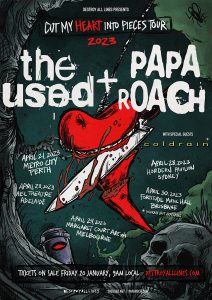 "We are more than excited to finally be back in Australia! Can't wait to see you all there! Are you ready for the best night of your life?!?!?" – Bert McCracken, The Used
Australian rockers strap yourself in as we have a mind blowing double headed monster treat for you! Influential rock icons THE USED and PAPA ROACH are thrilled to announce the Cut My Heart Into Pieces tour which will hit our shores this April with special guests COLDRAIN.
"We've been such huge fans of THE USED forever and we are thrilled to bring this tour down under – AUSTRALIA GET READY TO GET ROWDY!"- Jacoby Shaddix, Papa Roach
For over 20 years, THE USED have released a collection of albums that have shaped the space of the alternative rock scene. Painful and perverse, intimate and obnoxious, aggressively heavy and irresistibly catchy, confusingly profound and primitively pedestrian – THE USED transform songs into anthems.
Their impressive catalogue has seen them rack up over 165 million views on YouTube, ten Billboard Hot 100 singles and four Top 10 Debuts on the Billboard 200. They reunited with long-time producer John Feldmann (Panic! At The Disco, blink-182) on their eighth studio album, Heartwork which includes guest appearances by Jason Aalon Butler (Fever 333), Mark Hoppus (blink-182), Travis Barker (blink-182) and Caleb Shomo (Beartooth).
Known for their high energy live shows, gut wrenching relatable lyrics, and melodies that blended pop sensibility and hard rock creating the perfect combination to make an everlasting impression on fans globally.
PAPA ROACH, the Californian quartet have spent more than 20 years creating one of the most diverse and fearless discographies in music with global success.
The two-time GRAMMY-nominated, platinum-selling leaders in alternative hard rock music has accomplished an extraordinary volume of accolades in their career with 11 #1 and 22 Top-5 hits and over a billion youtube views. In 2020 they celebrated the 20th Anniversary of their iconic album, INFEST.
Their eleventh studio album EGO TRIP is the band's boldest and most brilliant release to date. "Papa Roach are not only still with us, but they're an infinitely more challenging, diverse and simply better band than the one that recorded breakthrough album Infest. New offering Ego Trip rips up any semblance of a rule book, rapping it up and rocking it out with the fervour of any of music's bright young things." declared Kerrang!. The album connects with fans and audiences as it weaves and turns through anthemic hits, themes of forgiveness, emo moments and plenty of nostalgia for the trip of a lifetime.
Japanese rock band COLDRAIN are known for their unique blend of divine melodies and the emotional sound of twin guitars and English vocals. Fronted by Masato who is Japanese and American.
Their single Mayday feat. Ryo from Crystal Lake was featured in the TV anime show Fire Force and is the band's biggest single to date. Over the past decade COLDRAIN has performed at festivals around the world, including Rock Am Ring (Germany), Rock Im (Germany), Download Festival (UK) and Vans Warped Tour (US) to name a few.
In 2020, COLDRAIN curated Blare Fest 2020 in their hometown of Nagoya, which drew in 40,000 people across two days and ended their 2022 tour at Yokohama Arena to 12,000 fans.
Line ups like this don't come around often so grab your ticket and catch THE USED, PAPA ROACH and COLDRAIN live in action when they bring their powerful, explosive and high energy at a show near you.
Early bird pre-sale tickets on sale: Wednesday 18 January @ 9am until Friday 20 January @ 8am local time
To Gain Early Ticket Access Register Here
General tickets on sale Friday 20 January @ 9am local time
Tickets from destroyalllines.com.au
Destroy All Lines Presents
THE USED + PAPA ROACH
CUT MY HEART INTO PIECES TOUR 2023
WITH SPECIAL GUESTS COLDRAIN
TOUR DATES:
FRIDAY 21 APRIL – METRO CITY, PERTH
SUNDAY 23 APRIL – AEC THEATRE, ADELAIDE
MONDAY 24 APRIL – MARGARET COURT ARENA, MELBOURNE
FRIDAY 28 APRIL – HORDERN PAVILION, SYDNEY
SUNDAY 30 APRIL – FORTITUDE MUSIC HALL, BRISBANE*
*Coldrain not appearing
General tickets on sale Friday 20 January @ 9am local time
Tickets from destroyalllines.com.au
FOLLOW THE USED:
WEBSITE | FACEBOOK | INSTAGRAM | TWITTER | TIKTOK
FOLLOW PAPA ROACH:
WEBSITE | FACEBOOK | INSTAGRAM | TWITTER | TIKTOK
FOLLOW COLDRAIN:
WEBSITE | FACEBOOK | INSTAGRAM | TWITTER | TIKTOK