OK so normally I write my reviews at the gig, take in everything that happened as you know but for this one I needed the day, I needed to watch and enjoy and live it and I'm so glad I did because what a day it was…
Silverback Touring, who put this on need to be commended as this was something new, something different and when I looked around at the crowd during the day there was not one person not having a good time. This was perfectly timed, perfectly lined up, and a day I won't forget for a while.
The bands as I just mentioned ran to precision, start times bang on, (aside from the headliner but I'll allow it) and every single set sounded great, looked great, and I think you can tell I enjoyed it. Let's get into some of the nitty gritty…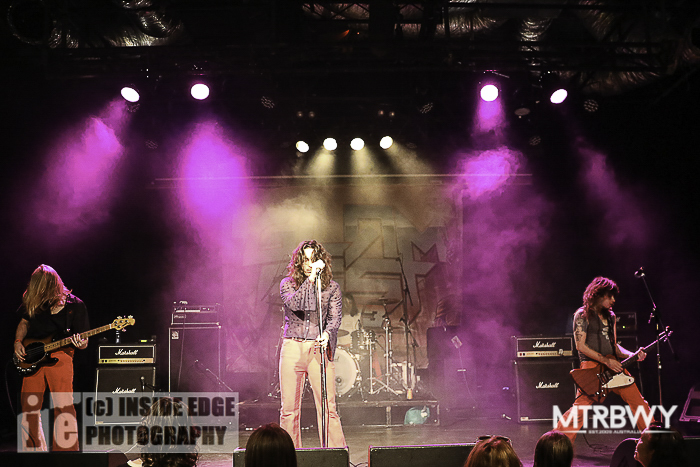 Star Crazy opened the day as people were still heading in but they set the scene for the day, a hard sell to open a day like this but kudos to them for smashing it!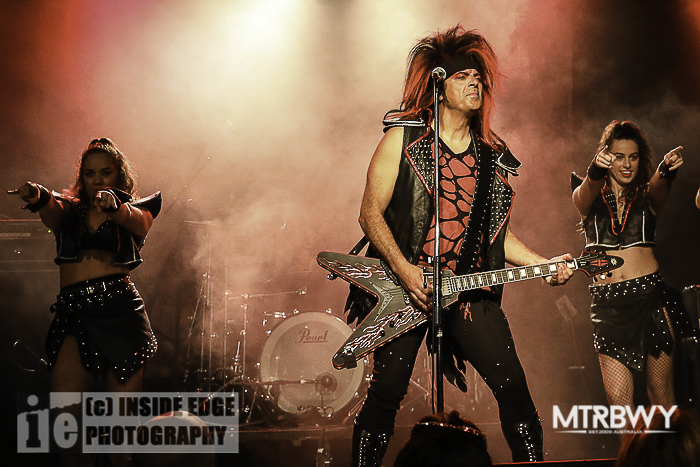 Crosson were up next and the theatrics and over the top, well all of it just worked. Dancers Liv and Liberty making the stage their own, yes Crosson have dancers. It was great to see that people were in and digging the day this early on too, could've been easy for people to come just for the internationals but they were out in support of the day.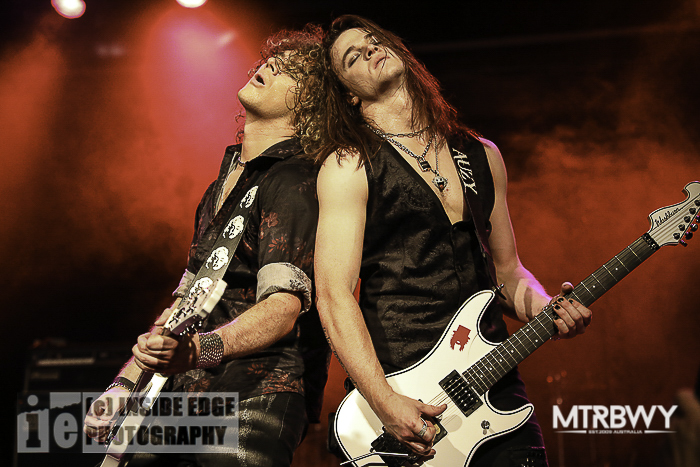 Sisters Doll were up and I have to tell you this is a band that you need to catch live, energy, great songs, and ever better guys. They know how to work a stage and they have it down! At this point the place is getting fuller as the next band on are our first international, and it's all the way from Los Angeles, California… TUFF.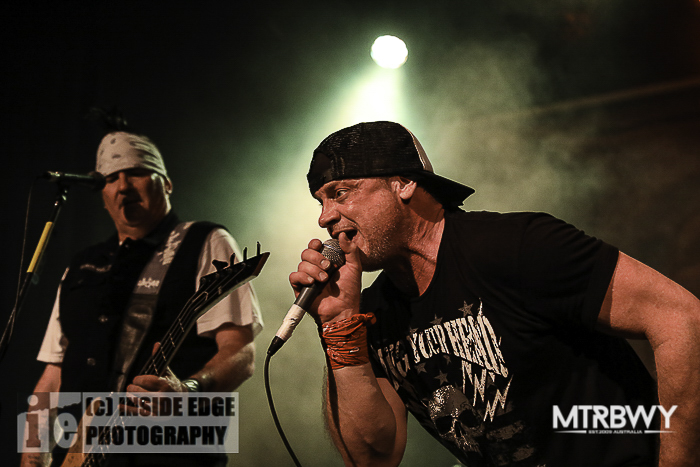 Bang on 4:50 and Stevie Rachelle and TUFF take to the stage and it is on from the first second as they power through songs from their monster debut 'What Comes Around Goes Around' including the massive ballad (yeah you know I love those) 'I Hate Kissing You Goodbye' which everyone was yelling the chorus back to the stage, and the massive 'Good Guys Wear Black' another fist pumping anthem from that era. Hearing these songs live for the first time is a treat, and hence why I wanted to enjoy the day and just watch. Billy Morris on guitar in TUFF is a treat to watch, the man who played with Jani Lane in Warrant on an album is on stage in Australia and that is something damn cool. Their set is rounded out with a 1, 2 punch of 'The All New Generation' which is followed by the one I was most excited to hear 'American Hair Band' and it was what I wanted, it was so damn good. Well done for a killer set, TUFF, that was badass!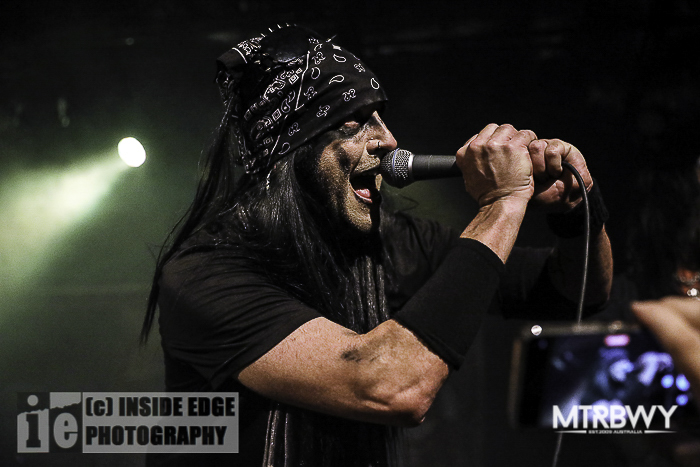 Pretty Boy Floyd are next and this is glam / sleaze at its best. The band sound great, Steve Summers is his own entity, what a great guy and they are up there smashing it. As these are shorter sets today the bands power through exactly what they know people want to hear, so it's hit after hit, 'Leather Boys with Electric Toyz', 'Rock and Roll (Is Gonna Set The Night On Fire)', the ballad 'I Wanna Be With You', and even their kick ass cover of Motley Crue's 'Toast Of The Town'. These Rock and Roll Outlaws delivered tonight. I saw Pretty Boy Floyd geez, maybe thirteen or fourteen years ago when they were here last and tonight they sounded better than ever.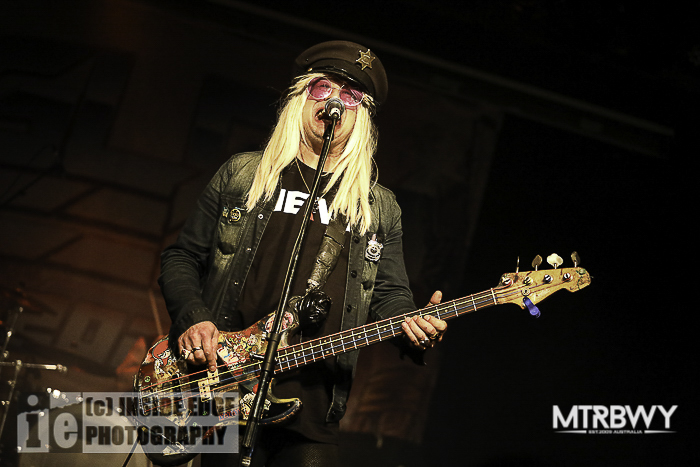 Enuff Z'Nuff, man I love Chip, he is the best. As he is now out front on vocals I was keen to see how this goes, and as they opened with 'Magical Mystery Tour' I was in. A few covers in the set such as the opener as well as 'Eleanor Rigby' and 'Jet' were awesome inclusions and with their spin on them sounded great in the room. It was the closers though that were the ones that people really came to hear, when you hit it with 'Fly High Michelle' and 'New Thing' you know it's gonna be great and it sure was. Trippy, magical, and groovy!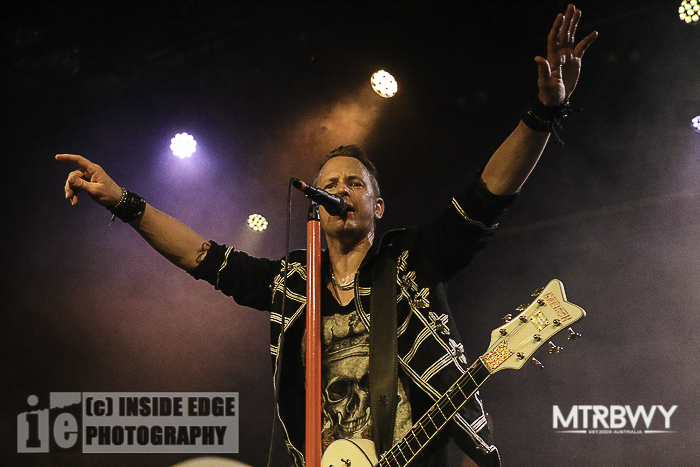 Now it was time for the band I was most excited for today, all the way from Sweden, Eclipse. The surprise band on the bill for me but oh my god, I haven't been down at the front of a stage for years but I had to get in there for this one and I'm so glad I did. This was a set for the ages, a band I've loved for a long time finally in Sydney and wow. Opening with 'Roses On Your Grave' from their brilliant newest album 'Wired' this set the scene and what a scene. There was no mucking around tonight for the band, song after song delivering that melodic rock brilliance they are so good at, 'Saturday Night (Hallelujah)' was perfect as well it was Saturday night, 'Run For Cover' followed by the requested by me 'Bleed and Scream' (thanks guys) which absolutely destroyed! This is a flawless band live, and you can tell they truly love what they are doing, 'The Downfall of Eden', 'The Masquerade', 'Twilight' and the closer and anthemic 'Viva La Victoria' had everyone singing it back and in that 45 minutes I just saw I'd say probably close to the best set I'll see all year, and yes, it's only January. Eclipse are a band that everyone was talking about after their set and deservedly so. That is how it's done. Come back soon! Hallelujah for the weekend!!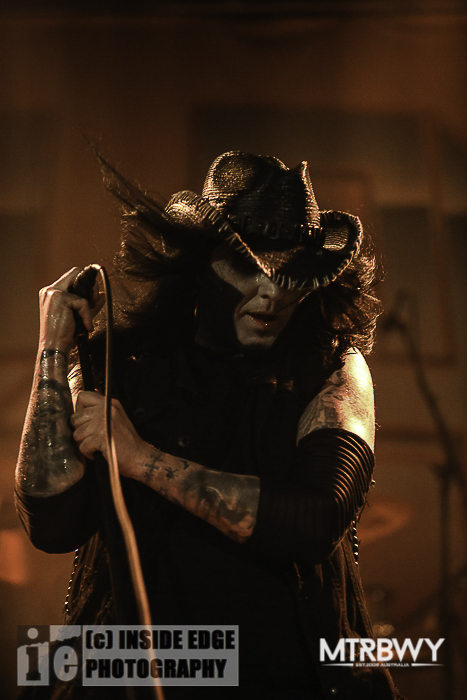 Another band that truly are consummate professionals are Wednesday 13, a veteran of touring Australia, it's always a pleasure to see them on stage here. As they were the penultimate band on today they got to play a longer set and what a set it was. Opening with 'Blood Sucker' it was great to see that a lot of people were here for these guys and awesome to think they could be introduced to some new bands today and that is what Glam Fest is all about, the varied bands, and introductions for many. Amazing. Wednesday 13 power through 'Scream Baby Scream', 'My Home Sweet Homicide', 'Get Your Grave On', but it's when they get to 'Good Day To Be a Bad Guy' that I'm stoked, this catchy rocker is one I was hoping would make it into the set and it did, and everyone loved it. The band continue with their killer horror rock songs and it's just so damn catchy, all of it, and as they close with 'I Walked With a Zombie' there was no other way to do it. If you missed Wednesday 13, or haven't seen them before, they are a must. Polished, creepy, and just fuckin' awesome.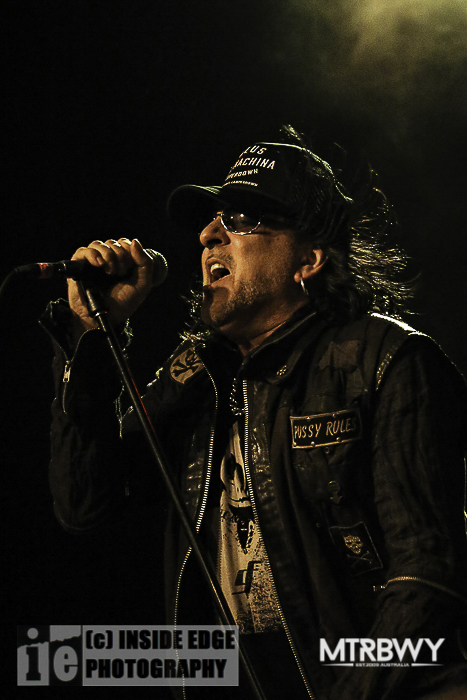 It's time for the headliner, Faster Pussycat who are back in Australia with their newest guitarist, Australia's own Ronnie Simmons in tow. I have to say, they are on fire, they sound great, in fact let's just pay kudos to the sound guys tonight, every band has sounded amazing tonight and a huge pat on the back for that. P-p-p-p Pussycat open with 'Where There's a Whip There's a Way' straight into 'Cathouse' and 'Slip of The Tonight' and Taime is up there killing it and in my opinion sounding better than ever. They smash through their set and then a curveball, a cover of the Australian classic 'Don't Change' by INXS, unexpected I have to say I didn't hate it. Normally I'd be like "whoa not that one!!" but they did it and it worked in this setting, so well done. As they are coming to the end of the set you know what's coming and 'Like a Ghost' is up before their massive ballad 'House of Pain' and tonight it sounded better than I've ever heard it, and you could see everyone just enjoying the hell out of it. What a song!! Then as Chad steps away from the drums to let local legend Jagger Alexander take the kit, Chad takes front stage and they are joined by Chip Z'Nuff for 'Bathroom Wall' and it's as awesome as you'd expect. Closing with 'Babylon' and they nailed it. What a great set from these guys.
WHAT A DAY!! To Silverback, thanks for having the balls to put this on, and the buzz from everyone who can't wait for Glam Fest 2 was amazing, this is how you do a little festival, this was a perfect line-up, and it couldn't have been run smoother. To all the bands that played, thank you for a day we all need (I know I really did), and for those that weren't there you missed out, just make sure you don't miss the next one.
Glam Fest. One for the books, and for it to be the first one and be this good, I couldn't be happier if I was twins.
Essential Information
Venue: The Factory Theatre – Sydney
Date: January 28, 2023
Presented by: Silverback Touring
Photos By: Peter Coates – Inside Edge Photography – Check out the full gallery here