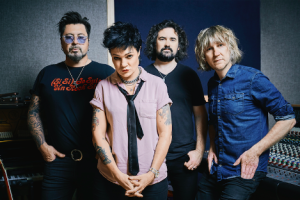 Following their recent tour announcement, Sarah McLeod and Stuart Rudd of The Superjesus have today confirmed a new band line-up, welcoming Murray Sheridan and Cam Blokland to the fold.  They have also announced the release next month of their new single, 'Money (We're Only In It For Love)', with further details to follow.
As treasured fans of the band know, the nucleus of the four-piece has always been the incredible musical partnership of Rudd and McLeod.  They have weathered all the storms and celebrated triumphant moments together for almost 30 years, and the accolades that are shared by the various incarnations and members of the band, will always be celebrated.  The Superjesus have been extremely blessed to have had some of Australia's finest musicians as part of their history and family.
McLeod explains, "We have had many line-up changes over the years in our quest to find the right "fit". We've had it before and when you know … you know. Ruddy and I have been searching for that feeling ever since. We've continued to tour over the years but haven't released any new albums because we knew the band wasn't ready.  
"After Covid we dug deep and reassessed where we were and where we wanted to go with brutal honesty. We had to make some changes in order to move on and we are grateful to Travis and Jason for their contribution to the band. Making an album is an emotional journey and it has been 20 years since our last one. We wanted to make sure that if we took this giant leap, it was with the right dynamic. 
 "We've been very lucky in finding Cam Blokland and Murray Sheridan. We knew the minute we started working together that there was magic in the room."
Rudd concurs, "Some incredibly difficult decisions were made. After our years of experience, we knew it was time to change the chemistry in the band, and we took a year or more to find the right replacements. Fortunately we found some amazingly talented souls in Murray Sheridan and Cam Blokland."
Cam and Murray were part of the band when it came time to record new single, 'Money (We're Only In It For Love)'. Rudd said, "The recording process was incredibly organic. We went to Studio 85 in the Blue Mountains, NSW, which also happens to be Murray's studio." 
On recording with McLeod, he continues, "Having been together in the same band for over 20 years, the DNA wasn't hard to find and tapping into new creative veins would soon yield our first new single and now we're looking at our first new album in 20 years."
Hailing from Adelaide, it has been quite a ride for The Superjesus since bursting on to the scene in the mid-90's. 
Three ARIA Award wins from 8 nominations, 2 Top 10 albums, 9 Top 50 hits and an induction into the South Australian Music Hall of Fame later, there are many more chapters to be written in the band's story.  They have released 3 Platinum selling albums, Sumo, Jet Age and Rock Music, and have had five songs in Triple J's Hottest 100.   
The Superjesus remains a staple on the playlists of Australian rock radio with hit singles Gravity, Secret Agent Man, Enough To Know, Shut My Eyes, Down Again, Now And Then and many more. 
Let the new dawn begin!  The best is yet to come. 
THE SUPERJESUS 'MONEY' TOUR 2023
with special guests DALLAS CRANE
Tickets available now via thesuperjesus.com
Jan 27 – The Lansdowne, Sydney NSW – TICKETS
Jan 28 – The Lansdowne, Sydney NSW – TICKETS
Feb 9 – The Triffid, Brisbane QLD – TICKETS 
Feb 10 – Eleven Bar, Maroochydore QLD –  TICKETS 
Feb 11 – Miami Marketta, Gold Coast QLD – TICKETS 
Feb 17 – The Gov, Adelaide SA – TICKETS 
Mar 3 – The Corner, Richmond VIC – TICKETS
Connect with The Superjesus
WEBSITE   |   INSTAGRAM  |  FACEBOOK   |   TWITTER