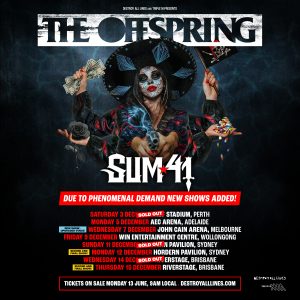 A big sold out crowd on a Sunday night in Sydney, well done! This is going to be a fun night with an awesome pairing of two great bands, The Offspring and Sum 41. A tour a long time coming and tonight it's finally here.
The lights go down and as 'TNT' by AC/DC blares through the speakers the crowd are chanting the obligatory 'Oi's' in this song and they are ready for Sum 41. "Ladies and gentlemen let's get this place fucking moving tonight!" Don't think we'll have any issues with that, Deryck. Fire and lights start off 'Motivation' and what a way to kick things off. This is heavy and this band are on fire. 'The Hell Song' and it's only song two and the people at the front are going crazy. Even though it's been since 2015, it's great to see Dave Brownsound back in the band as his solos along with Tom's are killing it. 'Over My Head (Better Off Dead)' is just another in the string of catchy songs this band is so good at. 'We're All to Blame' is heavy before it hits that beautiful slower arm waving moment and man this is awesome, and watching the circle pit is always a good time. 'Underclass Hero' starts as balloons fly across the crowd and the crowd splits vocals, damn this band is tight and are killing it.
Deryck straps on a guitar and a sea of phones light the place up as they wave side to side for 'Walking Disaster' and the first time the set has slowed down and I'm sure the band need it as they have gone full speed from the get go. Then heading way back to 'All Killer No Filler' and as you can imagine the place goes nuts for 'In Too Deep' and as they should. That's still a banger!! Then to their very first single they smash out some more pop punk goodness with 'Makes No Difference' was brilliant and now it's their power ballad time with 'Pieces' and with the promise of no more slow songs they start 'We Will Rock You' but a kick ass pop punk version that allowed Tom and Dave to shred which was awesome.
'Fat Lip' of course is up as we get to the end of the set and hearing this one live is so much fun. What a tune that is! And with 'Still Waiting' next it's the perfect way to close this energetic, fun set. Oh man I could've watched another hour of that, they were on fire tonight, an awesome set from a killer live band to start the night. Perfect.
In between sets this is entertaining! There's a blimp dropping guitar picks, a gorilla sling-shotting T-shirts into the crowd, kiss cam, mustache cam, booty cam and more. The countdown on the screen lets us know when the band will hit the stage and we're ready. Even the breaks are hilarious!
Holy shit. Unexpected opener! The Offspring have just hit us with 'Come Out And Play' to start and we're loving it. That was a great start and that song is just still so damn cool. They are going to waste no time tonight as with a "yeah yeah yeah yeah yeah" it's time for 'All I Want' and it's short and sweet. A killer slow intro to 'Want You Bad' doesn't last long as it tears into it. What a way to 1,2,3 the set! Dexter and Noodles chat to the crowd, before a new one, 'Let The Bad Times Roll' blending straight into the speedy punk rocker 'Staring at the Sun' then 'Genocide' but it's when that familiar guitar riff hits for 'Original Prankster' the crowd is loving it "you can do it!" what a song. That was fun.
Oh man these are the brightest lights I've ever seen coming from a stage wow this is tough to see what I'm doing right now ha ha. 'Hammerhead' rips it up and Todd starts the bass riff to the fast punk rocker 'Bad Habit' and wow I can actually see the band now! A fun bit of banter between Dexter and Noodles throws back into the song and they smash out the rest of it. Noodles and the band fool around and throw us some big riffs and it's time for 'Noodles plays with himself' as he's up there rockin' to a video of himself and trading licks of the likes of 'Sweet Child O' Mine', 'Back In Black', 'The Trooper', 'Thunderstruck', and more. Weird but so good and wouldn't expect anything less. The band return to the stage and with a "Hey Ho Let's Go" it's 'Blitzkrieg Bop' time. Back to their originals and 'Gotta Get Away' sounds awesome what a tune that is!
A grand piano has been wheeled out as Dexter sends us a thank you for coming out. He's going to do 'Gone Away' and the place is once again lit up by phones. What a version! That took on such a different meaning played that way, wow. 'Why Don't You Get A Job?' is classic Offspring as beach balls fly all over the floor, that was fun. I think we're getting close to the end now as some heavy hitters are out. 'Spare Me The Details' being one of them. Followed by '(Can't Get My) Head Around You'.
It's time for 'Pretty Fly For A White Guy' and the place goes nuts. There's whacky waving inflatable arm flailing tube men on stage and I'm into it! Man that's a fun song!! 'The Kids Aren't Alright' is up as they smash it out and say goodnight. Only to return for 'hit 'You're Gonna Go Far, Kid' and dance fucker dance indeed. Band introductions were amazing and hilarious as you'd expect nothing less from this band, and we should congratulate the 5,231,706 people that came out tonight (according to Noodles.) Closing the set with 'Self Esteem' and there's no way it couldn't have been this one, and that was the perfect way to go out.
The band get their dues and a fun night was had by all, this pairing was perfect tonight and they both delivered some kick ass pop punk rock and roll goodness. This was the best way to spend a Sunday night with over 5,000,000 other people. Gotta love The Offspring!
Essential Information
Venue: The Hordern Pavilion – Sydney
Date: December 11, 2022
Websites: http://www.offspring.com and http://www.sum41.com
Presented by: Destroy All Lines
Set Lists:
The Offspring:
Come Out and Play
All I Want
Want You Bad
Let the Bad Times Roll
Staring at the Sun
Genocide
Original Prankster
Hammerhead
Bad Habit
Blitzkrieg Bop (Ramones cover)
Gotta Get Away
Gone Away (Dexter on Piano)
Why Don't You Get a Job?
Spare Me the Details
(Can't Get My) Head Around You
Pretty Fly (for a White Guy)
The Kids Aren't Alright
You're Gonna Go Far, Kid
Self Esteem
Sum 41:
Motivation
The Hell Song
Over My Head (Better Off Dead)
We're All to Blame
Underclass Hero
Walking Disaster
In Too Deep
Makes No Difference
Pieces
We Will Rock You (Queen cover)
Fat Lip
Still Waiting