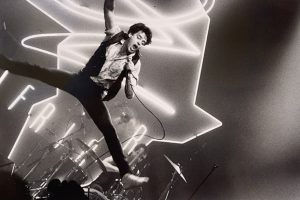 Maslow Entertainment has revealed the trailer for THE ANGELS: KICKIN' DOWN THE DOOR, an intimate and compelling music documentary feature about iconic Australian rock 'n' roll band The Angels, exploring the tensions that tore a band apart and helped them produce such classic hits as Take a Long Line, Am I Ever Gonna See Your Face Again and No Secrets.
Set to arrive in Australian cinemas nationally on 1 DECEMBER, 2022, the film will be released theatrically in Australia by Maslow Entertainment and distributed by Universal Pictures Content Group.
An untold story of one of the greatest legacies in Australian rock 'n' roll history, The Angels exploded onto the local music scene with the searing guitars of the Brewster brothers and the incomparable showmanship of front-man Doc Neeson. Their chemistry saw them become one of the biggest bands in Australia and on the verge of international success. But their lust for fame fractured bonds and dreams, and when the leader of the band was asked to leave by his own brother, the hurt estranged them for years.
'THE ANGELS: KICKIN' DOWN THE DOOR' WILL BE AVAILABLE IN AUSTRALIAN CINEMAS NATIONALLY ON 1 DECEMBER 2022
DIRECTED BY MADELEINE PARRY (Hannah Gadsby: Douglas, Hannah Gadsby: Nanette)
PRODUCED BY PETER HANLON (Holsted)
MARTIN FABINYI (Chopper, Wolf Creek)
RICK DAVIES (The Caravan)