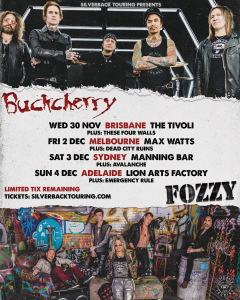 Who's ready for a night of rock and roll? Me, that's the answer, I am… oh and a whole lot of other people that are filling The Manning Bar tonight. See tonight we have an amazing double bill of Buckcherry and Fozzy, the first time their back on the same stage in Australia since 2013. This is going to be fun!
Avalanche open tonight's festivities and they loud and rockin'. There is zero bullshit here, they know who they are and they do it well. Some early crowd interaction and a visit on the floor from their guitarist got the crowd going. I look forward to seeing Avalanche again, they kicked ass.
Fozzy coming on to Don't Stop Believin' and with the crowd singing along this early it's gonna be a great show, and this is what we want. Opening with 'Sane' and it's on. The band are jumping around the stage and this is only song one. What a way to start. The Fozzy chant starts and as the drums pound to open 'One Crazed Anarchist' and this is heavy! The Aussie Fozzy chant is always a favourite and with an "are you ready" 'Nowhere To Run' is up from the new album 'Boombox' and it sounds great. The lights go out (actual not the song yet) as they come back on to air raid sirens and Chris Jericho with a smoke gun before 'Do You Wanna Start A War' starts and is huge. Then 'Lights Go Out' the song this time is catchy as all get up. With some crowd participation this one stands out. Their cover of 'Relax' is big, loud, and heavy, and I love it. That was fun! If you haven't heard that yet, I highly recommend checking that out.
On their sixth tour of Australia and again with the Aussie Fozzy chant. This is followed up with a motivational speech from Chris they lead into the big power ballad from the new album 'I Still Burn' which sounds massive in here tonight. With a shredding solo from Billy they play this big one out. The Duke counts 'Spider In My Mouth' in and it keeps the rock up to its 10 level. 'Martyr No More' does the same. If there's one thing this band is good at it's revving the crowd up I can tell you that. 'Purifier' is heavier than the others, how that's possible is beyond me but it's huge with a big bass line from the legendary PJ Farley and big solo from The Duke. 'The Vulture Club' is awesome before a big thank you to the crowd and leading into the old school 'Enemy' which has always ruled. The Duke is slaying the solo at the moment. Man he's good. Then the trade off to Billy is crazy good. Duelling solos for the win!
Judging by the number of AEW shirts here tonight I think they're ready for this next one. 'Judas' it is of course, and this one is yelled back to the stage by the crowd and they have this one down. Definitely the fan favourite of the night. Closing the set with a cover of AC/DC's 'Dirty Deeds' they nail the vibe and deliver an awesome closer. Fozzy are 100% pure entertainment and they deliver a show, and tonight they did just that. Fozzy Fozzy Fozzy Oi Oi Oi!!
It's time for Buckcherry, and tonight opening with '54321' they are on fire and speaking of fire up next is 'So Hott' and as the tambourine comes out it's time to go 'Ridin' and this is rock and roll… in fact this band is straight up rock and roll and it's perfect. The crowd is jumping and they are loving it. They stay way back in 1999 and 'For The Movies' which is a killer big rock ballad and this early in the set it outstanding. They go one better with 'Lit Up' and if the place wasn't into it before they sure as hell are now! Damn this is a good song. I have to say that this is the best I've heard them sound in ages, this is great. They absolutely smashed it!! To the new album and the title track 'Hellbound' and that fits in really nice in the set.
'Somebody Fucked With Me' is an angst ridden track full of fucks and middle fingers and I love everything about it. Now one of my favourite tracks of theirs as 'Everything' makes its presence known. This was awesome and that key change holy shit! The '15' album is so good so I'm glad this made the set tonight. 'Too Drunk To Fuck' is slinky and sleazy and I love. They then slow everything way down for 'Sorry' and that was so damn good, and as rockin' as Buckcherry are, they sure know how to ballad. Things speed back up for 'Gluttony' and they're still firing on all cylinders and this is by far the best I've seen them. 'Barricade' just keeps things going and I couldn't be happier at this point.
It's time for the big one, yeah it's 'Crazy Bitch' with little bits of 'Jungle Boogie' and 'Bad Girl' thrown in for good measure. Band introductions with some classy slidin' and then 'Proud Mary' gets some love before taking it back to round out the song. Including my favourite bit we all get to yell back at the stage. They made that one an epic tonight but was so worth it, as it's most definitely one of the standouts, if not the stand out of their set tonight. They leave the stage only to return for one more. The one being 'Say Fuck it' and the only fuck it I'm saying tonight is fuck it I'm sad that's over.
Tonight was a rock and roll show, all bands, just delivered what I feel people need at the moment, that was a show, that was entertaining, that was a perfect pairing. Fozzy and Buckcherry, let's do this again soon because tonight kicked a whole lot of ass, and everything else in kicking range!
Essential Information
Venue: The Manning Bar – Sydney
Date: December 3, 2022
Presented by: Silverback Touring
Website: http://www.buckcherry.com – http://www.fozzyrock.com
Set Lists:
Buckcherry:
54321
So Hott
Ridin'
For The Movies
Lit Up
Hellbound
Somebody Fucked With Me
Everything
Too Drunk…
Sorry
Gluttony
Barricade
Crazy Bitch
Say Fuck It
Fozzy:
Sane
One Crazed Anarchist
Nowhere To Run
Do You Wanna Start A War
Lights Go Out
Relax
I Still Burn
Spider In My Mouth
Martyr No More
Purifier
The Vulture Club
Enemy
Judas
Dirty Deeds