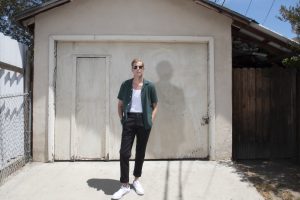 Iconic indie-pop singer-songwriter, Andrew McMahon will be in Australia this February for a 3 date east coast solo tour.
Andrew McMahon has been at the forefront of the indie-pop scene for over two decades. As the former frontman for influential alt-pop rockers, Something Corporate, Andrew McMahon's unmistakable vocals, songwriting skills, and incorporation of the piano earned the band a place as legends of the genre. After leading Something Corporate to major chart success in the early 2000s, Andrew McMahon soon resurfaced with the more personal solo project Jack's Mannequin, then moved on to release numerous hook-packed albums under his own name using the moniker Andrew McMahon In The Wilderness.
In 2006, following his own battle with Acute Lymphocytic Leukemia (ALL), Andrew launched the Dear Jack Foundation, which provides programming to benefit adolescents and young adults diagnosed with cancer.
Through it all, the SoCal-based singer and musical collaborator has created a stunning catalogue of introspective, impossibly catchy piano pop.
His new songs, 'VHS" and "Stars," is just the latest example of his immeasurable staying power.
Listen to them on Spotify here
Do not miss your chance to see Andrew McMahon In The Wilderness Solo. Tickets are limited and will sell fast!
TOUR DATES
Wednesday, February 8: Triffid, Brisbane
Thursday, February 9: 170 Russell, Melbourne 
Friday, February 10: Factory Theatre, Sydney 
Early Bird Pre-sales: Thursday, December 8 @ 9.00am local
General On Sale: Friday, December 9 @ 9.00am local
Sign up here
https://bit.ly/AMITW-AU
Presented by
destroyalllines.com
Follow Andrew McMahon
Web | Facebook | Instagram | Twitter