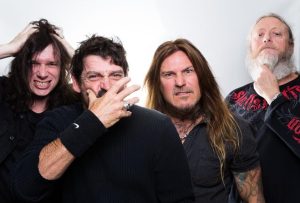 Acclaimed Aussie rockers The Poor have unveiled the clip for their new single Let Me Go and confirmed their forthcoming album High Price Deed is now available for pre-order. 
The album is scheduled for release on February 3, 2023 via Reckless Records. AVAILABLE FOR PRE-ORDER NOW
Let Me Go is the follow-up single to Cry Out and Payback's A Bitch.  
Following their UK/Europe tour with Rose Tattoo earlier this year, the band also recently announced a string of tour dates in support of High Price Deed across Europe in February and March 2023 and they have added two additional dates in Spain and Germany: 
February 24    Vitoria-Spain @ Urban Rock Concept
February 25    Aviles-Spain @ Centro Niemeyer
February 26   Cangas-Spain @ Salason
March 1           A Coru?a-Spain @ Sala Mardi Gras
March 2           Madrid-Spain @ Rockville
March 3           Castellon-Spain @ Sala Because
March 4           Barcelona-Spain @ Sala Textil
March 6           Marseille-France @ Cherrydon
March 7           Chambery-France @ Brin De Zinc
March 9           Verviers-Belgium @ Spirit Of 66
March 10         Asendorf-Germany @ Break Out
March 11         Krefeld-Germany @ Kulturrampe
March 12         Uden-Holland @ The Pul
March 17         Kufstein-Germany @ Kufa
March 18         Ensisheim-France @ Woodstock Guitare
March 19         Prague-Czech Republic @ Vagon Club
March 21        Burglengenfeld-Germany @ Rockstürbl
March 22         Bremen-Germany @ Meisenfrei
March 24         Dortmund-Germany @ Blue Notez
March 25         Lauchhammer @ Real Music Club
The band's three latest singles, Let Me Go, Payback's A Bitch and Cry Out are The Poor's first new music in 12 years and their back catalogue is now available on digital platforms. Time has not wearied this band. Still delivering their unabashed four-on-the-floor rock, these songs herald a new era for The Poor, headed up by lead guitarist Daniels Cox's premiere songwriting collaboration with the band.  
The Poor started out playing the pub circuit in Darwin nearly 3 decades ago. The plan was simple – hard rockin' hard drinkin' and world domination. In 1992 the band cut their debut release, the EP Rude, Crude & Tattooed, produced by Rick Brewster and Bob Spencer from The Angels and from the opening line you knew it was going to be something great; Aussie pub rock, in your face, no bullshit, straight to the point, rock'n'f%&k'n'roll!
In mid 1993, the band recorded their debut album, Who Cares which spawned their most notable single, "More Wine Waiter Please". An unrelenting couple of decades followed where they toured relentlessly, drank hard and rocked harder touring Australia, Europe and Japan, sharing stages with the likes of Suicidal Tendencies, The Scorpions, Alice In Chains and Van Halen. In 2000 the band went into hibernation until an invitation to tour with WASP was too good to refuse. It didn't take long for them to get back into the rock'n'roll groove they cut so deeply in previous years. Round 1and Round 2 albums followed in 2009 and 2010 respectively.
After 12 years of touring their supercharged 'NO BS Aussie Rock' show with local and International rock bands including AC/DC, The Screaming Jets, Rose Tattoo and the Angels, cut to the present day and The Poor are ready to release new music on their old and new fans. Original members Anthony (Skenie) Skene, Matt Whitby and (almost original drummer) Gavin Hansen are joined by relative newcomer and lead guitarist Daniel Cox.
 'Let Me Go' (Reckless Records) – download / stream HERE
Connect with The Poor