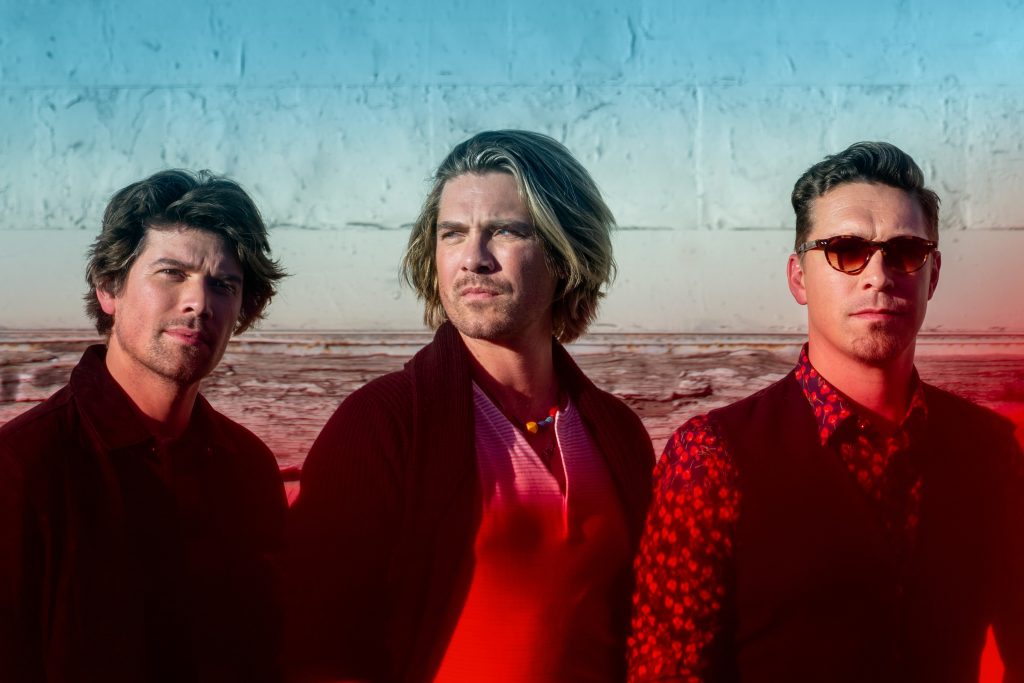 It's been only a few years since Hanson graced Australian shores on their String Theory tour, but after the last couple of years it feels like forever since we've seen them. So tonight it's a pleasure to be stepping back into The Enmore Theatre to see Hanson, a place they have played before, and a place they own when they do. So tonight at their Sydney RGB show, let's see how the night plays out.
John Calvin Abney is out support tonight and as he said "it's a long way from playing small bars in Austin Texas." The crowd lapped up his music, and him. This singer songwriter belted out his tracks on an acoustic and harmonica and set the stage for Hanson.
As Hanson take the stage to the usual screams that reach somewhere around 130db heard at a Hanson show they start off nice and funky with a perfect opener, 'I've Got Soul' and yes I know I've reviewed these guys every time they make it to Sydney but they just always sound good. This is a super tight band, and after the opening and with a "we have a lot of ground to cover" from Taylor they take us back to 'Where's The Love' and what's great about Hanson is as they mature these songs mature with them. This is a band that have perfected their craft and their catalogue to the point where they can play a song from twenty five years ago and it sounds better now than it did then. Without missing a beat Zac gets that beat going and Isaac straps on a Les Paul and takes lead vocals on 'A Minute Without You' and this is catchy as all get up. I love this one.
Into the awesomely mid tempo track 'Against The World' which has Taylor and Isaac trading lead vocals and oh hello you beautifully placed middle 8. That's how you do it!!! Yeah this is a ripper. Hitting some big notes they take it straight into 'Thinking of You' which caused a girl a few rows in front of me to jump up in excitement, and this is what live music is all about, that pure joy. Then as Taylor brings out the harmonica to the front of stage and start 'If Only' it gets the floor jumping. This will always be my favourite Hanson track and it's a pleasure to hear it. The crowd goes wild on command and as they play out the song I'm happy as is everyone here tonight including special mention to the lady behind me who insists on having her camera flash on as she videos. Hey at least it lets me practise my shadow animals on the person in front of me. Anyway. Public service announcement. Please turn your flash off if using your phone at a concert!!
Zac gets his go on lead vocals for 'Don't Let Me Down' and this suits the live show so much as it is rocked the hell up. Now for the first time they stop to take a breath and we slow down a little for 'Been There Before' and this just has a groove to it, I dig it. Lady behind me obviously not so much as there was no flash recording. A sing along is cute in this one and you can tell how much the band is loving it. As Isaac tells us this year they'll have played 101 shows in 21 countries, and now thirty years in as a band it is so awesome to see them still going strong and here's to many more. Taylor takes front of stage and throws an acoustic on for 'Child At Heart' from RGB and I love the live version of this as it just has a little more power to it. Then back to an oldie with 'Weird' and the slowest of the night so far, but a great addition to the set.
Oooh Isaac has an acoustic, and Zac heads to the front leaving just the brothers on stage. Zac takes lead as a sea of phones rise up to capture this and an amazing version of 'Go' and the biggest reaction of the night. That was truly something. Taylor and Isaac leave Zac on stage on the piano and from RGB he belts out 'Wake Up'. The guys return to the stage for a great acoustic version of 'Penny & Me' oh and the flash returns, and I've nailed a shadow rabbit FYI. This song lets them show their impeccable harmonies and they just simply own that three part.
Now it's Isaac's turn to go solo, and playing a request he plays 'For Your Love' and what a choice for the set and I tell you what, his voice is bloody awesome hearing it like this. The full band returns with 'Write You A Song' which is one of my favourites on the new album so it was great to hear it tonight. Time to go back with 'This Time Around' and of course they love this one, as do I. Some awesome dual guitar solos and a sing along build this one to massive heights and was almost encore worthy. It has always a big song and one I'm glad made it into the set tonight. We get funky up in here for 'Cold As Ice' and while Isaac belts out lead vocals, Taylor belts the congas. With band introductions we acknowledge Dimitrius on keys and guitar, and Andrew on bass and these guys are holding it down as they both have been for the best part of fifteen years. Ooh it's time for a Hanson brother drum break and once again without skipping a beat the band jump right back in and finish the song. 'Thinking 'Bout Somethin' is a quintessential Hanson track now in my opinion and always sounds great live and shows off their writing and musicianship once again. It's Taylor's turn to solo and as he perched on a stool front of stage with an acoustic and from RGB 'Rambling Heart' and this is a great version, I love it like this. As the band come back it's time for a big ballad with 'I Will Come To You' and that was great and I do love a good "na na na" in a song so I'm sold. 'I Was Born' I really like and as we start to near the end of the set I'm glad this made it.
Oh and this one had to make it. It's time for 'MMMbop' and everyone stands up and every phone comes out to capture the song that stole many hearts here twenty five years ago as they sing every word and loudly. It's truly awesome to be a part of. Oh wait I like this part "which flower's going to grow? ha ha best. I mentioned before the maturing of songs but this one has just stayed the same and even though the voices got deeper they still play it like it's 1997. Kudos to a band not afraid of what got them to where they are.
'Man from Milwaukee' keeps it rockin and 'Get The Girl Back' gets an appearance by a tambourine aka the Taylorine and this song truly feels like one that runs over the credits of a movie you've just enjoyed and actually watch the credits because you like the song and have to wait until the end where they tell you the name of the song. Surely I can't be the only one that does that, right? Oh and it was the last one ha ha. Yep credits.
And now for the after credits scene aka the encore. Our opener John Calvin Abney returns to play some harmonica for this one 'Dressed in Brown Eyes' for the Hanson.net people aka what I wish most bands would do and throw in a super cool fan cut. So kudos to Hanson for doing that in the encore.
With a farewell and a sea of people cheering the band leave the stage after a solid two hour set of amazingly catchy pop rock songs. Hanson truly are a band you should see live, once again leaving those preconceived notions of "Oh the MMMBop band?" yes, they are that, but a whole, whole lot more. Vocally, untouchable, musically, even better. This is a damn good band, and live they truly shine.
See you next tour, fellas.
Catch the remaining shows on the RGB tour here!
Saturday 12 November
Hindley Street Music Hall | Adelaide, SA
18+
moshtix.com.au | Ph: 1300 438 849
Monday 14 November
The Fortitude Music Hall | Brisbane, QLD
18+
ticketmaster.com.au | Ph: 136 100
Wednesday 16 November 
The Forum | Melbourne, VIC
18+
SOLD OUT
Thursday 17 November
The Forum | Melbourne, VIC
NEW SHOW
18+
ticketek.com.au | Ph: 132 849
Saturday 19 November
Powerstation | Auckland, NZ
18+
ticketmaster.co.nz | 0800 111 999
Essential Information
Venue: The Enmore Theatre, Sydney
Date: November 9, 2022
Presented by: Chugg Entertainment and Frontier Touring
Website: http://www.hanson.net
Set List:
I've Got Soul
Where's the Love
A Minute Without You
Against the World
Thinking of You
If Only
Don't Let Me Down
Been There Before
Child at Heart
Weird
Go
Wake Up
Penny & Me
For Your Love
Write You a Song
This Time Around
Cold As Ice
Thinking 'Bout Somethin'
Rambling Heart
I Will Come To You
I Was Born
MMMBop
Man from Milwaukee
Get The Girl Back
Dressed in Brown Eyes