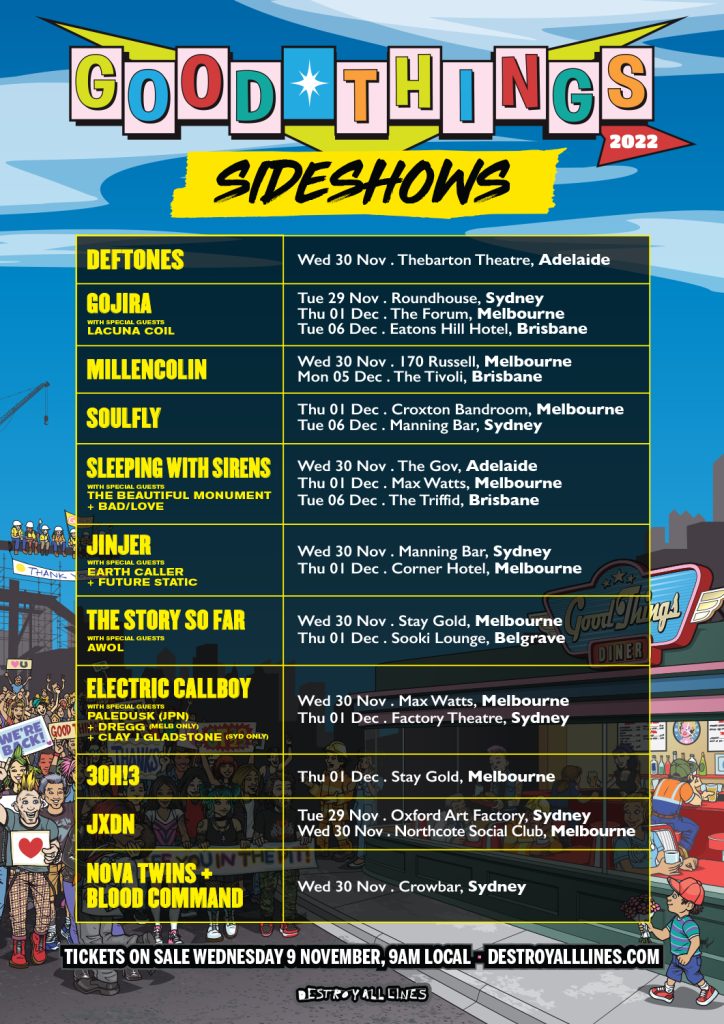 Australia's biggest alternative travelling music festival, aka Good Things Festival is almost upon us and it's the biggest one yet!
Good Things come to those who wait and Good Things Festival is thrilled to announce the headline sideshows from some of the artists on the huge festival line up. This is the first and only sideshow announcement and there will be no more sideshows announced. Set your alarm clocks as these tickets won't last.
Early bird pre-sale tickets on sale Tuesday 8 November @ 10am local time until Wednesday 9 November, 8am local time
Register here https://bit.ly/GT-Sideshow
General tickets are on sale Wednesday 9 November @ 9am local time
www.destroyalllines.com
Without further adieu, we present to you the Good Things Festival 2022 sideshows…
DEFTONES
WEDNESDAY 30 NOVEMBER –
THEBARTON THEATRE, ADELAIDE
The multi platinum GRAMMY® Award-winning Deftones are an influential alternative presence. The quintet's career spans three platinum albums with over 10 million records sold worldwide.
They landed their first #1 Aria chart debut with their 2016 release Gore and in 2018 they curated, launched, presented, and headlined their own festival, Dia De Los Deftones. Selling out both installments to date, the eclectic lineups hosted everyone from Future and CHVRCHES to Gojira and Megan Thee Stallion. In 2020, Deftones continued their trailblazing arc as an alternative leader with their ninth full-length album, Ohms which debuted at #3 on the Aria album chart and a thrilling full-album remix of White Pony.
GOJIRA
WITH SPECIAL GUESTS LACUNA COIL

TUESDAY 29 NOVEMBER – ROUNDHOUSE, SYDNEY
THURSDAY 1 DECEMBER – FORUM THEATRE, MELBOURNE
TUESDAY 6 DECEMBER – EATONS HILL HOTEL, BRISBANE
Grammy nominated French heavy metal quartet Gojira have risen from the utmost obscurity during the first half of their career to widespread global recognition in the second. Combining elements of thrash, death, math, groove, progressive, and post-metal with philosophical and environment-themed lyrics. They have made their mark as one of the paramount metal bands of this generation.Joining them as special guests are Italian alt metal superstars Lacuna Coil.
Lacuna Coil's spirited and lauded live performances have also earned them a solid reputation for a band that not only delivers night in/night out, but also a band whose stage performance reverberates long after the show is over. Lacuna Coil's heartfelt, heavy, melodic, and rhythmic metal—a hybrid of gothic, groove, and alternative—has created a rabid worldwide following.
MILLENCOLIN
WEDNESDAY 30 NOVEMBER – 170 RUSSELL, MELBOURNE
MONDAY 5 DECEMBER – THE TIVOLI, BRISBANE
The much loved favourite seminal Swedish skate-punk band Millencolin promise to deliver shows you won't forget. They'll be performing all of their hits from across their entire catalogue.
It's clear the band members are just as unified as they were when they formed Millencolin, roughly 30 years, nine albums and over 2,000 live shows ago. "We're a band truly formed from respect and understanding for each other and our passion for rock music," explains vocalist/bassist Nikola Sarcevic. "If you ask us, this is the best job in the world!"
SOULFLY
THURSDAY 1 DECEMBER – CROXTON BANDROOM, MELBOURNE
TUESDAY 6 DECEMBER – MANNING BAR, SYDNEY
At the dawn of the new millennium, Rolling Stone declared, "Soulfly seem built to last." More than two decades, countless  worldwide tours, and a dozen albums later, that prophecy rings true.
Underground icon, extreme metal trailblazer, third world warrior, and leader of a diverse and dedicated tribe, Max Cavalera not only survives but thrives, blasting out riff after killer riff.
Soulfly's savage anthems of aggression push extreme music to its bludgeoning limits while injecting it with brilliant moments of trippy nuance and dissonance. Like all innovative musical heroes, Max makes anthems for the people. Soulfly is a celebration of family and legacy. Whatever Max Cavalera hammers out on the bridges of his four-string guitars, it always sets souls free.
Their Australian shows will feature Fear Factory's Dino Cazares as a special guest.
SLEEPING WITH SIRENS
WITH SPECIAL GUESTS THE BEAUTIFUL MONUMENT & BAD/LOVE
WEDNESDAY 30 NOVEMBER – THE GOV, ADELAIDE
THURSDAY 1 DECEMBER – MAX WATTS, MELBOURNE
TUESDAY 6 DECEMBER – THE TRIFFID, BRISBANE
Since emerging in 2010, Sleeping With Sirens have tested the boundaries of rock by walking a tightrope between pop, punk, metal, hardcore, electronic, acoustic, and even a little R&B. This high-wire balancing act attracted a faithful fan base known as "Strays," generated global album sales in excess of 1.5 million, ignited over half-a-billion streams, and achieved a trio of gold-selling singles.
They've collaborated with MGK on Alone and Pierce the Veil on the gold-certified King For A Day. Beyond selling out shows worldwide and receiving acclaim from The New York Times, Alternative Press crowned them "Artist of the Year" at the Alternative Press Music Awards, proclaimed "Kick Me" the 2015 "Song of the Year", and featured them as cover stars a whopping seven times.
Joining Sleeping With Sirens as special guests are Melbourne's The Beautiful Monument and emotive rock group Bad/Love.
JINJER
WITH SPECIAL GUESTS EARTH CALLER & FUTURE STATIC
WEDNESDAY 30 NOVEMBER – MANNING BAR, SYDNEY
THURSDAY 1 DECEMBER – CORNER HOTEL, MELBOURNE
Through their relentless hard work, non-stop touring and critically acclaimed /chart-breaking releases gaining over 250M streams/views across all platforms globally – JINJER are truly one of modern metal's hottest and most exciting bands around today. The band has become synonymous with doing things their own way and breaking every rule in the Heavy Metal handbook- which they made loudly clear on their hugely successful fourth studio album: WALLFLOWERS.
In less than12 years, the four-piece Progressive Groove metal wrecking machine has carved their very own place in the Metal landscape. Hailing from Donetsk but now based in Kiev, this Ukrainian musical oddity formed in 2009 but consider the official start of the band with the addition of the incredible vocalist and Femme Fatale Tatiana Shmayluk in 2010.
They'll be supported by Melbourne's metalcore ground Earth Caller and Melbourne quintet Future Static who create an exhilarating synthesis of alternative, melodic, and progressive to shape a unique brand of emotional heavy music which is unlike any other.
THE STORY SO FAR
WITH SPECIAL GUESTS AWOL
WEDNESDAY 30 NOVEMBER – STAY GOLD, MELBOURNE
THURSDAY 1 DECEMBER – SOOKI LOUNGE, BELGRAVE
Californian rockers The Story So Far have been on an absolute tear since their 2018 opus Proper Dose, selling out countless headline tours and receiving praises from fans and critics across the globe.
They've recently performed at When We Were Young Festival, Four Chord Music Festival, Riot Fest, Furnace Fest and will be joining blink-182 on their UK and European headline tour in 2023.
Joining them at these intimate shows are special guests AWOL.
ELECTRIC CALLBOY
WITH SPECIAL GUESTS PALEDUSK & DREGG (MELB) &
CLAY J GLADSTONE (SYD)
WEDNESDAY 30 NOVEMBER – MAX WATTS, MELBOURNE
THURSDAY 1 DECEMBER – FACTORY THEATRE, SYDNEY
As diverse and as electrifying as their name, Electric Callboy weld modern trap with alt rock, pop punk and beyond into an exhilarating musical experience. Their latest release TEKKNO debuted at #1 on the German album charts. It journeys between comedy, powerful pop, and trancecore, as well as oscillating between synthy pop and hard-hitting circle pit anthems with extreme ease.
The band's first single with singer Nico Sallach, Hypa Hypa, reached over 60 million streams in an extremely short space of time, with the track becoming the band's biggest success story so far. The band's Youtube channel has over 182 million total views and counting.
Electric Callboy are known for their ecstatic live shows and will be performing in Australia for the very first time.
Supporting them as special guests are Japan's most exciting heavy acts Paledusk and Melbourne's DREGG. Clay J Gladstone will be supporting them in Sydney.
3OH!3
THURSDAY 1 DECEMBER – STAY GOLD, MELBOURNE
The dynamic duo Sean Foreman and Nathaniel Motte aka 3OH!3 have been rocking sold out venues, amphitheaters, and college campuses around the world since 2018.
Your boys have cemented their sound with global hits like Don't Trust Me, STARSTRUKK (feat. Katy Perry), & My First Kiss (feat. Kesha). Having not released any music as 3OH!3 since 2016, Sean and Nat have written and produced hits for other artists such as Maroon 5's Love Somebody, MAX's Lights Down Low, Ariana Grande's Tattooed Heart, and Kesha's Blah Blah Blah.
They continued to play in front of thousands of fans while celebrating the 10-year anniversary of their RIAA certified Gold album WANT. in 2020, the itch of wanting to get back in the studio to make music that was fun, inclusive, edgy, weird and – most importantly – their own, proved to be an inevitable reality. And 3OH!3 is back with new music with more to come.
JXDN
TUESDAY 29 NOVEMBER – OXFORD ART FACTORY, SYDNEY
WEDNESDAY 30 NOVEMBER – NORTHCOTE SOCIAL CLUB, MELBOURNE
Defying the rules with style and substance, jxdn bends and breaks the boundaries as he moves between subcultures in a very genuine way to position himself as a new kind of rockstar.
Generating 15 million streams within a month and becoming the first artist signed to Travis Barker's DTA Records, the 19-year-old genre breaker presents a signature style on a series of 2020 releases.
In 2018, he took control and developed a presence online through a consistent stream of engaging and clever content. He quietly exploded on Tik Tok, attracting 5.8 million followers and 202.3 million likes. After witnessing an arena show by the late Juice WRLD, he dove headfirst into music and unleashed his independent debut single Comatose. The track has since racked up over 20 million streams across platforms and broken into over 38 Global Viral Charts to date. Upon hearing it, Barker immediately signed him to DTA Records. Now, jxdn takes flight on the single Angels & Demons.
NOVA TWINS
WITH SPECIAL GUESTS BLOOD COMMAND
WEDNESDAY 30 NOVEMBER – CROWBAR, SYDNEY
Nova Twins are the zeitgeist-capturing polymath pioneers that our times have been waiting for. Whether pushing the MOBO Awards to create a category for POC alt. acts, to teaming up with No Music On A Dead Planet and Oxfam to play for environmental change, working with Dr. Martens to raise money for The Black Curriculum or aiming to inspire a new wave of young, diverse talent, Amy Love and Georgia South are much more than one of the UK's most exciting bands – they are changemakers and they have battled through the old guard of rock's narrow-minded expectations.
Rage Against The Machine icon Tom Morello dubbed them "an incredible band who deserve to be huge" as well as inviting them on tour with Prophets Of Rage. Bring Me The Horizon's Oli Sykes called them one of his "favourite new bands" before having them collaborate on song '1×1' from 2020's UK No.1 album 'POST HUMAN: SURVIVAL HORROR'.
There's no band out there quite like Nova Twins. If more artists blazed a trail like this, we'd be celebrating a lot more difference, rather than craving what's safe and similar. From being "shunned" when they arrived on the scene, now Nova Twins are leading a game all of their own. Now, there are no rules.
Joining them as special guests are Blood Command. Yngve Andersen and Australia's Nikki Brumen live every moment in the mantra 'Blood Command against the world' which guides Bergen, Norway's "death pop" quintet spiritually and sonically, and which forms the soul of their fourth full-length record, Praise Armageddonism.
 GOOD THINGS FESTIVAL LINE UP:
Bring Me The Horizon | Deftones | NOFX (performing 'Punk In Drublic' in full + all your favourites) TISM (Exclusive: First shows in 19 years!) | The Amity Affliction | Gojira | ONE OK ROCK
In Alphabetical Order:
3OH!3 | Blood Command | Chasing Ghosts | Cosmic Psychos | Electric Callboy
Fever 333 | Jinjer | JXDN | Kisschasy (Performing 'United Paper People' In Full)
Lacuna Coil | Millencolin | Nova Twins | Polaris | RedHook | Regurgitator
Sabaton | Sleeping With Sirens | Soulfly | The Story So Far | Thornhill
DATES AND VENUES:
Friday 2nd December – Flemington Racecourse, Melbourne (LIC AA 15+)
Saturday 3 December- Centennial Park, Sydney (18+)
Sunday 4 December – Brisbane Showgrounds, Brisbane (LIC AA 15+)
Tickets on sale now at www.goodthingsfestival.com.au
GOOD THINGS FESTIVAL | FACEBOOK | TWITTER | INSTAGRAM | TIKTOK