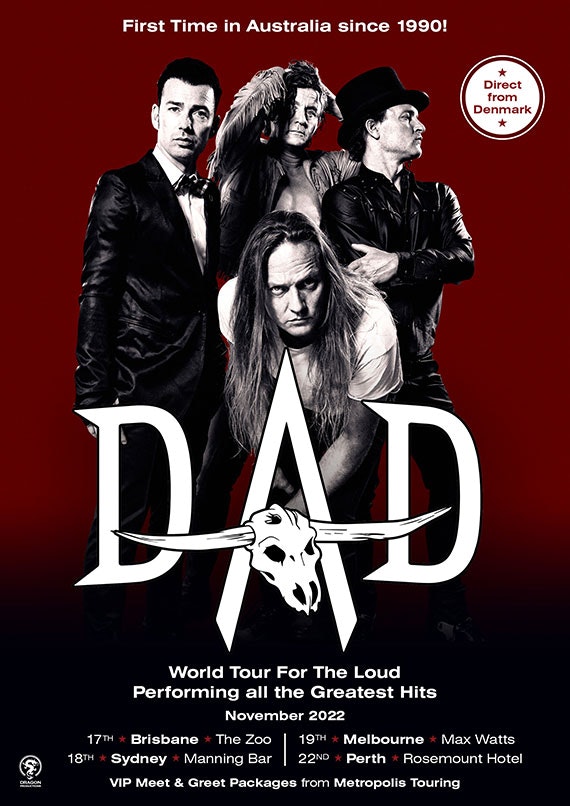 Thirty two years is a long time. It's also the amount of time it's been since D-A-D have been in Australia, but they have most certainly not been sleeping their days away (that was terrible and I'm not sorry), they've been out there releasing music and playing that whole time. So tonight Sydney gets to see what they have for us.
This room is packed. That is awesome. Straight into it as the band take the stage and 'True Believer' starts us off. This is going to be a hell of a night of rock! With 'Burning Star' up next from their latest release and this is as rock as you want on a Friday night. If this is how they've set the scene for the show then we are in for a treat. The two string bass has always amazed me but as it rings true in 'Jihad' there is 100% no fuel left for the pilgrims right now! That was a treat this early on and the reception from the crowd agrees with me as the cheer was something else. Then backing that up straight into 'Girl Nation' this is going to be a killer set. The title track from their last album 'a prayer for the loud' keeps things rolling and has a killer groove to it. 'Everything Glows' is up and I have to say I'm super impressed, these guys are on fire and we may not have seen them for thirty two years but they are on top of their game and absolutely showing us what a live show is.
Things slow down but only very slightly 'Grow or Pay' but oh no things are not slow they're jamming the hell out of this and it sounds great. Bass player Stig takes shared lead duties on 'Riding with Sue' as well as theatrics. He's a hoot to watch and his collection of two string bass guitars is just something else. 'Point of View' is awesome, and may just be my favourite of the night so far. 'Rim of Hell' keeps that groove kickin and the best damn party is at the rim of hell normally but tonight it's right here. This is a party, this is a rock show.

'Reconstrucdead' is a surprise and we really are going to get a little bit from everything tonight. What a great way to come back. 'Monster Philosophy' is another I'm not super familiar with but I can tell you after this show I'll be checking out the full back catalogue. A fun little sing along was great in this one before taking it straight into 'I Want What She's Got' full of pretend phone calls and crowd participation makes this one a great addition thus far into the set. Jesper made his way into the audience to help a sing along and as he made his way back to the stage to finish the song. The opening riff of 'Bad Craziness' got a big cheer as the rocked it out before leaving the stage.
Of course returning for an encore as Jesper and Jacob throw on acoustic guitars. Into 'Laugh 'n' a 1/2' which was welcomed and sounded great. Although it's time for the song that I think everyone knows this band for. As the guitar chunks in before that riff that I know has been stuck in my head since 1989 kicks in it's time for 'Sleeping My Day Away' and as expected the place gets a little excited. As Jesper turns the mic to the crowd they sing it back nice and loud and the band power through this hit. An awesome extended outro tops it off and I'm happy to have finally heard this one live. The band nailed it.
'It's After Dark' closes the show, well as it says Disneyland is closed so it's time to go. Arms are waving and people are happy. The band say their farewells and I've just been to my surprise show of the year. That exceeded my expectations and this was a nice of catchy, awesome rock and roll. I can tell you this right now, it will not be that long before D-A-D are back on our shores. After tonight I wouldn't be surprised if we see them much more often.
Now it's late and I'm off tomorrow and I've got nothing planned so I'm going to do what Jesper suggested and well you know…
What a show.
Essential Information
Venue: The Manning Bar, Sydney
Date: November 18, 2022
Presented by: Metropolis Touring
Website: https://d-a-d.com/
Set List:
True believer
Burning Star
Jihad
Girl Nation
A Prayer for the Loud
Everything Glows
Grow or Pay
Riding with Sue
Point of View
Rim of Hell
Reconstrucdead
Monster Philosophy
I Want What She's Got
Bad Craziness
Laugh 'n' a 1/2
Sleeping My Day Away
It's After Dark