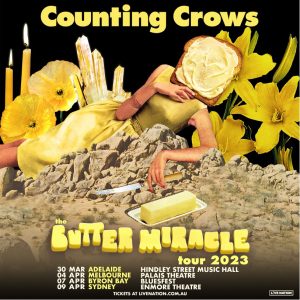 Much loved rock band Counting Crows announce their return to Australia in 2023 on The Butter Miracle Tour, following the release of the band's latest record Butter Miracle Suite One, a four-track, nineteen-minute suite available now. The band has long had a strong relationship with Australian audiences, making a huge impression with "Mr. Jones," harking back to 1993.
The Butter Miracle Tour will take in Adelaide at Hindley Street Music Hall on March 30 followed by Palais Theatre Melbourne on April 4, and Enmore Theatre Sydney on April 9. 
General public tickets go on sale on Thursday, November 10 at 11am (local time).
My Live Nation members can secure tickets first during the pre-sale from 10am on November 9, running for 24 hours.
For complete VIP, tour and ticket information, visit: livenation.com.au.
Counting Crows will also play Bluesfest, Byron Bay on Friday, April 7.
Counting Crows have enchanted listeners worldwide for more than two decades with their intensely soulful and intricate take on timeless rock & roll. Exploding onto the music scene in 1993 with their multi-platinum breakout album, August and Everything After, featuring Mr. Jones, the band has gone on to release seven studio albums, selling more than 20 million records worldwide, and is revered as one of the world's most pre-eminent live touring rock bands. In 2004, Counting Crows recorded the chart-topping Accidently in Love for the animated motion picture Shrek 2. The instant success of the track earned them an Academy Award nomination for Best Original Song at the 2005 Academy Awards, a Golden Globe nomination for Best Original Song, and a GRAMMY Award nomination for Best Song Written for a Motion Picture, Television or Other Visual Media.
Over the last 30 years, the masterful songwriting from frontman Adam Duritz put the band at No.8 on Billboard Magazine's 2021 Greatest Of All Time: Adult Alternative 25th Anniversary Chart. The band released their newest record, Butter Miracle, featuring hit single Elevator Boots in April of 2021.
COUNTING CROWS
THE BUTTER MIRACLE – AUSTRALIAN TOUR 2023
HINDLEY STREET MUSIC HALL, ADELAIDE        
THURSDAY MARCH 30
PALAIS THEATRE, MELBOURNE                           
TUESDAY APRIL 4
BLUESFEST, BYRON BAY                                      
FRIDAY APRIL 7*
ENMORE THEATRE, SYDNEY                               
SUNDAY APRIL 9
TICKETS ON SALE THURSDAY NOVEMBER 10, FROM 11.00AM LOCAL TIME
LIVE NATION PRE-SALE COMMENCES WEDNESDAY NOVEMBER 9, FROM 10AM, 
RUNNING FOR 24 HOURS.
*BLUESFEST tickets on sale now
For complete tour, ticket and VIP Experience information, visit:
livenation.com.au