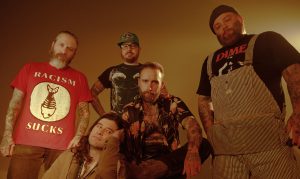 Canadian hardcore five-piece Alexisonfire today reveal they will return to Australia in February 2023, playing their first Antipodean headline dates since their 2017 tour. This summer, the band will bring their powerful on-stage energy to Brisbane's Fortitude Music Hall on Friday 17 February, followed by stops in Sydney, Melbourne and Adelaide.
Local heroes Luca Brasi will open for Alexisonfire on all dates, warming audiences with their dynamic live set. One of the country's most roadworthy outfits, the four piece never fails to electrify on the live stage, Loud Mag writing "a wonderful, emotional punk-rock performance". Hailing from Tasmania, Luca Brasi reached a new level with Everything Is Tenuous, their sophisticated and uplifting fifth studio album, released last year.
Admired by Australian audiences, on their eighth visit down under Alexisonfire will perform songs from their celebrated catalogue, along with tunes from their new record Otherness – never before heard live by local audiences.
Otherness is the first full length studio album in over thirteen years from the group Rolling Stone declared "put Canadian post-hardcore on the map". Their most cohesive and self-actualized record to date, across the ten tracks of Otherness the band builds a "deliciously gritty record" (Line Of Best Fit).
Between 2002 and 2009, Alexisonfire released four hugely successful studio albums, all platinum-certified in their native Canada; Alexisonfire (2002), Watch Out (2004), Canadian No.1 Crisis (2006), and Old Crows / Young Cardinals (2009).
The band's legacy across Canada and the world cannot be overstated; from their 2001 inception in Ontario, five guys playing aggressive rock (with no less than three of them singing and screaming) grew to a hockey-arena headlining phenomenon while pushing and pulling between spirited guitar leads, melodic might, and emotional weight.
As Revolver Magazine noted upon the release of the doomy "Familiar Drugs" comeback 7″ in 2019: "It's hard to overstate the influence Alexisonfire had in post-hardcore through the mid-2000s, their combination of singing and screaming setting the blueprint for many artists to come."
Dallas Green's engaging croon; the urgent attitude of Wade MacNeil; the heavy bellow of George Pettit; all anchored by a mix of vulnerability, confidence, iconoclasm, and celebratory recklessness. As every Alexisonfire song persistently expands and contracts, bassist Chris Steele and drummer Jordan Hastings remain impossibly tight, locked into unrelenting swinging grooves.
Alexisonfire has blown audiences away at major international festival appearances over Northern Hemisphere summer, including Lollapalooza across South America, Canada's Born & Raised Festival and a "flawless" Rage Against The Machine North American support.
This February, experience music at its best when Alexisonfire take the stage with special guests Luca Brasi for four mind-blowing live shows.
ALEXISONFIRE
WITH SPECIAL GUESTS LUCA BRASI
AUSTRALIAN TOUR
FEBRUARY 2023
Presented by Chugg Entertainment and Frontier Touring
FRONTIER MEMBERS PRE-SALE
Via frontiertouring.com/alexisonfire
Runs 24 hours from: Tuesday 15 November (10am local time)
or until pre-sale allocation exhausted
GENERAL PUBLIC ON SALE
Begins: Thursday 17 November (10am local time)
FRIDAY 17 FEBRUARY
The Fortitude Music Hall | Brisbane, QLD
ticketmaster.com.au
MONDAY 20 FEBRUARY
Enmore Theatre | Sydney, NSW
ticketek.com.au
FRIDAY 24 FEBRUARY
Forum Melbourne | Melbourne, VIC
ticketek.com.au
MONDAY 27 FEBRUARY
Hindley Street Music Hall | Adelaide, SA
moshtix.com.au
Patrons are advised to purchase tickets only through authorised ticket sellers. We cannot guarantee any ticket purchase made through any means other than the official ticketing agents listed on the Frontier and Penny Drop websites.
theonlybandever.com
facebook.com/AOFofficial | instagram.com/aof_official
Spotify | YouTube
frontiertouring.com/alexisonfire | facebook.com/frontiertouring
twitter.com/frontiertouring | instagram.com/frontiertouring