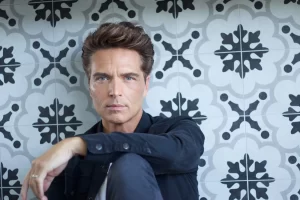 Frontier Touring and Arena Touring are delighted to announce Grammy-winning singer, songwriter, producer and best-selling author Richard Marx as he brings his 12-date The Songwriter Tour to New Zealand for the very first time and returning to Australia in February and March 2023.
Having last toured Australia in 2018 and playing New Zealand for the first time, The Songwriter Tour will play Christchurch, Wellington, Auckland before Brisbane, Tweed Heads, Newcastle, Canberra, Melbourne, Sydney, Wollongong, Penrith and Perth.
Frontier Members pre-sale kicks off Tuesday 4 October at 1pm local time before the General public on sale on Thursday 6 October at 12noon local time. Tickets via: frontiertouring.com/richardmarx
Richard Marx is a cultural touchstone, whose influence remains steadfast in pop culture today having written and performed some of the most indelible hits of the late '80s and early '90s, 'Endless Summer Nights', 'Hold on to the Nights', 'Should've Known Better', 'Don't Mean Nothing' and 'Right Here Waiting'.
Marx's unwavering talent has led him to a string of triumphs through classics 'Right Here Waiting' which reached #1 status in both Australia and New Zealand and 'Hazard', also peaking at #1 in Australia and #7 in New Zealand. With a loyal following Down Under, Marx has enjoyed eight Top 40 Hits in Australia along with other smash singles such as the hauntingly beautiful 'Now and Forever', 'Angelia', 'Take This Heart' and 'Satisfied'.
Marx's sophomore album Repeat Offender, featuring the singles 'Right Here Waiting', 'Angelia' and 'Satisfied', peaked at #1 in Australia, surpassing Double Platinum album sales and #3 in New Zealand with Gold status.
Today, Marx releases his thirteenth studio album, the multi-genre-spanning Songwriter (available now via BMG Australia – here), with four sets of all new songs, each influenced by his success across pop, rock, country music and ballad genres.
The new album's first single 'Same Heartbreak Different Day' was co-written with Lucas Marx (Katy Perry, Tyron Hapi) and Michael Jade (Little Big Town, Andy Grammer) – listen here. Songwriter also features the released singles 'One Day Longer', co-written with Keith Urban and 'Shame On You', co-written with his son Jesse Marx.
RICHARD MARX
THE SONGWRITER TOUR
AUSTRALIA & NEW ZEALAND
FEBRUARY & MARCH 2023
Presented by Frontier Touring, Arena Touring, WSFM 101.7 (Sydney), Gold 104.3 (Melbourne), Triple M (Newcastle) and The Breeze (NZ)
FRONTIER MEMBERS PRE-SALE
via frontiertouring.com/richardmarx
Begins: Tuesday 4 October (1pm local)
(or until pre-sale allocation exhausted)
GENERAL PUBLIC ON SALE
Begins: Thursday 6 October (12noon local time)
Sunday 19 February
Isaac Theatre Royal | Christchurch, NZ
All Ages
ticketek.co.nz | Ph: 0800 842 538
Tuesday 21 February
Opera House | Wellington, NZ
All Ages
ticketmaster.co.nz | Ph: 0800 111 999
Wednesday 22 February
Kiri Te Kanawa Theatre | Auckland, NZ
All Ages
ticketmaster.co.nz | Ph: 0800 111 999
Friday 24 February
QPAC Concert Hall | Brisbane, QLD
All Ages
qpac.com.au | Ph: 136 246
Sunday 26 February
Twin Towns | Tweed Heads, QLD
All Ages
twintowns.com.au | Ph: 07 5536 2277
Wednesday 1 March
NEX | Newcastle, NSW
All Ages
ticketek.com.au | Ph: 132 849
Friday 3 March
Llewellyn Hall | Canberra, ACT
All Ages
ticketek.com.au | Ph: 132 849
Saturday 4 March
Palais Theatre | Melbourne, VIC
All Ages
ticketmaster.com.au | Ph: 13 61 00
Sunday 5 March
State Theatre | Sydney, NSW
All Ages
ticketmaster.com.au | Ph: 13 61 00
Tuesday 7 March
Anita's Theatre | Wollongong, NSW
All Ages
ticketmaster.com.au | Ph: 13 61 00
Wednesday 8 March
Panthers | Penrith, NSW
All Ages
ticketek.com.au | Ph: 132 849
Friday 10 March
Astor Theatre | Perth, WA
Licensed All Ages*
ticketek.com.au | Ph: 132 849