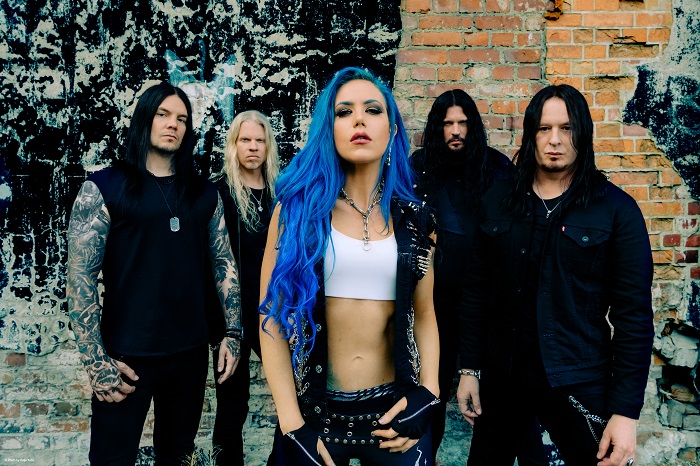 "I wouldn't say that I had a "great time" during the pandemic, I hate when people say that.  I mean it fucking sucked for everybody.  But, at the same time, there was this other thing that we could do.  You know, we were actually at home and we could work on music, so why not do that?"
From Release: Increasingly unstoppable since forming in the mid 90s and recruiting vocalist Alissa White-Gluz in 2014, Arch Enemy are gearing up to remind the world what real heavy metal sounds like via their eleventh and most explosive album yet: enter 2022's Deceivers. Buoyed by the achievements and accolades of their previous releases Will To Power and War Eternal, both featuring White-Gluz, Deceivers finds Arch Enemy at their finest and most explosive yet. From the belligerent fury of recent single Deceiver, Deceiver and the dramatic, viciously melodic House Of Mirrors to epic and brutal deep cuts like In The Eye Of The Storm and Spreading Black Wings, the new Arch Enemy album feels like a celebratory encapsulation of everything that has made the band such a vital force. All of their cherished trademarks are present and correct, from majestic, heart-rending guitar hooks and harmonies through to an unremitting barrage of catchy but crushing riffs, but this is a sharper and more ferocious Arch Enemy than we have heard before. Deceivers could not have been created by any other band, but somehow this one feels like a bold reaffirming of musical values.
We chatted to Michael from Arch Enemy to talk about the bands new album 'Deceivers', its creation during the pandemic, touring, and more…
It's good to talk to you again, Michael. So, it's been ten years since we last chatted so let's catch up, how have the last ten years been for you?
Holy shit.  I'll try to sum it up in three words, I guess *laughs*. I don't know… it's been crazy actually.  A lot of stuff happened in the band with Alissa joining as a vocalist in….what was that 2014?  So that's been almost eight or nine years ago now. So yeah, crazy.
Of course we're here as we have the new Arch Enemy album 'Deceivers' which has just been released, how excited are you for it to finally be out?
It's super cool and I love just going through my Instagram, even like this morning, and still seeing so many people posting physical copies and their feedback. You know, we're just super excited to get it out there in the hands of the fans.  It's a big project, you know. When you start writing that first song for an album, it's like you've got to climb this huge mountain.  You know there is so much work and creativity that's involved.  It's all poured into this project. And to complete it and get it out there is extremely satisfying of course.  Especially coming out of a kind of unique… time.
Chatting to artists who have written and released music and made records during this pandemic, some found it therapeutic, some struggled to write, some thrived, what was your experience with music in the craziest time we've ever experienced?
Initially I was following the news and what was going on with developments, you know early on in 2020 but I kind of realised that this is going to take a while.  It got a bit depressing; week in and week out.  So, we decided to just focus on making a new album and that was a really healthy thing for us, I think.  To just immerse ourselves in a project and just shut out all the noise.  In that way it was really healthier.  I write a lot together with and put the demos together with Daniel, our drummer.  That was something really good that we did, it was a positive experience.
It wasn't a struggle or anything like that.  I have colleagues that didn't pick up a guitar for like a whole year because they were just freaked out by the whole thing.  Everybody reacts differently, you know?  Not only musicians, but everybody went through it in their own way.
I wouldn't say that I had a "great time" during the pandemic, I hate when people say that.  I mean it fucking sucked for everybody.  But, at the same time, there was this other thing that we could do.  You know, we were actually at home and we could work on music, so why not do that?
In terms of timing I believe you started writing before 2020 truly set in, did the ideas you had before the pandemic for the album stay or did it evolve over the lock down periods?
Yeah, me and Daniel, I think in January of 2020, right before the apocalypse, we went away and rented a house with a little make shift studio just to get away from everything.  We started writing the album there and came back with I think six or seven songs.  I say songs, and they are songs, but they just changed so much over the next year.  We always keep circling back and changing things or improving things.  So, "the basics", I would say, of six or seven songs came out of that writing session.  So those are there, but we're talking instrumental songs, the instrumental music.  And then, of course, the lyric writing happens after that.
What if anything did this album allow you to do that you feel you hadn't been able to do on previous albums?
Like I've said in another interview, I've always had this dream of management or the label telling me "you go away and write your masterpiece, there's no deadline". That's the fantasy, right? Well, it came true, in a way, now on this one and it was a bit of a nightmare. It was just so open ended you know.  There was just too much going back and changing things.  In the end, we just had to say "Okay.  It's done." and pretend that we were going to put it out. We finished it and then it was mixed and mastered.  And then we just sat on it for a while until we started releasing singles.
I mean it was great, it was nice to have that extra time.  There are albums that I have done in the past, I'm not going to name them, but there have been projects that I've worked on, where you didn't have enough time.  Sometimes, I can hear them today and I wish this or we should have spent a bit more time on that, you know? But then, of course, you don't want to spend too much time.
But yeah, it was an interesting album.  It was a little bit different.  There were things that we could do on this album that we hadn't done before.  There wasn't a lot of collaborations with others…. we kept it pretty much in house.  You know, as the band playing on the album.
Oh yeah, you know we had a contest during the pandemic.  We were struggling to find things to post about, of course, on our socials.  There was nothing going on.  So, we started this competition.  You know, people always cover our songs anyway and on various instruments.  So, we had a competition where we'd pick five winners (or something like that) of people covering Arch Enemy songs.  There were some really cool… you know a lot of guitar players, a lot of singers, a lot of drummers of course.  But there were also some beautiful piano players from like eastern Europe, playing really complex arrangements of Arch Enemy songs and stuff like that.  It was really interesting.  And then, there was a guy that played a cello; this German guy; that did a really amazing cover version of one of our songs from the last album.  He actually ended up being the winner, I guess.  I can't remember what the prize was actually, but I asked him if he wanted to play on the new album.  So, he's actually on the new album on the opening of a song called "Poisoned Arrow".  So, that's cool.  I think he was kind of blown away actually.
Touring, you have been back out on the road, how was it getting back out there after so long not being able to?
I'll tell you, we hadn't been on stage for two and half years.  That's the longest break I've had since I picked up a guitar at age thirteen.  So, you know, it's pretty wild actually.  But, then in April of this year we started, we did a North American tour.  I remember that first show in Arizona.  We'd done rehearsals out in Las Angeles and we went to Arizona and that night and that day were just like bizarre waiting for the first show.  Really it was just unbelievable that we were going to get back to doing this something that we'd taken for granted, of course, and we'd been very accustomed to doing.  But now, it felt all like new again, in a way.  Butterflies in the stomach, you know?
At least it didn't go away, you know?  There could have been the other side of it where it became like "awww…I don't want to do this anymore."  So, I'm glad it was still there.
I know some musician colleagues of mine that done that actually.  I mean some people have quit, right? They have just said "that's it, I'm out", you know?  For now, anyway we'll see.
I mean it was a rough time.  But I never thought about that really, not seriously anyway.  I think like everyone I think about quitting everyday but then I pull myself together.
I have to ask, has there been any talk of a visit to Australia?
Certainly, there's talk, yeah.  But more than talk actually, we're getting very close to confirming it.  Unfortunately, I can't say anything more than that really.  I don't want to jinx it.  But this year we have a six week tour of Europe – it's Arch Enemy, Behemoth, Carcass and another band.  And then we are going to Latin America right after that.  So, that takes us up to almost right at the end of this year.
But then in March of next year we have a big Japan tour.  So, I'm thinking it's going to happen then around that time.  Keep your eyes open and your ears pealed.
Looking back over your career it can be very easy to say what can change over time but what for you is the one thing that has always remained the same?
*laughs* Me?  I've always been here.  I'm the only one that's always been on every album and every show.
I mean more in terms of like structure or the way that you write?
We just celebrated, during the pandemic we actually had our 25th anniversary.  So, we silently, quietly just kind of celebrated that online basically.  We couldn't really do any shows or anything, or those kinds of things that we would normally would have done.
I mean I did write some stuff about each album.  I went back and visited each album from the start of the first one and I wrote a little bit about each album.  Just some random memories and thoughts about those records.  Of course, listening to them again one by one; one after the other, I see the progression and I see that we have come a long way since then.  We have changed a lot.  But at the heart of it, I would say that we are still Arch Enemy.  On the first album, you can hear things on there that we are still doing to this day.  And I guess much of that is rooted in my way of thinking about metal music or heavy music, the guitar and arrangements and stuff like that.
My initial idea, when I started the band, was to have the sound of classic hard rock and heavy metal.  Things like guitar solos, harmonies, good song writing but then also have the speed, aggression and heaviness of death and thrash metal that I had also been a part of that world.  I was coming more from that world but I wanted to get even more melodic.  I was trying to do that on the first album and you know, I'm still trying to do that.  Still trying to find that perfect balance between ugly and beautiful.
Lastly, let's look ahead to the future with a prediction. Finish this sentence for me, by the end of 2022 Arch Enemy will…
be exhausted.  The next tour is eleven weeks straight so we're going to be fairly tired.  *laughs*
Essential Information
From: Sweden
Band members: Alissa White-Gluz – Vocals , Michael Amott – Lead Guitars , Jeff Loomis – Lead Guitars , Sharlee D'Angelo – Bass , Daniel Erlandsson – Drums
Website: http://www.archenemy.net
Latest release: Deceivers (Out Now)