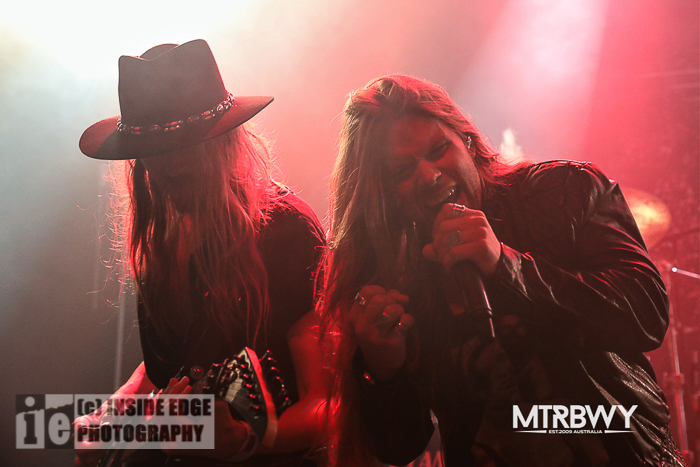 H.E.A.T are in Australia… that's so awesome to say. Wow, thinking about it, the most exciting thing for not only us here at The Manning Bar, but also and maybe especially for the band as it is their first time in Australia but further to that, this is their first show so you just know they are ready, maybe even moreso than us. T-minus 90 minutes until they take the stage.
Opening the show is Wicked Smile on their first interstate show open tonight and man, they need to come interstate more. This is rock and roll and it's done well. Big vocals, big songs, the sound we all know and love, and some killer players. This is an impressive way to start a night of rock and roll and I look forward to hearing more from them and watching them progress.
Up next is Cassidy Paris, and that is a name you need to know. She's a rocker, she's got the passion and you can tell, she loves this and as she powers through her set  of originals including a cover of 'I Hate Myself For Loving You' she had people engaged and hopefully we'll see much more of her! She kept us warmed up and ready for the main event.
As the best chosen into track of all time plays Glenn Frey's 'The Heat Is On' and we are so ready. Here we go…
Crash runs on followed by Jona, Dave, Jimmy and as they launch into 'One By One' Kenny bounds onto the stage and yes, the H.E.A.T is most definitely on and they are not disappointing. What an opener, the energy, the sound, the everything. This is gonna be something else. 'Rock Your Body' is up next and the energy is something else as Kenny bounds across the stage and Dave shreds the solo. "We are just getting started…" and with a scream we get 'Dangerous Ground' and as we're only three songs in I have to say this is a show I've been looking forward to since 2008 when I discovered H.E.A.T through a friend and here we are finally seeing a band live I absolutely love. So… I apologize now but this may be one of those gushing reviews but, this is outstanding.
"It's been a long time coming but we're finally here…" Kenny exclaims and "Emergency" kicks in  and how could this get any better?! Damn. The best part is that these guys are as excited as we are. 'Redefined' from The Great Unknown is an awesome choice and it's so good to hear Kenny take on these tracks that Erik sang on. He's doing them justice and more. A new one from their kick ass new album 'Force Majeure' and it's time for 'Hollywood' and as one of my faves from the album I'm stoked right now. They're nailing it and I mean they'll pretty much do that all night as a prediction. The crowd is singing this one back and they're just so happy to hear it and to be here. Heading back to the debut album with 'Straight For Your Heart' and as you guessed they're killing it and so awesome to hear one from this album.
Staying with the debut and 'Late Night Lady' I mean this sounds like it's the record being played they're that tight, and to go from that straight into 'Come Clean' is perfect. This is one of my favourite H.E.A.T songs and hearing Kenny sing it is killer. As the band leave Crash on the stage for a drum solo leading into 'Back To The Rhythm' and again, as their new album may just be my album of the year hearing this live is just perfect. Dave solos at front of stage before the band kicks in with 'beg Beg Beg' which I didn't expect as an extended version but it was awesome. A big sing along ensued as we took the top place from England for loudest crowd. Well done, Sydney!
Oh man I didn't expect this! 'Cry' the big ballad from their debut is an amazing choice. They've always done ballads so well and the power of it live tonight is something else. Kenny has a set of pipes that can rival anyone, man this guy can sing and he's giving it his all tonight. As emotions are contained he asks the band to start the next song and '1,000 Miles' is up and finally hearing this live is outstanding. Wow. Then to follow that up with 'Living On The Run' oh man I can't cope. Was hoping this one would make it into the set and it did, and was it amazing? You already know the answer to that if you've read this far.
Teasing a few covers before hitting 'Nationwide' which was outstanding and a yet another highlight from the new album. I mean just wow. As the hum across the stage hits and Kenny stays front and centre and slowly starts 'A Shot At Redemption' teasing us before the band returns to the stage and the crowd starts clapping and belting this one out with the same level of energy from the opener. Band introductions and a goodnight and I'm the happiest kid in the world right now, I just witnessed a true rock show, and not only that, one of if not the best shows I've seen in a long, long time. H.E.A.T are a band that have the songs, the presence, the energy, and hands down should be a household name. So, if you ever see H.E.A.T are coming to your city, just go, trust me, you'll walk out with a smile and more than likely a T-shirt from the merch stand as you'll be so enamored by what you just saw. What a band, what a night, good luck to any band that would ever have to play after H.E.A.T, because this is how it's done.
If I rated gigs which I usually don't this one gets a 12… and that's out of 7. That's how good it was!
Catch H.E.A.T at these remaining dates in Australia!
FRI 9 SEPT 2022 – MELBOURNE- THE PRINCE
SAT 10 SEPT 2022 – BRISBANE – Woolly Mammoth
SUN 11 SEPT 2022 – ADELAIDE – JIVE (NEW VENUE – TIX REMAIN VALID)
Tickets here
Essential Information
Venue: The Manning Bar – Sydney
Date: September 8, 2022
Presented by: Silverback Touring
Website: http://www.heatsweden.com
Photo: Peter Coates – Inside Edge Photography – check out the full gallery HERE
Set List:
One By One
Rock Your Body
Dangerous Ground
Emergency
Redefined
Hollywood
Straight For Your Heart
Late Night Lady
Come Clean
Back To The Rhythm
Beg Beg Beg
Cry
1,000 Miles
Living On The Run
Nationwide
A Shot At Redemption