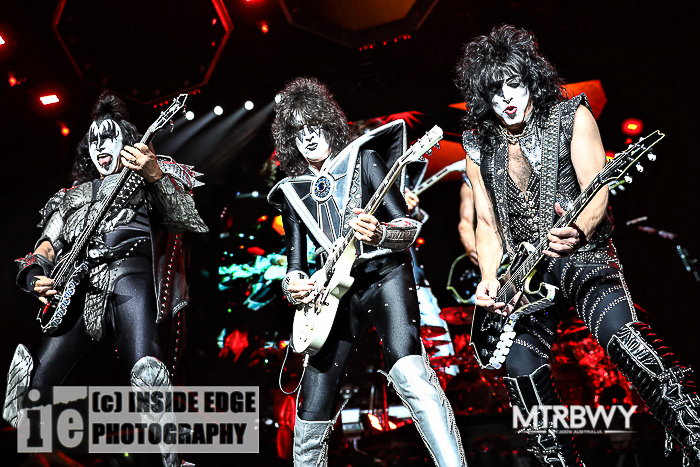 It has been a long time since KISS have been to Australia as this tour was scheduled to happen back in 2019 (feels like twenty years ago) but finally these larger than life characters have returned to Sydney one last time… yes, believe that, this is The End of The Road…
The Poor had the honour of supporting tonight and opening with 'Tell Someone Who Cares' followed by 'Trouble With The Law' this band is just showing us that they are rock and roll. They sound better now than ever and are just the right energy (all of it) to get the crowd ready. 'Get Off The Train' then to the new single 'Payback's a Bitch' proving that they still have it and I can't wait for their new album on the way this year. 'Love Shot' followed by 'Cry Out' then 'Man of War' allows Skenie to really belt it out and show off those monster pipes he has. 'Poison' followed by 'More Wine Waiter Please' was perfect. That song just owns at any time and still has one of the best riffs ever in my opinion. 'Only The Night' sees Skenie make his way through the crowd and still be able to belt it out. Back on stage to finish the set and what a set it was!
OK… This just doesn't feel right BUT for one last time…
"Alright Sydney. You wanted the best, you got the best, the hottest band in the world… KISS!"
As the opener 'Detroit Rock City' starts and the curtain drops, there's pyro, there's fire and these legends descending from the ceiling showing everyone how you open a show, we knew this was going to be a spectacle and this already is. Those duelling harmony guitars get me every time in this song. 'Shout It Out Loud' kicks us off with another bang and as Paul shakes his money maker while he and Gene trade lead vocals and they have everyone in the palms of their hands. "How you doin Sydney? We have been waiting years to come see you" this is the fifteenth time they've played for us and it's sad to think it's one of the last (still got Saturday night). To then throw it back to the first album with 'Deuce' and if there's one thing I love more than anything it's choreography at a show but the 'Deuce' choro wins everything. Every time. KISS fans you know what I mean!
'War Machine' warms the arena up again with some flames and they are flawless. 'Heavens on Fire' is ironically fireless in here but the song brought enough heat and had the entire crowd clapping along on command. And with a "hey hey hey yeah" we get 'I Love It Loud' as Gene smashes out lead vocals. Sirens wail as the fire comes out and in true Kiss fashion Gene blows fire and I'll never get sick of that. Then we jump forward a few years to the Sonic Boom album for 'Say Yeah' and that was a nice treat. Taking it way back for 'Cold Gin' and in my opinion it's always cold gin time and while Tommy is doing his guitar solo and the unexpected pyro deafened me I'm sitting here with a smile ten miles wide as this is just something else. Pyro flies from his guitar, the crowd cheers and damn this is just a show!!!
The band re-join Tommy and they head back to 1983 and 'Lick It Up' and as the arena darkens the lights stay on Paul and Tommy as they play up front and build the song back up and this is badass as Eric Singer finally gets to pound the skins hard!! That extended version was outstanding. It's time for… oh hang on Gene just told us he needs to see our hands right now. Stand by. OK I'm back from a clap break and 'Calling Dr Love' is in the house. After another belter, Paul and Tommy are now trading licks showing off their guitar skills up front. 'Do You Love Me?' is not only a killer song but the footage they were showing on the screen going way back was amazing. Just makes you remember how long they've been around and how much this band has done. The fire is back for 'Psycho Circus' and for those that may not have been paying attention… "welcome to the show" as they perfectly fade it into a drum solo from Eric Singer and if there's one thing that's for sure it's that Eric doesn't skip leg day. As the drums raise up the solo comes to a crescendo and the band return to the stage as flames fly and Paul asks us numerous times if we feel alright. Yes Paul we sure do. This is amazing.
A platform descends from the ceiling as Gene gets his turn up front bathed in green light and as the thunder roars and the blood starts to trickle and Gene awaits his due praise, the platform lifts with him on it to of course the only song it could be, 'God of Thunder' and that was a highlight. Paul has just taken flight across the arena to the back stage as 'Love Gun' kicks in. This is and always will be my favourite KISS song and tonight… oh shit, I just realised this is the last time I'll hear this live. I need a moment. Wow that's just sunk in. OK I'm gonna enjoy this I'll be back. Oh they just ended it with pyro in time to the tune. Impressive. So impressive. Paul stays on the back stage and starts 'I Was Made For Lovin You' and damn this live just takes it to another level. This is heavy! Now my test for this song has always been will Eric get the drum fill right?! Oh my god oh my oh my god he got it right!!! I couldn't be happier! Paul flies back across to the stage as the pyro ensures my tinnitus will remain and annoy me even more for at least the next week but it's worth it. Paul has stayed on stage while the others are off and is rockin' out for us and takes us into 'Black Diamond' as Eric takes lead vocals and with more pyro and the drums rising again they go out with a bang.
As a piano is wheeled on stage Eric returns for 'Beth' of course and does an amazing job, it's crazy how this song works in the set but it always has and tonight was no different. In a cool moment we got to sing happy birthday to Gene Simmons as Doc McGhee brings a cake on stage.
As giant KISS balloons fall from the ceiling they play the amazing 'Shandi' for us as they do, only in Australia which I've never understood, it's such a great song and live it's even better, but now sadly it's time for the closer. As Kissfetti rains from everywhere it's time for 'Rock and Roll all Nite' and they gave it their all. Paul smashes a guitar while Gene, Tommy, and Eric soar above everyone up on their platforms and to say they threw everything at us at the end in terms of fire, and pyro would be an understatement. As the song ended so had the show. As the screen projects 'KISS loves you Sydney' we walk out to 'God Gave Rock and Roll To You' and just wow.
So… we wanted the best, and we sure as hell got the best, thank you KISS for the years of entertainment, they're still schooling bands as to how it's done and although it's sad to see it end, they're going out on a high, and what a high.
Essential Information
Venue: Qudos Bank Arena – Sydney
Date: August 26, 2022
Website: http://www.kissonline.com
Support band: The Poor
Presented by: One World Entertainment Touring
Photo by: Peter Coates – Inside Edge Photography – check out our full gallery here.
Set List:
Detroit Rock City
Shout It Out Loud
Deuce
War Machine
Heaven's On Fire
I Love It Loud
Say Yeah
Cold Gin
Lick It Up
Calling Dr Love
Do You Love Me?
Psycho Circus
God of Thunder
Love Gun
I Was Made For Lovin' You
Black Diamond
Beth
Shandi
Rock and Roll All Nite