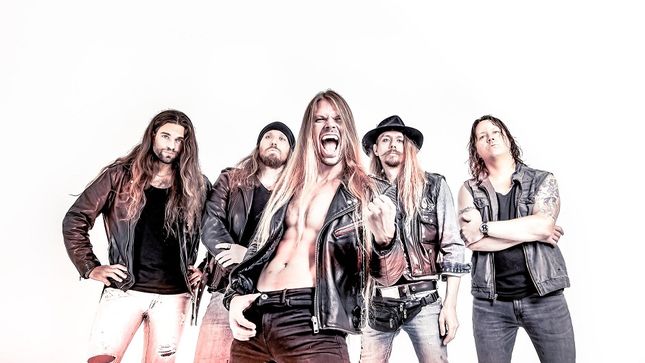 "I mean going to a H.E.A.T show should always be a party, so we'll have a good time. High energy, rock and roll, grab a few beers, have a good time that's what it's all about."
From Release: Over the last several years H.E.A.T have established themselves as one of the leading bands in the melodic rock scene, both in their homeland Sweden and internationally. They have toured and performed front of thousands and thousands of fans around the world. In April 2008, their self-titled debut album was released and became a massive vitamin injection for the genre and instantly received accolades from both fans and critics worldwide. The release was followed up by immense touring and H.E.A.T played with bands such as Alice Cooper, Thin Lizzy and on big festivals like Sweden Rock. Since that time H.E.A.T have released a further 6 studio albums and have established themselves as a major force in the hard rock world. Now Scandinavia heads down under as Silverback Touring brings one of Sweden's finest Hard Rock exports H.E.A.T to Australia. This will be the first Australian Tour for the band and the action takes place in September 2022.
While he was out for a walk, we had a chat with Jona from H.E.A.T about the band's new album 'Force Majeure', their debut Australian tour, why Scandinavian music is so good, and much more…
Thanks for your time, Jona. Now we last spoke towards the end of 2019, so let's catch up, how have the last almost 3 years been for you?
Pandemic *laughs* they've been good, but obviously not being on the road has sucked, but also it feels so good and is so much fun to be on stage every night now when you're playing, so it has been a blessing and curse, but I've been staying busy in the studio so for me personally it's been alright. Also we had time to write music and get Kenny integrated into the band again.
We have a couple of amazing things to talk about so let's start with the new album, Force Majeure is about to be released and we are ready! Now obviously this album sees the return of Kenny on vocals, what was it like having him back and being in the studio together after so long?
I mean the guy is so full of energy these days it's crazy, it's been really cool and he's such a great singer and versatile and everything and Kenny is also an asset when it comes to songwriting, he's a multi-instrumentalist and a real asset. It's been a great process and so much fun and we're very happy with the result and hope people are going to like it as well.
What if anything did you set out to do differently this time around with this album?
You know we set out to build on 'H.E.A.T II' and that sound, and Kenny being very involved in the songwriting process it tends to be a bit different now even though we set out to do sort of the same thing. So yeah we thought we should build on the high energy stuff we did on 'H.E.A.T II' like lots of guitars, big drums, keyboards everywhere, and the big backup vocals and stuff like that. The songwriting is about the same you know, but I guess it's there where it differs the most.
What was the process with these songs, were they written previously for Erik to sing but have been adapted for Kenny or were these all new songs that were set for Kenny from the get go?
I actually listed through some voice memos the other night I was lying in bed like I do listening to ideas and I realized that I wrote the pre-chorus for 'Rock Your Body' from 'H.E.A.T II' and the verses for 'Back To The Rhythm' and it was one day apart only. So 'Back To The Rhythm' was written during the 'H.E.A.T II' session, and 'Harder To Breathe' as well. I think probably the rest was written for 'Force Majeure'.
For me the band just keeps getting better and better, what do you continue to learn as you grow as a band?
I mean you learn so much, we are different people than we were fifteen years ago and I've worked with so many other people as well, like producers and stuff and you kind of pick up stuff over the way like "ooh that's a cool trick" and "that's a good thing" and "yeah I can do that with the guitars" so I mean we've learned so much and now these days we can action everything within the band and it's really a  lot of fun.
There is just so much good music coming out of Scandinavia, why do you think it is that Scandinavian music is so superior to everything else today?
Yeah I mean everyone keeps saying that *laughs* I don't know what it is, it could be in the water, but I guess it's the heritage, like we have a proud heritage of songwriters like we have ABBA you guys know about that for sure, Max Martin one of the biggest producers and songwriters of all time. Then a lot of different like Swedish House Mafia we have all these great songwriters that have been exported out to the world and I guess that kind of nurtures the dreams of young people here as well, you can actually do something of yourself in the music industry, maybe… *laughs* I guess it's one part and also I think that state and communities help out and let kids have rehearsals and easy music school as well.
Now the other major thing happening is that while you have been to Australia before back in 2016 this is the first time H.E.A.T will be in Australia as a band, so what can fans expect when they see you guys live?
I mean going to a H.E.A.T show should always be a party, so we'll have a good time. High energy, rock and roll, grab a few beers, have a good time that's what it's all about. We hope to meet as many people as we can and have a good time basically.
With a now bigger catalogue because of the new album, what can fans expect to hear set wise?
It's kind of 'H.E.A.T II' heavy as we missed out on touring this album so we're kind of doing it now, so we have at least four, maybe five tracks from 'H.E.A.T II', and we play three from 'Force Majeure' but every album is represented in the set list at the moment. So we try to keep it like that.
If I have one request, as a fan from the start myself, any chance of 'Keep on Dreaming' in the set in Sydney?
We've talked about it if we should do 'Keep on Dreaming' or 'Never Let Go' maybe, we'll see, it could be fun. It's always like we love that track, it was basically the track that kicked everything off, me and Dave wrote it back in 2004 I think and we've played it so many times live and it's always so high energy in the intro and then goes down into the verses and we have had this "oh it drops in intensity" *laughs* when we play it live so we really have to find a way. I guess that's what we love again the verses are almost a ballad *laughs* just keys and drums and bass, but then the intro is so high energy and we always felt that it lost some energy, but we can definitely try it again.
What are you most looking forward to about this Australian run of shows?
Just coming down there for the first time with H.E.A.T and playing with a real band, seeing all the people, seeing all the sites, I think we're gonna fly in a couple of days early in Sydney and walk around and look at Opera Houses and stuff, we heard the beer is good.
Now, a Jona question outside of H.E.A.T, can you give us maybe an update or some news on Crowne 2?
It's going to be mixed and ready next week, that's what I'm working on now, it' a fricken great album actually if I do say so myself, I think it turned out pretty cool. Really looking forward to getting that one out.
Any word on when we might get to hear it?
Actually not yet… just gotta deliver the master first then Frontiers will do the scheduling. Maybe something out this year, like a single release for early 2023. 2023… that sounds like future years *laughs*.
The producing wise, what about Temple Balls, anything you can share with us there?
Yeah, I mean we're in the process with the next album, we hit a little bump with Niko being sick but I was gonna go there next week and start recording but we had to postpone a bit. So we'll see… there's basically a whole album written and it sounds really cool as well, so I'm looking forward to getting to work with that. They feel like ten years younger than me, like H.E.A.T ten years ago it's like stepping into a time capsule *laughs* it's so much fun.
Looking back over your career it can be very easy to say what can change over time but what for you is the one thing that has always remained the same about H.E.A.T?
Well, we just realised and figured out that Crash is the only one that has done every H.E.A.T show to date, so maybe him *laughs*. I had done every H.E.A.T show apart from the Monsters of Rock cruise because of the restrictions there, I tried with different tests and everything but I couldn't fly out, so they were the first shows I missed. So yeah, what has stayed consistent? That's hard to say we always like focus on the music basically, like everyone says that but we really want to make good music that lasts for a long time and that people can enjoy, that's very central to us.
I think it has, every album you've made is a rock masterpiece if you want to put it that way, even with the changeover from Kenny to Erik was amazing and then for Kenny to come back, it's like a full circle for you guys and I love what's happening here.
Oh yeah it's nice and also Dave left the band for a couple of years and came back when Eric Rivers left, so we have kind of kept it in the family which actually feels very nice, it feels solid, it feels like it's still the H.E.A.T core, it just felt like even though Erik isn't in the band he's still in the band in a weird way, like me and Erik will be talking every day and we also have New Horizon together so we're good friends. Even though we're not in the same band it feels like we are brothers for life as corny as that may sound *laughs*.
Of course he's in Skid Row now! How good is that?!
Hell yeah, fucking crazy. I mean him beating Leukemia last year him swearing to himself if he beats it I'm gonna be on a stage for the rest of my life then Skid Row called and said "Hey, you want to join your favourite band?" he was like "OK" *laughs* fairy-tale stuff.
Lastly, let's look ahead to the future with a prediction. Finish this sentence for me, by the end of 2022 H.E.A.T will…
Have a rest *laughs* no there will be a lot of tour dates here so that's what we want to do after the pandemic break here, really looking forward to.
Catch H.E.A.T in Australia this September at the following dates:
THU 8 SEPT 2022 – SYDNEY – MANNING BAR – Book Now
FRI 9 SEPT 2022 – MELBOURNE – THE PRINCE – Book Now
SAT 10 SEPT 2022 – BRISBANE – WOOLY MAMMOTH – Book Now
SUN 11 SEPT 2022 – ADELAIDE – THE GOV – Book Now
Presented by Silverback Touring
Essential Information
From: Upplands Vasby, Sweden
Band members: Kenny Leckremo: Vocals, Dave Dalone: Guitars, Jona Tee: Keyboards, Jimmy Jay: Bass, Don Crash: Drums
Latest release: Force Majeure (Out Now- earMusic)
Website: www.heatsweden.com