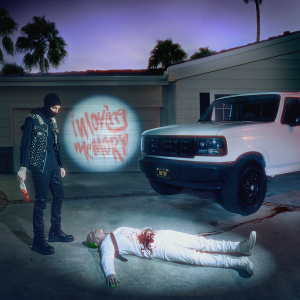 blackbear is set to release new album 'in lobing memory' on Friday August 26 through Sony Music Australia.
While gearing up for its release, blackbear teamed up with multi-platinum selling superstar Machine Gun Kelly for the lead single 'gfy' which is accompanied by the star-studded video featuring Kelly, Aisha Mian, Benny Blanco, Mike Posner and August Maturo.
'the idea' serves as a preview of blackbear's latest metamorphosis. It was in the studio after recording 'the idea' in 2021 with Travis Barker, that he was inspired to create an entire album that gave him that same feeling of nostalgia of leaning into his pop-punk and emo beginnings.
"'toxic energy' is a love letter to that toxic person that you have reached your limit on," blackbear shared. "It's when you're done babysitting and giving your heart away and you need to take time for yourself. This person lifts you up like cocaine but drops you in the dark like a lightning storm, the only way out is inward, enjoy."
ABOUT blackbear: 
Since first crashing onto the scene in the mid-2010s, blackbear has defied all expectations, effortlessly mixing his hedonistic hellraising and maniac humor with deeply heartfelt emotion. Delivering an outrageously catchy hybrid of pop and hip-hop and alt-R&B, the L.A.-based artist has released five studio albums in the last six years alone, including 2019's magnum opus ANONYMOUS, and 2020's gold-certified everything means nothing which rose to #15 on the Billboard 200 Chart. The first glimpse at his latest metamorphosis, the fantastically zeitgeisty anthem 'hot girl bummer' dropped in August 2019, reaching #5 at Top 40 radio and earning 4x ARIA platinum certification and platinum certification from the RIAA—eventually emerging as blackbear's most successful smash since 2017's double-platinum 'do re mi'.
Establishing himself as one of the most sought-after artists for collaborations in the industry, blackbear has recently been featured alongside Travis Barker on Avril Lavigne's newest song, 'Love It When You Hate Me', Machine Gun Kelly's 'make up sex' and All Time Low's 'Monsters' which took home this year's iHeartRadio Music Award for "Alternative Song of the Year." In 2021, he collaborated with Machine Gun Kelly on their hit single titled 'my ex's bestfriend' which received the MTV Video Music Award for "Best Alternative Video" and spent multiple weeks #1 at radio. He's produced and written hit songs for leading artists in the music industry such as Billie Eilish, Ellie Goulding, Maroon 5, G-Eazy, Justin Bieber, Kane Brown and Charlie Puth.
in loving memory TRACK LIST
i dont love me
dead inside
toxic energy ft. the used
nothing matters ft. new found glory
gfy ft. machine gun kelly
broken world
painkiller
fuilu
the idea
poltergeist ft. bayside
back in rehab
hazel inside