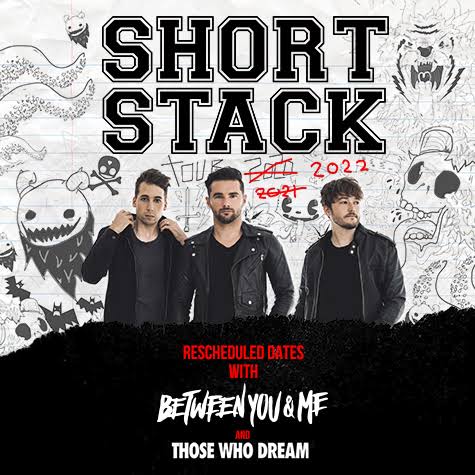 Well… It's been just over three years since I've been to The Metro. That is just beyond comprehension to me… so as I step foot back into my favourite venue in Sydney I'm ready for a stack attack as Short Stack return to Sydney after a while away.
Those Who Dream open the show tonight and this two piece of drums and guitars along with their backing tracks smash through their set. Catchy songs, an interesting yet kinda cool drum off between the two members was really cool and they had the crowd into it.
Between You And Me take their place and this five piece explode and get the place jumping. Their last song was song of their set as they jumped in the crowd splitting them in half to get those wanting to involved, and for an opener they really opened a few eyes, they were great.
And here we go. The stack are back… delays and delays to get to these shows, but the second of the three sold out Short Stack shows is here and as they take to the stage with a haunting intro of 'Burn You Down' looming they check in with a "hello" and a stage set that blinds all those looking they launch into the song and yes "they're just getting started" and this being my favourite from the new album means I could leave after this song and I'd be happy, they smashed it and have set the pace for the night straight off the bat. The stage lights are insanely bright so I apologize if some words don't come out right as I snorkel this while trying to reverb my vision back and write trampoline. I kid. This is great and I absolutely love a big light show, especially at The Metro it's insane. Straight away Shaun starts solo into the pop punk banger 'Dance With me' with the crowd clapping along. That little frenzy warmed everyone up if they weren't already. 'Princess' gets them going even more and I have to say these guys are tight! This sounds so good in here tonight. With a singalong this early almost taking the roof off I know that these people here have been itching for this show and it's a pleasure to see.
'Amy' is up next and this chorus with its instant hook is definitely a favourite. Heading back to their new album which kicks ass by the way they start 'Live4' which mashes nicely into 'Ladies & Gentlemen' as the band is bathed in red light and power through this rocker. It is so nice watching a crowd react this way to live music again after so long, it's just the best. 'Sunshine' is up next and the stage lights with the power of the sun put those fun floaty things in front of my eyes again. Fun times. This song keeps the energy up as it has been all set so far but it's the next one that truly sent the place nuts including my friend Nikki who I had to move away from to give her some room to 'Shimmy A Go Go', and that was by far the best received song of the night so far. A little snippet of 'The Back Of My Head Song' takes us into 'Sweet December' which has one hell of a chunky groove as the most pop punk rock thing just happened as bubbles start floating from the stage. Is this the new pyro? If so I'm kinda ok with it. This just be my second favourite song of the night thus far bar the opener. Crowd clap alongs always make things better and as this one keeps that melodic hook running I must say that I'm a very happy live music participant right now. That was magic. Shaun and Andy leave the stage to allow Brady to give us a drum solo and hey why not, they lap it up, and it was good.
'We Dance To A Different Disco, Honey' is up and you can tell we're starting to get to the pointy end of the set as the big guns are taking their place. 'Armageddon' from the newest album keeps those hooks up and there really hasn't been a missed step tonight. These guys are on fire. Giving us the old "this side is louder than this side" routine is always great as the bass players side never wins ha ha. 'Planets' billed as the last song of the night (bet it's not) opens with the crowd singing and jumping as the band kicks into full gear before leaving the stage as the crowd start the obligatory "one more song" chant.
That was quick, and as they come back announcing we'll get two more songs they bring someone very much not planted in the crowd to play drums on a cover of Blink 182's 'All The Small Things' which the crowd loved, and after some praise for Sydney it's time for the closer which of cousre had to be 'Sway, Sway Baby!' the everyone was ready for, and it closed the show perfectly. So many bubbles and people going crazy for the song they've been waiting for.
I have to not only give it to the band for their kick ass performance, but big praise to the crowd for their participation tonight that kept the energy up as high at the end than it was at the start of the set. This was a short, sharp, amazing pop puck rock set from a band that deserve some major love. If you want a fun night out with some catchy tunes and blinding lights (actual, not the song) go and see Short Stack, you'll love it and walk away happy.
Oh and special mention to the person that gave me a rubber duck tonight. I appreciate ya!
Essential Information
Venue: The Metro Theatre
Date: July 16, 2022
Presented by: Frontier Touring
Website: http://www.shortstackband.com
Set List:
Burn You Down
Dance With Me
Princess
Amy
Live4 (Short)
Ladies & Gentlemen
Sunshine
Shimmy A Go Go
The Back of My Head Song (Short)
Sweet December
Drum Solo
We Dance To A Different Disco, Honey
Armageddon
Planets
All the Small Things
Sway, Sway Baby!