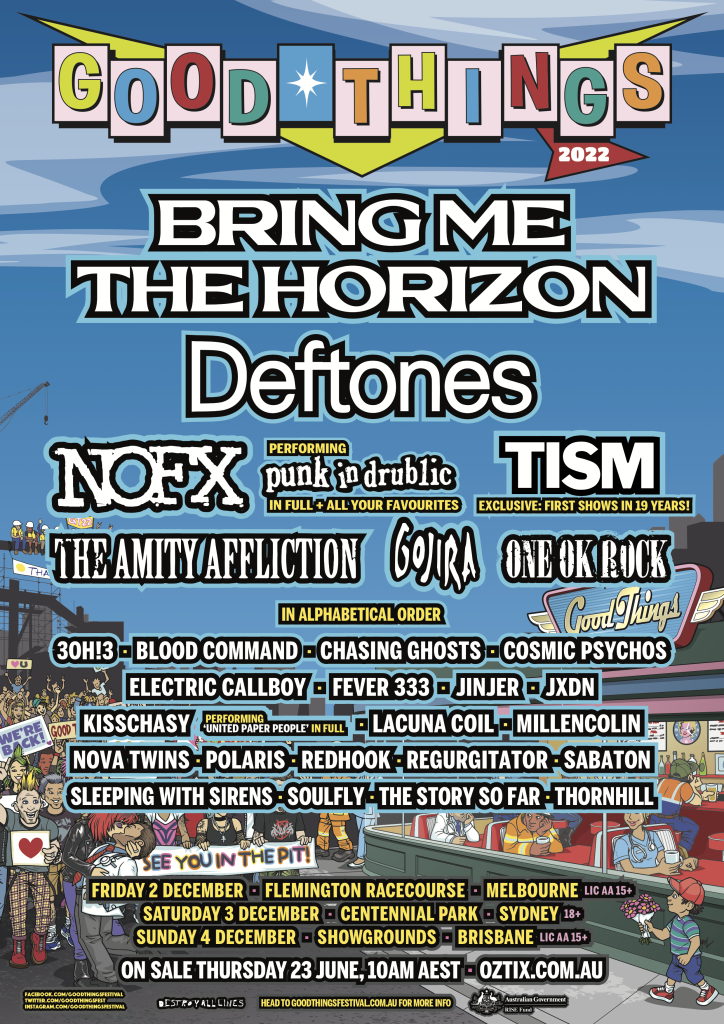 Australia's largest and favourite travelling music festival, aka Good Things Festival, is officially returning to ignite mosh pits and more along the east coast in December – and we can't wait to celebrate with you!
With so few things to celebrate over the past few years and a severe lack of live music and festivals, it's about time we all had something to look forward to; and Good Things Festival is bringing the good times and then some, offering a world-class line up entirely worth the wait.
To kickstart the celebrations lying in wait this December, Good Things Festival 2022 has confirmed none other than one of the world's most electrifying and successful rock bands BRING ME THE HORIZON to headline proceedings. With BRIT and Grammy nominations, multi-platinum selling releases and over 1 billion YouTube views in their wake since forming in the early 2000s, BRING ME THE HORIZON continue to push expectations and sonic boundaries, and their live performances are nothing short of show-stopping to say the least.
They said it would never ever happen, but an Australian miracle will also take place at Good Things Festival – for their first live performances in 19 years, iconic and gold-selling larrikins TISM will be exclusively appearing onstage.
Forget the tone-deaf empty platitudes, Good Things Festival has also brought American heavyweights DEFTONES to ramp up festivities. Hailing from Sacramento, California, DEFTONES are undeniably one of the most innovative and enduring alternative metal acts of all time, and they'll be in extremely good company alongside rough-and-tumble punk favourites NOFX this December as well. Pioneers of SoCal punk and nearly four decades into their careers, NOFX will perform their 1994 iconic album 'Punk In Drublic' in full and all your favourites at every Good Things Festival 2022 appearance, with all the hooks and refined raucous energy primed to explode on Aussie stages.
Speaking of Aussie stages, a band no stranger to playing at home and abroad is none other than The Amity Affliction, with the Queensland metallers set to bring their melodic and majestic brand of metalcore to the masses. Wielding their latest release, 2021's EP 'Somewhere Beyond the Blue', as well as a horde of old favourites, this is one astounding affliction you'll be ecstatic to experience live in action.
The party will be in full swing when Japanese rockers ONE OK ROCK take the stage, with the quartet's dynamic blend of pop rock, post-hardcore and alternative rock set to simultaneously ignite some good vibes and dynamic singalongs. And fresh from releasing their chart-topping 2021 album 'Fortitude', French progressive metal behemoths GOJIRA are ready to unleash all the earth-shattering polyrhythms, blast beats and thought-provoking thematics fans have come to know and love on Australian soil.
The metal vibes keep coming with some delicious goth heaviness via Italian quintet LACUNA COIL, while noise firebrands and habitual party starters FEVER 333 will be lending their voice to the celebrations, as will the crushingly brutal Ukrainian hell-raisers JINJER. German metalcore shapeshifters ELECTRIC CALLBOY will be making their first ever trip down under for the occasion, with superstar start-up JXDN also set to chalk up his first-ever Australian performances.
Of course, it wouldn't be a proper party without the inclusion of some other punk favourites, with appearances locked in from Swedish troublemakers MILLENCOLIN and Californian pop punk lords THE STORY SO FAR, as well as some triumphant sets from Norwegian punk rockers BLOOD COMMAND and Florida alternative giants SLEEPING WITH SIRENS to ensure a blistering blowout of epic proportions.
The festivities continue, with American electronic music duo 3OH!3 and urban punk duo NOVA TWINS guaranteed to get you all fired up. And heavy metal icons SABATON will arrive armed with their band new album 'The War To End All Wars', choosing Australia as one of the first to hear the new tunes live, while SOULFLY will also fly the heavy metal flag, returning to their adoring down under fans after one of their longest periods away from Australia in their 30 year career.
But it's not just the internationals we'll be celebrating with this December, with an army of Aussie beloveds also ready to roll. Australian punk rock institution COSMIC PSYCHOS, a band who can claim Pearl Jam's Eddie Vedder as a mate and musical peer, will be storming the Good Things Festival stages. Fellow Aussie staples also set to appear include rock and electropop trio REGURGITATOR and emphatic ARIA-nominated rockers KISSCHASY, as well as formidable artisan punk storytellers CHASING GHOSTS.
And that's still not all! Join some of Australia's favourite alternative exports at Good Things Festival this year, from some melodically charged mayhem courtesy of Sydney metalcore outfit POLARIS, to some lush modern heavy charm via Melbourne's THORNHILL – and some fiery, razor-sharp moments from everybody's favourite screaming rap-rock-electro-pop mutants REDHOOK for good measure!
GOOD THINGS FESTIVAL LINE UP:
Bring Me The Horizon | Deftones | NOFX (performing 'Punk In Drublic' in full + all your favourites) | TISM (Exclusive: First shows in 19 years!) | The Amity Affliction | Gojira | ONE OK ROCK
In Alphabetical Order:
3OH!3 | Blood Command | Chasing Ghosts | Cosmic Psychos | Electric Callboy
Fever 333 | Jinjer | JXDN | Kisschasy (Performing 'United Paper People' In Full)
Lacuna Coil | Millencolin | Nova Twins | Polaris | RedHook | Regurgitator
Sabaton | Sleeping With Sirens | Soulfly | The Story So Far | Thornhill
DATES AND VENUES:
Friday 2nd December – Flemington Racecourse, Melbourne (LIC AA 15+)
Saturday 3 December- Centennial Park, Sydney (18+)
Sunday 4 December – Brisbane Showgrounds, Brisbane (LIC AA 15+)