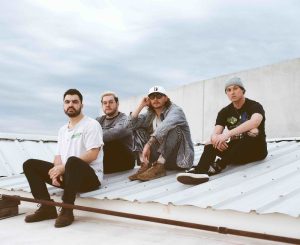 Australia, we hope you are ready for what promises to be the biggest pop-punk tour of the year with an ultimate line-up. That's right folks, New York pop-rockers 
STATE CHAMPS 
are returning to Australia this September with very special guests 
THE MAINE, HOT MILK
 & 
PAPERWEIGHT
.
Starting in bedrooms and basements in 2010, STATE CHAMPS quickly ascended as leaders of a new scene owing as much to early Fall Out Boy and Green Day as latter-day Warped Tour bands. Over the course of their career, STATE CHAMPS delivered their music and heartfelt message on extensive tours with bands like Fall Out Boy, 5 Seconds Of Summer, A Day To Remember, and Simple Plan; three different Warped Tours; and a co-headliner with Neck Deep.
Billboard called them "modern-day pop-punk torchbearers" and in 2022, Kerrang! declared them "one of the most authentic and well-respected bands in pop-punk" They'll be performing all your favourites including all the bangers from their brand-new studio album, Kings Of The New Age.
Phoenix pop-rock titans THE MAINE entered the scene in 2007 and releasing eight critically acclaimed records that have not only pushed boundaries sonically but in the mainstream world.
The group first garnered attention on the Vans Warped Tour before issuing their Top 40 debut, Can't Stop Won't Stop, in 2008. That paved the way for their sophomore album, 2010's Black & White, which cracked the Top 20 of the Billboard 200, their first headline tour and album of the year accolades from Alternative Press. They again reached the Top 40 with 2013's Forever Halloween, 2015's American Candy, and 2017's Lovely Little Lonely. The band have continued to evolve, moving toward an ever more sophisticated and literate rock sound, as heard on 2019's You Are OK and 2021's XOXO: From Love And Anxiety in Real Time.
Hailing from Manchester, UK, HOT MILK is the ultimate emo power-pop duo. Jim and Han met in a bar in the Northern Quarter in 2016, became fast friends and have lived together ever since. What started over a bottle of wine and an acoustic guitar in their living room, whilst it pissed it down outside, quickly became their vice and way to survive through everyday life. The Manchester weather coupled with their persistent desire to fill a meaning-shaped hole meant that one song quickly turned into fifteen after running home from work during lunch breaks and staying up all night
Singing sad songs with happy melodies, HOT MILK is a celebration of the real.
Fine and dandy like pop-punk candy, Melbourne quartet PAPERWEIGHT have spun a pandemic origin story into non-stop triumphs as they explode into 2022.
Rounding out 2021 with a debut festival appearance at the inaugural Knight & Day Festival alongside the likes of Parkway Drive, Polaris and Alex Lahey, PAPERWEIGHT already have an impressive live sheet in a short space of time. Including headline shows supporting their debut EP, Green Lotus Blooms, to supporting Melbourne pop-rockers Terra. Hysteria Magazine declaring them "As far as Paperweight go, they've marked themselves as one of the brightest bands around."
Get those vocal chords ready for the sing-alongs and set those alarm clocks as you won't want to miss out.
Destroy All Lines Presents
STATE CHAMPS
AUSTRALIAN TOUR
WITH VERY SPECIAL GUESTS
THE MAINE
HOT MILK
PAPERWEIGHT
THURSDAY 1 SEPTEMBER – THE TIVOLI, BRISBANE (18+)
FRIDAY 2 SEPTEMBER – FORUM, MELBOURNE (18+)
SUNDAY 4 SEPTEMBER – ROUNDHOUSE, SYDNEY (LIC AA)
TUESDAY 6 SEPTEMBER – THE GOV, ADELAIDE (LIC AA)
THURSDAY 8 SEPTEMBER – MAGNET HOUSE, PERTH (18+)
TICKETS ON SALE FRIDAY 1 JULY @ 10AM LOCAL TIME