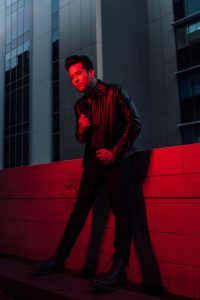 Eskimo Joe frontman Kav Temperley today furthers his sublime solo endeavours, releasing a deeply poetic, ethereal-yet-pounding new single Machines Of Love And Grace. Tackling the themes of connectivity in the digital age, Kav has also today shared an affecting music video for Machines Of Love And Grace, simultaneously capturing the track's existential narrative and driving instrumentals alongside Kav's dynamic stylings.
Machines Of Love And Grace was not inspired by the Richard Brautigan poem (although Temperley does admire his work), but by the notion theorists have put forward that humans are outliers on the planet – a virus upon it – because we put so much emphasis on love and empathy, ideals which don't really exist in the animal kingdom. We are, in effect, machines of love and grace.
Machines Of Love And Grace firmly harnesses a sharp spotlight on Kav's passion and penchant for songwriting that first endeared him so heavily in the Aussie music scene and beyond, boasting driving alt rock flavours with moments of acoustic calm and lush, stripped-back beauty. With its glistening piano and Kav's familiar, soothing vocals, Machines Of Love And Grace steadily oscillates between fuzzy riffage and more introspective calm, much like its own brooding and ruminating subject matter, as Kav explains, "The song is about the complex and intimate relationships we have through our phones, seen through the lens of the last two-and-a-half years of the pandemic. Having devices in our hands has allowed us to have dinner with loved ones all over the world, all locked in our houses, and follow every moment of each other's life; whether we want to or not, it's often the first thing we see in the morning and the last thing we see before we go to sleep. With the touch of a button, anything and everything is available to us, good and bad."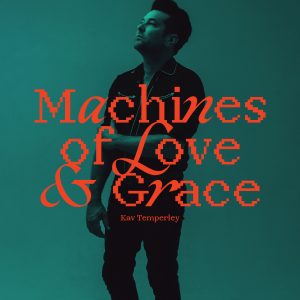 Filmed and directed by Eskimo Joe visual collaborator Cooper Gordon, the video for Machines Of Love And Grace perfectly complements the bittersweet themes explored in the song, with Kav intimately playing up the voyeuristic elements of social media and digital connection underpinning proceedings, elaborating, "Voyeurs to each other's lives, I'm asking the question: do any of us feel like we exist unless we're posting? And who are we when the camera lights turn off? We now live through these machines in the most intimate way, and we take them anywhere and everywhere we go! For the video, it was an idea of FaceTime without having Facetime," Kav says."Themost amazing thing is that the actor and the actress reacting to each other, they never met each other, yet on camera, it's like they're having an intimate relationship. It's absolutely fascinating and plays into the whole theme about the machines of love and grace."
Founding the ARIA award-winning, four-times platinum band Eskimo Joe at just 19, Kav turned winning a band competition back in the day into a career just shy of 25 years as the frontman, bass player and songwriter for what would go on to become one of Australia's most beloved bands. The group's breakout single Black Fingernails, Red Wine spent 62 weeks in the Top 50, with Kav going on to write and record seven studio albums with Eskimo Joe.
Alongside Kav's extensive career fronting Eskimo Joe, he's also a seasoned performer both onstage and onscreen, having toured nationally and internationally in Asia, America and Europe, and snagging guest TV appearances on Spicks and Specks, Rockwiz, Good Morning Australia, The Project, Sunrise, The Sound and Rage. With performance highlights including the 2021 AFL grand final in Perth, Sound Relief, Live Earth, the ARIA Awards, Big Day Out, Homebake, Splendour In The Grass and Sundance Film Festival in Utah to name a few, Kav's also simultaneously embraced and emboldened his role in the industry as an expert and mentor in creativity and songwriting, developing the Create, Explore, Produce songwriting model while also creating various productions for causes and events, and judging numerous songwriting competitions.
Set to hit the road on tour with Eskimo Joe later in the year, the APRA, WAM and OceanFloor Music ambassador is currently in his seventh year of running creative workshops, 2022 finds Kav at his most potent and prolific yet as he gears up to release even more new music under his solo moniker.
Machines Of Love And Grace is out now!
ESKIMO JOE TOUR DATES
WED 28 SEP| THE TIVOLI | BRISBANE
FRI 30 SEP| ODEON THEATRE | HOBART
SAT 1 OCT| FORUM | MELBOURNE
TUES 4 OCT | THEBARTON THEATRE | ADELAIDE
WED 5 OCT | ENMORE THEATRE | SYDNEY
SAT 15 OCT | FREMANTLE ARTS CENTRE | PERTH
Tickets and further information available here – https://www.frontiertouring.com/eskimojoe