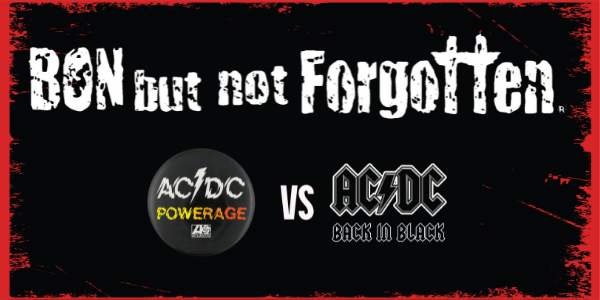 "One of the pre requisites of performing in Bon But Not Forgotten is to have a passion and great understanding of what AC/DC deliver."
From release: It will definitely be a High Voltage event when BON BUT NOT FORGOTTEN, the ultimate AC/DC Tribute Act head out on a Nation-Wide run of shows, commemorating the 76th birthday of the legendary Bon Scott. BON BUT NOT FORGOTTEN assembles some of the world's greatest rockers to perform the iconic hits and to pay tribute to the iconic first voice legend behind one of the world's greatest bands, AC/DC. These shows will be special with the band performing, fan-favourite, "Powerage" in its entirety along with a selection of Bon classics.
We had James Morley answer some questions for us about these upcoming tribute shows to the legendary AC/DC…
Thanks for your time, James. Of course we're here because you're heading out for some shows can you give us an idea on how these shows are gonna go down, and what people can expect from a Bon But Not Forgotten show?
People can expect a solid recreation of the classic AC/DC songs, performed by an absolute killer band. We can't wait to get out there!!
OK, so you have to choose one album to take to a desert island… Powerage or Back In Black, and why is that your choice?
Definitely Powerage, it's my favourite album of all time by any band. It's the rawness of it, and it really captures the band in a live setting, they were on fire at this stage of their career. Also the guitar tones are my favourite from all the albums.
From what I've seen I feel like with what you do it's not just a tribute to the band but it's paying major respect to the band and the songs with the passion and heart you put in, is this something you consciously do to give the experience of an old school AC/DC show?
For sure, It's not a tribute band, its paying our respects to the songs we love. One of the pre requisites of performing in Bon But Not Forgotten is to have a passion and great understanding of what AC/DC deliver.
Can you tell us a bit about the band you have on this run, who is helping you belt out these classics?
We have Bobby Poulton on bass from Wolfmother, he's a monster player. This year we have 2 singers, Simon and Cynthia. Cynthia is Australia's best female rock vocalist by a country mile, and Simon is a MAD Bon Scott fan, and has a similar sound to Bon, probably because of the Scottish connection.
Let's talk about AC/DC and reminisce a little. What do you remember about the first time you heard their music?
Was given a copy of If you want blood in 1978, never heard of them before that and I was hooked from the moment I heard Riff Raff.
What was it about this band that made you want to be a create this tribute to them?
For me, they are the culmination of 5 players that, for me, created the perfect blend. The music is real, there's no pretentiousness, you either love it or hate it, and I love it!
So, if you had to pick, do you have a favourite song to play?
I think Down Payment Blues and Shoot to Thrill are a couple that come to mind, also Gone Shootin. There's too many to choose though.
Now we all know that the last two years have been doozies, what if anything has this whole situation taught you that you will now maintain throughout your life and career?
It's taught me to relax more, you can't fight certain things, so you just have to adapt.
Looking back over your career and what you've done and been a part of it can be very easy to say what can change over time but what for you is the one thing that has always remained the same?
My love of performing live, nothing beats it. It's hard to explain to anyone that doesn't have the opportunity to do that, but it's a very addictive high.
Lastly, let's look ahead to the future with a prediction. Finish this sentence for me, in 2022 Bon But Not Forgotten will… Kick Ass !!
Essential Information
From: Australia
Catch Bon But Not Forgotten at the following dates –
Special guests on all shows are Poundcake: The Van Halen show.:
Friday July 1 2022: Charles Hotel – PERTH, WA
www.trybooking.com or from the venue
Saturday July 2 2021: The Gov – ADELAIDE, SA
Tickets via www.oztix.com.au or 1300 762 545
Sunday July 3 2022: Corner Hotel – MELBOURNE, VIC
BOOKINGS: www.oztix.com.au
Friday July 8 2022: Cambridge Hotel – NEWCASTLE, NSW
BOOKINGS: www.oztix.com.au
Saturday July 9 2022: Bridge Hotel – ROZELLE, NSW
BOOKINGS: www.oztix.com.au