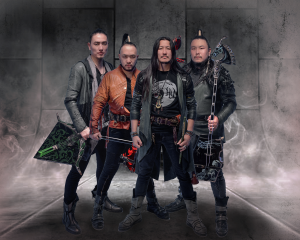 Such is the demand for critically celebrated Mongolian Hunnu rockers, THE HU, that they have added a second show in Melbourne after their first one sold out in record time!
The new show is confirmed for
Tuesday, August 2 – 170 Russell, Melbourne
Tickets are on sale Wednesday, May 18 from 9:00 AM AEST
Taking the total number of shows to five, the Australia Black Thunder Tour will give fans the chance to hear new music from The HU's highly anticipated second album, due later this year.
Fans can check out the music video for the first single, This Is Mongol, from their forthcoming as yet untitled album, here

The HU Producer, Dashka comments on the track: " The name of the song is called "This is Mongol" because we wanted to reintroduce the Mongolian culture and our unique music to the world. Not only the name is announcing the Mongolians are here in global scale but also wanted to bring attention to our tradition of being mindful to the environment, most importantly to remind people to preserve the nature.
Creating this song meant so much to me and we are announcing our arrival through music and specifically through this song. In these uncertain times, I hope we are bringing positivity, empowerment and strength to fight for better days."
THE HU
Black Thunder Australia Tour 2022
Tuesday, August 2: 170 Russell, Melbourne New Show
Wednesday, August 3: 170 Russell, Melbourne Sold Out
Friday, August 5: Eatons Hill Hotel, Brisbane
Saturday, August 6: Hindley Street Music Hall, Adelaide
Sunday, August 7: The Roundhouse, Sydney
For complete tour and ticket and information, visit: 
livenation.com.au & thehuofficial.com
**********
ABOUT THE HU
The Hu's name translates to the Mongolian root word for human being, and their unique approach blends instruments like the Morin Khuur (horsehead fiddle), Tovshuur (Mongolian guitar), Tumur Khuur (jaw harp) and throat singing with contemporary sounds, creating a unique sonic profile that they call "Hunnu Rock."
Proving their global appeal, The HU have sold out venues across the world in North America, Europe, Asia, and Australia, with scheduled festival appearances at Coachella, Lollapalooza, Download Festival, and more, creating a community of fans from all walks of life.
They quickly grabbed the attention of the industry, leading to collaborations with Jacoby Shaddix of Papa Roach and Lzzy Hale of Halestorm. Most recently, the band received praise from fans and critics for their Mongolian rendition of Metallica's "Sad But True," which Metallica themselves acknowledged on their social media accounts, seemingly giving the band their official seal of approval. The band has also explored eclectic ways to reach audiences with their sound, most notably writing and recording music for EA Games' Star Wars Jedi: Fallen Order.
Their debut album, 2019 's The Gereg, debuted at #1 on the World Album and Top New Artist Charts. With it, the band have accumulated over 250 million combined streams and video views to date and have received critical acclaim from the likes of Billboard, NPR, GQ, The Guardian, The Independent, Revolver, and even Sir Elton John himself.
Readying their next chapter as a global force, The HU are putting the finishing touches on their highly anticipated sophomore album, which is due for a global release later this year from Better Noise Music. The project will include a selection of tracks that were premiered live on the band's critically acclaimed North American tour at the end of 2021.