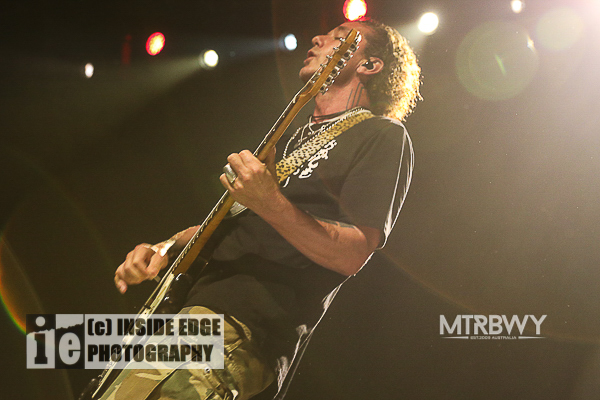 Hi my name is Troy and it's been 782 days since my last concert review… wow, what a crazy run. I hope I still remember how to do this.
What a ride it's been for Under The Southern Stars, postponements, line up changes, more postponements, venue changes, yet here we are, FINALLY! The first full international tour to hit Australia since 2020 and I couldn't be happier to be here and seeing live music once again. Tonight as the bill has been rotating throughout the run, tonight is a bill that features in order, Black Rebel Motorcycle Club, Stone Temple Pilots, Cheap Trick, and Bush. I mean come on… what a way to get back into things.
Let's go!!
Black Rebel Motorcycle Club take the stage to a crowd that I feel like have forgotten how to react when a band walks on stage, it was an excited confusion if you like. But as they begin it's just kinda overwhelming hearing loud live music again. I remember why I love it. My ears are a cross between what the hell is going on and yay and that'll balance out shortly. In seeing BRMC before they have this groove about them that as a three piece is hard to nail but these guys are the hammer and have it down. Showcasing exactly that as the dueling vocals really take this band to the next level. Switching to a twin guitar set up the almost drone / buzz sound of the band shines through on 'Beat the Devil's Tattoo' I'm loving the trade off on lead here with the band on 'Hate The Taste' Followed by 'Berlin', then into thumping drums taking us into an almost hypnotic riff which underlies the song and damn I'm loving it. They thank the crowd for finding them and then with a "whoa oh oh oh oh" things speed up a little for 'Spread Your Love' and that was a ripper. It closes their set and all I can say is welcome back live music.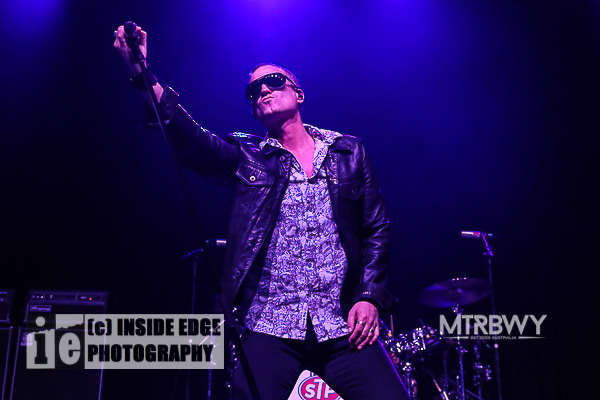 Stone Temple Pilots time. Here we go. First time in Australia with singer Jeff Gutt and they come out swinging. "Wicked Garden" opens their set as they're bathed in purple lighting. Holy shit this sounds great and Jeff welcome to Sydney, you sound marvelous. Then as 'Vasoline' kicks things into gear, man watching these guys play is a treat. Musically they are tight!!! Damn. I just found myself singing along and geez that felt weird but so good. 'Big Bang baby' keeps the groove train rolling and hearing these songs live is a treat. Ha ha just heard my "I can't hear you" for the first time in a long time. As they head 'Down' and these riffs just get heavier. Jeff jumps down to the barrier for some Covid safe fist bumps. And yes we've "been waiting for something good" and here it is! Things slow down a little for "Big Empty" and that chorus, if Jeff wanted to pay homage to Scott in more than the awesome job he's doing, oh man he nails this. Then that feeling I've missed so much, when the guitar hits and the crowd cheers, that happened as 'Plush' took its place in the set. Never seeing STP live before this is an absolute treat. These songs were such a part of my growing up and the justice they're getting tonight is just the best. That was the best reaction of the night so far. So great. Dean greats the crowd and thanks the crew which rules. OK, so not only is 'Interstate Love Song' my favourite STP songs it's one of my fave songs ever. So I'll be back in a few minutes. Gonna enjoy this. Damn. Thank you STP been waiting a long time to hear that live. Getting the crowd pumped up and diving into 'Dead and Bloated' as Jeff leads us off before things get heavier again. Damn. Sorry. Lots of damns but damn this is great. We go 'Trippin' on a Hole in a Paper Heart' which was awesome but not as awesome as 'Sex Type Thing' as they close their set. "We are Stone Temple Pilots and we will be back" and we already can't wait. See you on the next run, fellas.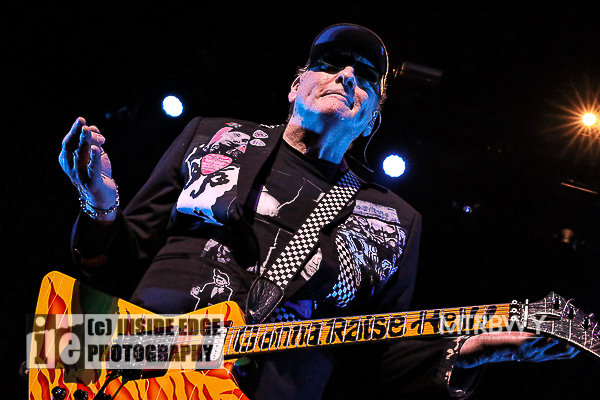 Ladies and gentlemen. Cheap Trick. 'Hello There' indeed, their usual starter kicks off the set from these legends, and yes we are ready to rock. And within moments it's time for 'Dream Police' and what a classic. Rick takes the middle and this is just so much fun to watch. As more guitar picks get thrown out than you'll ever see and this is only song two. They keep their blend of power pop rock going for 'Wrong All Along' and it's just so infectious. These guys have been a band longer than I've been alive and they have it down. 'If You Want My Love' gets them singing along and it's just one of those songs you can't help but join in with. 'I Don't Love Here Anymore' is a cracker. Introducing the band they lead into that acoustic intro played by the Zander's for their huge hit 'The Flame' and they power through that ballad as they always do, although Robin's voice is a bit stretched on this one you still can't help but love it. Still one of the best songs out there. Robin Zander Jr takes to the front of the stage to sing one for us 'Downed' and wow he can sing. Tom takes to the front of the stage for a bass solo before the band return letting Tom take the lead vocal for 'I know what I want'. As we start to get to the end of the set it's time for 'I Want You To Want Me' and arguably one of their best and perfectly executed. What a song. As Pete from BRMC joins the band on stage for 'Surrender' and what a song it still is to this day. And you know what? We are all alright after that. As they say goodnight with just that, 'Goodnight'. That ladies and gentlemen was Cheap Trick. Still got it, still a whole lot of fun!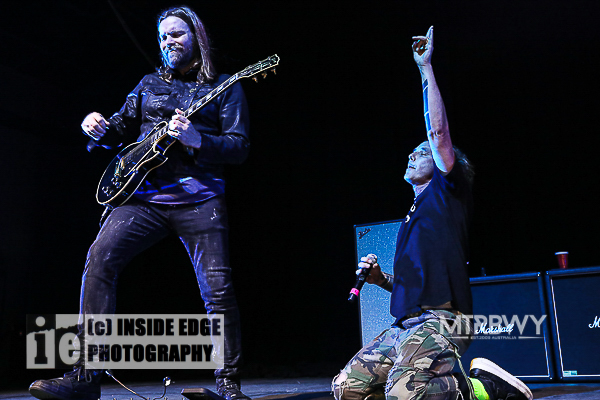 And now the night closes with some Bush. Back in Australia for the first time in a while, the lights go down as tonight's headliners make their way onto the stage. Straight into 'The Kingdom' and Gavin is using the stage nicely as he moves around hitting the groove. This opener from their most recent album is killer and so much heavier tonight, especially with the vocals of Corey Britz helping to pad these monsters out. Gavin throws on a guitar for 'Machine Head' and they sound great. Unfortunately the sound completely dropped out which was interesting as the band kept playing. Thankfully we're back and a little Q&A from Gavin while they fix the guitar. Here we go and 'Blood River' keeps the heaviness going from The Kingdom and then 'Quicksand'. Now we go back to the beginning way back to 'Everything Zen' and you may not think so, Gavin but I'm pretty sure everything is right now. They smash this one out like it's a brand new single and that's kudos to a band that love what they do. Ooh haven't been part of a clap along in a while, that was fun! 'Bullet Holes' is up next and keeps the intensity up. Then as the band exit the stage leaving Gavin alone with a guitar it's time for 'Glycerine' and with that buzzed guitar and that distinct vocal that make this song what it is as he takes it acapela for the second verse. Well done! Still such a great song. From the old to the new with the killer 'Flowers On A Grave' which is an absolute ripper and more people should know. To the last song of the night as we all need a 'Comedown' from tonight. With a big sing along in the middle it was just great to be a part of. First big rock show back and if this is the way they close then man I'm so excited to have live music back.
This. This is my happy place. I've missed it.
Essential Information
Venue: The Big Top Luna Park
Date: March 23, 2022
Presented by: One World Entertainment / Andrew McManus
Photos By: Inside Edge Photography – Full gallery HERE