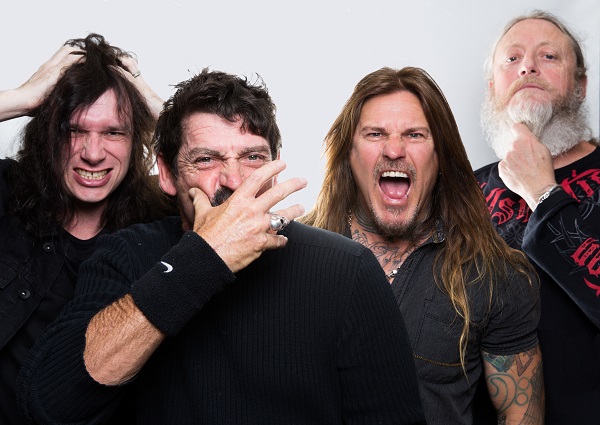 "We have 12 tracks being mastered as we speak. We are very proud of these songs and haven't felt this way since 'Who Cares'."
From release: Revered rockers The Poor have unleashed brand new single, "Payback's A Bitch". It's their first new music in over a decade (12 years to be precise), on new Australian record label Reckless Records. Time has not wearied this band. Still delivering their unabashed four-on-the-floor rock, "Payback's A Bitch" represents a new era for The Poor, led by lead guitarist Daniels Cox's premiere songwriting collaboration with the band.
We sent Skenie some questions and he hits us back pretty quick, so check out what he had to say below!
G'day Skenie, so it's been ten years since we last chatted, so let's catch up, how have the last ten years been for you? Ha ha
The last ten years has been pretty tough. A lot has happened in and out of the band, but these things only make you stronger!
And here we are ten years later with your first new music in around that time, so why was now the right time for new music from The Poor?
With Julian (guitarist) leaving the band we almost hung the boots up but got our second wind as we always do and Dan Cox (new guitarist) came along. Dan's playing and devotion inspired us to start writing again. That's just how it happens.
'Payback's a Bitch' is a perfect return, big riffs, big sound, can you tell us a bit about how this song came about and was the one to reignite the flame?
It was the first song Dan and I really sat down and started nutting out ideas for songs and payback was the result. Only seemed fitting it be the first single.
With so long between (many) drinks, what if anything were you able to do when working on this that you hadn't done in the past?
Take our time. This album has been 3 years in the making basically. And not just the songs but the reinvention of our whole business ie; management, record company, touring overseas, and honing our craft as a live and recording band.
So, I guess the big question is, is there more coming, and if so when can we expect to hear an album? (we'll even take an EP!)
Yes. No ep. An album will be out this year. We have 12 tracks being mastered as we speak. We are very proud of these songs and haven't felt this way since 'Who Cares'.
Touring you guys have played a few shows of late, how has it been getting back out there belting out the tunes?
Better than ever. The band is on fire. Ready.
Let's jump back a bit as it's 30 years this year since 'Rude, Crude, and Tattooed' was released, back when you were The Poor Boys, I remember it well, but what do you remember about that time releasing your debut EP?
That was a very exciting time as is right now. Listening to your songs being played on the radio for the first time and doing tv slots on live and sweaty, not to mention gigging constantly. Exciting and fun.
Let's keep looking back, as over your career it can be very easy to say what can change over time but what for you is the one thing that has always remained the same with The Poor?
Our brotherhood and the want to play and be the best for each other. Keeping an open mind when writing and letting the natural progression of the band come to light.
Now we all know that the last two years have been doozies, what if anything has this whole situation taught you that you will now maintain throughout your life and career?
The powers that be are full of shit. Stick to your guns and you will prevail.
Lastly, let's look ahead to the future with a prediction. Finish this sentence for me, in 2022 The Poor will…
Release their long awaited 4th album with singles charting worldwide, tour Europe and come back ready for the next battle!!
Thanks for you time, Skenie, see you soon! OI!
Fuck yeah cheers
Essential Information
From: Australia
Band members: SKENIE – Vocals, MATT WHITBY – Bass, DANIEL COX – Guitar, GAVIN HANSEN – Drums
Website: www.thepoorband.com
Latest single:  Payback's a Bitch (out now – Reckless Records) – download / stream HERE