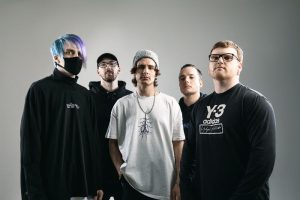 Australia, hold onto your seats as 
ALPHA WOLF
 are about to heat them up with the biggest metalcore tour of the year….and they're not messin' around. That's right, Australia's finest metalcore juggernauts will be embarking on their biggest national headline tour around the country in June. The Metalcore Snitches tour will be joined by their close friends in 
FIT FOR A KING
 (USA), 
GREAT AMERICAN GHOST 
(USA) and 
PALEDUSK
 (JPN).
"We've been waiting patiently to be able to do a tour of this size and it feels so good to finally see it come into fruition. Having made friends with each of the bands on this lineup from past tours, it brings us great joy to be able to invite them to Aus and have them join us in our home country. For whatever breakdowns tickle your fancy, this lineup has you covered and you're guaranteed to remember this night forever. This is the Metalcore Snitches tour and we can't wait to see you there!" – ALPHA WOLF
While the road has been far from easy for 
ALPHA WOLF
 and they refuse to let anything stand in their way. Throughout the chaotic and turbulent times they find themselves, the band released their sophomore album 'a quiet place to die' to critical acclaim including a #6 spot on the ARIA charts and a nomination for Best Heavy Album at the ARIA awards. Selling out multiple sold out runs around Australia and two European runs under their belt, the band have just wrapped up a huge 5 week tour in the USA supporting Polaris. 
ALPHA WOLF
 know how far they have come, but it's what lays ahead of them that's keeping the band hungry.
The heaviest and catchiest extreme metal act from the Lone Star State since the original cowboys from hell, FIT FOR A KING will be making their long awaited return back to Australia after 8 long years since their last visit to down under. Having steadily built a ferociously dedicated following through determination, classic American Metalcore breakdowns, lyrical courage, and steadfast conviction. Their 2018 full-length Dark Skies has been streamed nearly 50 million times, in 2019 having over nearly two million listeners on Spotify and released album six, The Path in 2020 which was hailed as a definitive masterpiece. Bigger, bolder, and overwhelmingly epic. Incredible for an underground group who self-released their EPs just over a decade beforehand.
Boston's harshest and most furious export, GREAT AMERICAN GHOST will be touring Australia for the very first time. The group Metal Injection calls "always hateful, always pissed" steadily built a devoted following with the bleak and punishing Power Through Terror (2019) and most recent, Torture World EP (2022). Directing old-school hardcore wrath at hypocrisy, apathy, and self-loathing, delivered in a dark cloud of relentlessly bludgeoning riffs. It's that potent concoction of the push and pull between hardcore spite and metal ferocity that makes GREAT AMERICAN GHOST so undeniably exciting.
For a lot of bands, chaos & insanity are used as colourfully descriptive words for their character; for Japan's PALEDUSK, they're somewhat of an understatement. The electronic-metalcore powerhouse leaves absolutely nothing behind as they carve a path that is truly one of a kind. Since the release of their EP Happy Talk, their signing to Greyscale Records and most recent single 'Slay!!!', word has spread like wildfire about these young kids from the Japanese island of Kyushu and it doesn't seem to be slowing down. With this being PALEDUSK's first trip outside of Japan, this is sure to be the next exciting leap in their journey before they become the next global sensation that everyone is talking about.
The Metalcore Snitches tour is the hottest metalcore tour of the year.  You don't want to be a fool and snooze on this one, the tickets won't last and don't say we didn't warn ya.
Pre-Sale tickets on-sale Tuesday 19 April @ 5:00pm local time
General tickets are on-sale Friday 22 April @ 10:00am local time
www.destroyalllines.com 
Destroy All Lines & Greyscale Records Present
ALPHA WOLF
THE METALCORE SNITCHES TOUR
WITH VERY SPECIAL GUESTS
FIT FOR A KING (USA)
GREAT AMERICAN GHOST (USA)
PALEDUSK (JPN)
 
THURSDAY 9 JUNE – AMPLIFIER BAR, PERTH (18+) *
FRIDAY 10 JUNE – 170 RUSSELL, MELBOURNE (18+)
SATURDAY 11 JUNE – THE GOV, ADELAIDE (LIC AA)
SUNDAY 12 JUNE – UNI BAR, HOBART (18+) ^
WEDNESDAY 15 JUNE – THE BASEMENT, CANBERRA (18+)
THURSDAY 16 JUNE – FACTORY THEATRE, SYDNEY (LIC AA)
FRIDAY 17 JUNE – CAMBRIDGE HOTEL, NEWCASTLE (18+)
SATURDAY 18 JUNE – THE TRIFFID, BRISBANE (18+)
SUNDAY 19 JUNE – ELEVEN DIVE BAR, SUNSHINE COAST (18+)
* ALPHA WOLF & FIT FOR A KING ONLY
^ PALEDUSK NOT APPEARING
Tickets on sale Friday 22 April @ 10am local time  www.destroyalllines.com