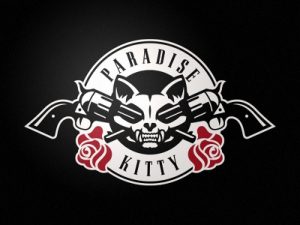 What do you get when five bad ass babes, born and bred on "Appetite for Destruction" come together? You get, PARADISE KITTY, one of the world's leading tributes to the mighty Guns N' Roses. With serious metal honed chops and raucous reverence for the Sunset Strip warriors that took Hollywood and the world by storm, they are a sexy, smouldering, dead serious tribute that's out to get GN'R fans far and wide.
Following their debut visit to Australia in 2018 which left fans gasping for more, the ladies return down under in 2022 for Silverback Touring's '80s throwback series, Eighties On Sunset.
As the perfect entree to the delayed GN'R tour, slated for late 2022, the band, endorsed by members of Guns N' Roses themselves, will be performing the classic "Appetite for Destruction" in its entirety as a celebration of its 35th anniversary, together with a range of GN'R fan faves.
On the upcoming tour, vocalist Jenna Syde says, "Our Sunset Strip party is flying over the Rainbow and back down to Oz! Get ready because we'll be slinging guitars, stealing hearts and saving your rock n' roll soul all in the name of GN'R! We know where you are, and we're out to get ya!"
Joining PARADISE KITTY will be Australia's glam slam party kings, Poizon'us, who have been keeping Poison's brand of glam party rock alive with tireless touring for the past decade. As a special treat for Poison fans, and in a brand-new show, the band will be performing Poison's "Live, Raw & Uncut" in its entirety. The shows will be hosted by rock DJ, DJ Jordan Adam.
Eighties On Sunset is a throwback to a time of loud, brash, unashamed and in your face, good time rock 'n' roll that is a must attend for any fan of '80s hard rock and glam metal.
Tickets on sale now from silverbacktouring.com
PARADISE KITTY April 2022 Australian Tour Dates
Fri 22 April: Sydney, Manning Bar
Sat 23 April: Brisbane, The Zoo
Thu 28 April: Gold Coast, Wallaby Hotel
Fri 29 April: Adelaide, The Gov
Sat 30 April: Melbourne, Max Watts