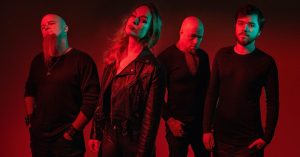 In what seems like an eternal rollercoaster of close calls and postponements, Silverback Touring are pleased to re-announce the DEVILSKIN "RED" Tour with a new set of dates. The hard-hitting Kiwi band released their critically acclaimed third studio album RED in April 2020 and have been trying to make it to Australia to celebrate. Now, with borders finally opening and plenty of light at the end of the pandemic tunnel, Australia finally get their chance to witness DEVILSKIN on their first ever headline run down under in April/May 2022.
On the tour, DEVILSKIN's Nic Martin says, "We are so grateful for our overseas supporters, who have proven their patience and loyalty as we have tried to bring this show to their shores. Now that it appears safe to do so, we are frothing to be connecting with our friends in Australia again. We're incredibly excited to finally showcase our latest album, especially in a few cities we've never previously performed. It's going to be a massive reunion, so we hope you're ready for a Kiwi-style party, Aussie!"
Having stunned Australian crowds on tours with HALESTORM and SLASH Ft. Miles Kennedy and the Conspirators, and appearing on Download Australia in 2019, DEVILSKIN are one act not to be missed.
DEVILSKIN have garnered a formidable reputation and a solid fanbase worldwide from their relentless touring schedule. A swathe of brilliant live reviews from Europe to USA to Australia are testament to the groundswell of support for this hard-working and focused New Zealand act.
The title of their latest album RED is significant: it is the universal colour of passion, vitality, blood, danger, romance, anger, horror and love; everything evocative. Of all the colours, RED is a warning and a statement.
RED starts with a sonic throat punch titled 'Do You See Birds' and promises to enthrall the listener with a tour-de-force of emotions and moods. From the de-tuned anthem 'Corrode' and the caged rage of 'Same Life', to the poignant beauty of 'Sweet Release', the swagger of 'Be Like The River', and the manic fury of 'Everybody's High But Me'. DEVILSKIN have long been noted for their emotive songwriting and ability to touch peoples' hearts, and on RED they have bared their soul with their finest performance yet.
Joining DEVILSKIN are fellow Kiwi's SHEPHERDS REIGN on their first ever Australian visit. SHEPHERDS REIGN are a Polynesian Metal band and seem to be a world first. The band is made up of 5 brothers: Pacific, M?ori and Asian, who are united in their passion for writing and performing hard hitting music that expresses where they are from and shares their life experiences. It's metal with thick textures and big melodies, delivered with attitude and conviction. Their recent release 'Le Manu' has received close to two million views on YouTube.
SHEPHERDS REIGN is best experienced live, where each band member gives it their all and aims to smack the audience in the face with their performance. The live show is a culmination of years of playing together and developing their natural chemistry and on stage is where they are most powerful.
This is a show of some pure Kiwi metal power, and one that is not to be missed.
All existing tickets remain valid for the new dates. New tickets are on sale now from: https://www.silverbacktouring.com.au/devilskin/
Touring April / May 2022
Friday 29 April – Sydney – Manning Bar
Saturday 30 April – Brisbane – The Zoo
Sunday 1 May – Gold Coast – Coolangatta Hotel
Thursday 5 May – Adelaide -The Gov
Friday 6 May – Perth – Amplifier
Saturday 7 May – Melbourne – Max Watts