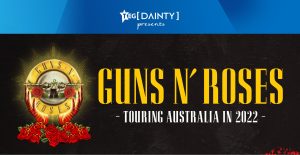 What was to be the biggest stadium rock tour of 2021 is moving to Summer 2022! TEG DAINTY announced today that Guns N' Roses massive Australian tour will move to new dates in November and December 2022 due to Covid-19.
For all the fans who have purchased tickets to the highest grossing tour of 2021, it's very simple, just hold onto your ticket and you will have the same spot, in the same Stadium, in Summer 2022 for an EPIC 3 HOURS of Guns N' Roses!
Axl, Slash and Duff have told fans…
'Australia, we can't wait to see you bigger and better next Summer!'
 
A special release of tickets to the new dates in 2022 go on sale today at TICKETEK.COM.AU
Guns N' Roses 2022 Tour Dates:
Friday 18 November: Optus Stadium, Perth
Tuesday 22 November: Suncorp Stadium, Brisbane
Thursday 24 November: Metricon Stadium, Gold Coast 
Sunday 27 November: Stadium Australia, Sydney 
Tuesday 29 November: Adelaide Oval
Saturday 3 December: Melbourne Cricket Ground
Paul Dainty AM, President & CEO of TEG DAINTY said today "We worked for months with the various state governments trying to create a safe environment so that the Guns N' Roses tour could proceed this year.  Despite our best efforts it recently became clear that we could not proceed in 2021 and it has taken time to finalise a plan where we could be confident of completing a national tour of Australia next year.
This will be the biggest stadium rock tour of Summer 2022 with hundreds of people on the road, a massive production and logistics involved."
Guns N' Roses are currently touring North America and receiving huge responses!
In 2022 it's Australia's turn!
A new release of tickets are on sale today in all cities at ticketek.com.au.
GUNS N' ROSES SET TO DOMINATE 2022!
IMPORTANT MESSAGE
DO NOT BUY FROM UNAUTHORISED RESALE SCALPER WEBSITES.
YOU RISK BUYING INVALID OR FRAUDULENT TICKETS