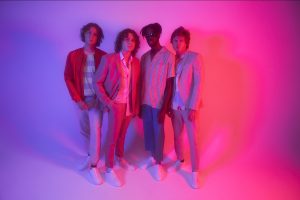 New York City band to watch, TEMPT, who are already getting buzz from the likes of Loudwire, just dropped their new, infectious single "Living Dangerous," via Better Noise Music. 
The track features Dorothy Martin, acclaimed lead singer of the female-led rock act Dorothy. The record was produced and mixed by the legendary Chris Lord-Alge, who has worked with iconic bands such as U2, Green Day, and My Chemical Romance. Bursting with energy, "Living Dangerous" inspires listeners to break free of their inhibitions, tapping into classic rock sensibilities with a modern sonic twist. Lead singer Zach Allen's and Dorothy's voices blend perfectly with an obvious chemistry that draws listeners in and takes them on an irresistible rock 'n' roll musical journey.
"Living Dangerous (featuring Dorothy)" is now available to stream and download across platforms. https://tempt.ffm.to/livingdangerous 
Zach Allen expressed his excitement about the single's release: "After this crazy year, we are so ready for the world to hear Living Dangerous! It's a great kickoff to the coming launch of the new record. Working with Chris Lord-Alge and then having Dorothy sing with us just took the track to yet another level! Roll down the car windows, blast it and try not to speed."
Featured artist Dorothy commented, "Tempt are an incredibly talented group of guys, and working on "Living Dangerous" with them was a blast from start to finish. The track is so vibrant and full of energy, and I'm stoked to be a part of it."
Lord-Alge continued, "When Tempt's agent Steve Strange and manager Andy Gould came to me and played the first demo mixes, I knew this was the birth of a great new band. They took influences from so many of my favorite bands and made it their own. Tempt breathes life back into Rock with their own sound. I'm onboard for the duration to make this journey amazing"
The official music video for the track also premiered today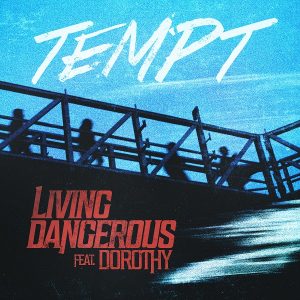 The video opens with TEMPT breaking into an abandoned factory in their hometown of NYC and then performing alongside Dorothy with larger than life imagery projected onto the factory's silos as a backdrop. The unique location provided the perfect vibe and energy for a band who perform music that is exciting, adrenaline-filled and very much about enjoyment for everyone involved – musicians and fans. The video also features footage from the upcoming horror-thriller film THE RETALIATORS, as the song appears on the film's soundtrack alongside new music from Mötley Crüe, Papa Roach, Five Finger Death Punch, Th HU and more. And the film's star and producer Michael Lombardi helped edit the video.
In a statement, Lombardi said, "This video was so much fun to make, and TEMPT are a great addition to the world of this film we've been building through music and visuals over the past several months. I can't wait for everyone to see and hear the song within the context of the full film."
Tempt's manager, film and music industry veteran Andy Gould, added, "Having been fortunate enough to manage some very successful artists from their start (i.e. Rob Zombie, Linkin Park), every so often you see a band and know they are going to be HUGE. That was the case when I saw TEMPT. Great playing and classic songs, these guys will be around for a long time. In my experience, the marriage of rock music and horror films has always been strong. Having produced a dozen horror films and being around the genre for decades, you begin to recognize the same fan base. The people that like hard rock are the same ones who love a good horror film. Putting them together is the perfect match."
ABOUT TEMPT
Tempt are not about starting a revolution. Nor are they about taking the past and reimagining it. No, what Tempt are doing is far more exciting and dynamic. Welcome to the future of rock. In the few years since their formation in New York City, Tempt have created a style marked by verve, vibe and quality. They're a band for today but don't pander to trends. They are four talents who meld and merge into something that is far more than the sum of those considerable parts. So, who are Tempt? They are vocalist Zach Allen, guitarist Harrison Marcello, bassist Chris Gooden and drummer Nick Burrows. What are they like? Firstly, the songs are sparklingly melodic. One listen and they stay firmly in the mind. The recent surge of love for rock by the likes of Post Malone, Machine Gun Kelly and Miley Cyrus has opened a door for a younger generation to walk through and rock out. Tempt's debut album on Better Noise Music has everything you desire: uplifting songs, evocative musicianship, incredible atmosphere and a magical rapport between the four members and producer Chris Lord-Alge. It also has the type of indefinable uniqueness that all game changing albums possess – and this IS a game changer!