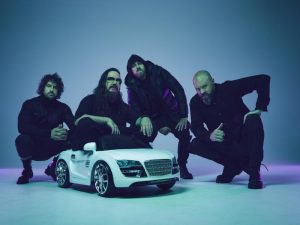 Australia's maniacal rock-fusioneers Twelve Foot Ninja snuck back into the world's eyes and ears last month with the stealthy drop of their single Long Way Home, the first taste of new music since their album OUTLIER in 2016. That single came with a 2D platformer videogame. Fans who collected all 12 brick phones in the game discovered they could unlock the band's music video for Long Way Home.
On Friday July 9, the band released Start The Fire, the second single from their upcoming album VENGEANCE, and today, they reveal its music video.
But the big announcement includes an incredibly immersive set of content that they have been quietly working on for 5+ years. In addition to announcing the pre-order of their hotly anticipated third album VENGEANCE (scheduled October 15 release), Twelve Foot Ninja also announce PROJECT VENGEANCE which comes with a whole LOT more…
True to form, Twelve Foot Ninja aim to pull off something that no other musical act in history ever has before. In addition to the album VENGEANCE, the band is releasing a literary high fantasy novel called THE WYVERN AND THE WOLF written by Nicholas Snelling – both novel and album are available for pre-order now and scheduled for release on October 15, with the first 12 chapters sent to you when you pre-order.
Set in a grim and savage world, THE WYVERN AND THE WOLF tells the tale of an orphaned samurai boy called Kiyoshi who is adopted by the ruthless leader of a clan of ninja. Much more than a mere origin's story, however, the novel is a tour de force in fantasy fiction and world-building, and represents a unique partnership with Snelling. Published by The Venn Gents, the novel can be pre-ordered now from www.twelvefootninja.com.
The original story of the Twelve Foot Ninja was conceived by the band's guitarist/producer Stevic MacKay and his partner Fiona Permezel. It was that concept which first inspired THE WYVERN AND THE WOLF.
Also available now from the band's website is a graphic novel called VENGEANCE, written by Stevic Mackay with artwork by George Evangelista. The graphic novel sees the band's namesake, the Twelve Foot Ninja, journey through alternate dimensions to take on an evil alien entity.
As ambitious and unlikely as this 'world-first' multimedia release might seem, Twelve Foot Ninja deem it a vital innovation. In the age of streaming, music has become increasingly under-valued and the plight of the professional musician has become less sustainable. And yet, at the very beginning of the band's journey, Twelve Foot Ninja planned to expand their offering with a suite of deeply immersive and premium content. Finally, we will start to experience the fruits of that early vision – perhaps a fortuitous move in this uncertain world of snap lockdowns, but certainly a smart way of broadening the band's already fervent fanbase.
Mackay explains PROJECT VENGEANCE: "This is an exorcism of content that's spent a decade in gestation. 'Catharsis' is close to what it feels like to finally share Kiyoshi's story; and I guess respond to all questions pertaining to our name; All this time, so many have thought 'Twelve Foot Ninja' was tongue-in-cheek, when in actuality, the story's genesis occurred a year before the formation of the band. I really hope our fans enjoy the vastness of what we've created, and we're able to continue to surprise people with new methods of storytelling."
The sheer amount of content might be a 'world-first' for a band, but the fact is, breaking records isn't exactly new for Twelve Foot Ninja. They once held—and may still hold—the world record for most successful crowdfunding campaign of a music video. And since 2014, they've amassed a mantlepiece full of awards – from being named 'Best New Talent' in the US (Revolver's Golden God Awards), 'Best Artist/Song Discovery' (SiriusXM Liquid Metal Charts), 'Best Metal Music Video' (Independent Music Awards) and a highly coveted ARIA nomination for 'Best Hard Rock Album'. Little wonder, then, that they've also clocked up over 42 million spins on Spotify and 22 million plays on YouTube.
Certain to clock up even more views, is the video for their brand-new single Start The Fire.
The track winds in with the lupine howl of a Tibetan kangling (a horn made out of a human femur). Known as the sound of death, you can learn more on the kangling in the graphic novel VENGEANCE). A chirruping pattern of digitised tablas and sliding panes of silvery synths then ratchet the tension before a demented scream and a snarling, bass-heavy, bowel-emptying riff drops in!
In the words of Mackay: "Start The Fire drew lyrical inspiration from Todd Phillips and Scott Silver's portrayal of the Joker. When you start treating people according to broad prejudice, they're left with little reason not to become what they're supposedly guilty of already being. It's a self-fulfilling prophecy."
"The video concept revolves around the threat of total annihilation. The strung-up band is being injected with a copper-based enzyme that, when mixed with human blood, can be extracted to power up current collector fuel cells (purposed for reanimating Primordian bio-technology). The band's performance is a shared, mutual delusion. It's all pretty straight-forward, really."
Twelve Foot Ninja's third album VENGEANCE is scheduled for release on October 15, 2021, through Volkanik. All the information about PROJECT VENGEANCE can be found at twelvefootninja.com including how to pre-order the album and the novel THE WYVERN AND THE WOLF.
TWELVE FOOT NINJA – AUSTRALIAN TOUR DATES
THU 14 OCT – Adelaide – The Governor Hindmarsh
SAT 16 OCT – Brisbane – The Princess Theatre
THU 21 OCT – Melbourne – The Croxton, Thornbury
Ticket Details at www.twelvefootninja.com