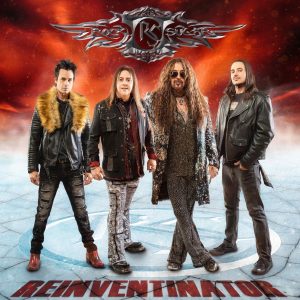 Oh hey everyone, it's been far too long since I've done an album review (sorry!) But when something like this album comes along, I feel it's my duty to get the word out. Now… If you're not familiar with Rock Sugar, well how can I explain it? They take songs from different genres and put them together to make magic. That's pretty much it. What do I mean? Well, let's just say back in 2010 when they first hit the scene they had a song called 'Don't Stop The Sandman' which mashed up 'Enter Sandman' and 'Don't Stop Believin', yep, that's what I mean… and after a ten year break between albums, they're back with a follow up to 'Reimaginator' with 'Reinventinator' and a massive dose of nowstalgia! Yes that's a word, it's nostalgic but with a majority of the songs of today, hence nowstalgia. So sit back, relax, enjoy the best thing you'll hear this year! I give you our review of 'Reinventinator.'
As the opening of the classic 'Tom's Diner' starts us off we're very abruptly interrupted by the riff that we all know, of course that of 'Back In Black' by AC/DC and just as you start to bang your head we get into 'Walk This Way' by Aerosmith, and this my friends is within the first thirty seconds and sums Rock Sugar up in a nutshell. As it takes a turn to 'Centuries' by Fall Out Boy it just works! This is the genius of this band, because they take a complete 180 and we've hit 'Paradise City' mid song, and as Jess Harnell belts out those notes (damn this man can sing and more on that soon) we keep that 180 turning to make it a full 360 and now we're blessing the rains down in 'Africa' and the harmonies and musicianship here are just top notch. The way that they keep parts of the songs underlying here and bring some back in are just really clever. These are mashups like you've never heard before. This opener 'Walk In Black For Centuries' is the best way to re-introduce Rock Sugar after a long break between albums, and to that I say welcome back!
'Crawling Numb To Somebody Bohemian' Oh yes, Linkin Park! Oh here's the "whoa didn't expect that" part of the evening as the riff of 'Numb' and the haunting keyboards stays there but the verses are 'Bohemian Rhapsody' and it's like whaaaaaat?! Then normally it's a case of different bands but here they kick it up a notch with another Linkin Park track and 'Crawling' until and abrupt stop and back to Queen with 'Somebody To Love' and how this works is beyond me but it really does. This has just turned into a classic Queen / Linkin Park medley as more Queen and more Linkin Park just come in and out and two of the saddest songs ever in the world in my opinion 'One More Light' and 'Who Wants To Live Forever' get their time and well deserved time at that.
Next up 'Faithful Child O' Mine' That all familiar riff starts us off from Guns N' Roses but then as the title suggests, yep, we head to Journey and as Jess who is born to sing Journey by the way nails this in the verses and as the band keep the GN'R riff underlying and throughout this is a marriage made in 80's heaven. Lyrically the song jumps between the two songs but that's why this works, and it's the perfect song for if you think, how can I listen to two songs at the same time? Here's your answer! Sometimes, two just work perfectly!
This next one is great, 'Shout At The Devil Dog All Night' you may have seen or heard if you were following the bands Kickstarter campaign, or check it out below, as straight away we get Slaughter 'Up All Night', 'Motley Crue's 'Shout At The Devil' and Tears For Fears 'Shout' all within the first forty seconds. How does this work? The answer to that question is it just does… it really, really just does. The heavy verses of Tears For Fears take me back to Disturbed's version as I always loved that, but with this song you just really need to listen closely as there's so much going on! Like now, here's a bit of 'Black Dog' by Led Zep, before it just keeps rockin' and I absolutely love it. Then we get a special guest Mark Slaughter on vocals just because they can. Like I was saying before, the way they arrange these songs is something else, as the music for 'Shout' has been underlying the lyrics for 'Shout At The Devil' overlay it and damn, who knew? Impressive! Billy Idol's 'Rebel Yell' riff starts us off before the Bruno Mars "oh yeah yeah yeah" comes in from 'Locked Out Of Heaven' and how in God's name does this work, but this song is absolute fire, I mean I wonder what many of today's pop hits would sound like as rock songs and Rock Sugar just answer this question for me constantly ha ha. Song takes its turn back to Billy Idol and the breakdown allows Jess's voice to drop down and is there nothing this man can't sing?! Then he gets his chance to sing the chorus and it closes with the two songs overlaying and you laugh because it's so damn great.
Next up, 'Wires of Summer' and the Motley Crue 'Live Wire' riff starts us off before a sped up 'Boys of Summer' by Don Henley verse comes in over the riff and then gets flipped with the 'Live Wire' chorus over the 'Boys of Summer' music, again the arrangement is second to none. Tempo changes for the chorus of 'Boys of Summer' but only momentarily but let's not ignore the subtle cowbell used in that part, well played, fellas. Sped back up to play the song out and round of applause for that sone. Let's stay with some Motley Crue and 'Home Sweet Home' that piano from one of the original power ballads, yet who knew that Adele would mash up with it? Right? Well, 'Somebody Like You' just became an 80's power ballad and I'm definitely OK with this. The end result is 'Someone Like Home' and this process of putting these together is something I want to be in a room for, the flips in music / lyrics and how the arrangements are made would be so great to see, because how this works is just wrong but right but more right than wrong, because when there's no wrong then it's all just right. Right? Oh hey there Night Ranger, where did you come from? Welcome to the song! 'Sister Christian' fits nicely over these Adele lyrics and music and then it's a tri-layer of all three songs and why the heck not! Bravo.
Ahhh 1991, what a time for music, Nirvana came in and wiped the floor of the hair bands with one riff and as 'Smells Like Teen Spirit' starts this off but Whitesnake come in and 'Still of The Night' unites grunge and 80's metal and like I said back in 1991 to my friends "can't we just like both?" and here we get the opportunity to in the space of 5:24. A haunting "hello hello hello" echoes over the slower part of this Whitesnake classic and I like it, a lot. Left field just came calling again… Lady Ga Ga's 'Bad Romance' is here and it makes sense with a title like 'Smells Like Teen Romance Of The Night' and the three once again play it out and they've done it again.
Finally some Bon Jovi! 'You Give Love a Bad Name' starts as it does and we get ready to rock but they have just flipped it to one of my favourite songs of the 80's in 'Your Love' by The Outfield. So not only my favourite band ever in Bon Jovi but to mash it up with this song is just perfection in my eyes. This one makes me happy, and special mention to Chuck on guitar here, haven't given him enough credit yet, he's nailing all these riffs and parts and kudos to that. A nice little extra Jovi track thrown in with some 'Runaway', but the layers here again are so impressive, as nothing gets lost, nothing is muddled and this is some killer playing, production and mixing. That's probably my favourite so far, but hey, I'm biased by the song choices ha ha. Oh and that one was called 'You Give Your Love A Bad Name', of course.
Led Zeppelin's 'Immigrant Song' starts with that familiar opening and takes its turn to of course, Kelly Clarkson, I mean who else but right? 'Since U Been Gone' is one of the best pop / rock songs of the last decade and its awesome to hear it included. I am intrigued with the title of 'Since Ur Barracuda's Been An Immigrant' because without it even standing out or being thrust in your face the 'Barracuda' riff has been playing pretty much under the whole song, which is when I say this works, this is why! Did I hear the drums from 'It's My Life' in there? I wonder? This one is another stand out and truly feels like its own song.
'Another Edge Of The Tiger In The Air' should give you a hint as to what this song will be made up of, and as it starts with the riffs from both 'Eye Of The Tiger' and 'Edge of Seventeen' together let's go! First verse is 'Edge of Seventeen' and chorus, same, but as the song hits the mid-point, we slow it down with a bevvy of fun, Phil Collins, Pink Floyd all being sung over the 'Eye of The Tiger' riff, what is happening here?! Jess gets his chance to belt out the chorus of 'Eye of The Tiger' and I need to hear him sing that entire song one day as it suits him perfectly. 'Roll You In The Hurricane' is another appearance by Adele but this time she's hanging out with Scorpions and how Adele isn't a big rock star after hearing these songs is beyond me, maybe this could be her calling an album of rock songs, I'd listen! 'Rock You Like A Hurricane' is the perfect music here and what I really love about Rock Sugar is you don't know what's coming, like out of nowhere Cyndi Lauper's 'Time After Time' just appeared and I'm more than OK with that too. There's really not much to not be OK with on this album, this is just so much damn fun!
'Any Highway You Want' brings back two favourites in AC/DC and Journey and you can guess it from the name 'Highway To Hell' and 'Any Way You Want It' get the Rock Sugar treatment and arrangement wise again it's great as the turn back from the Journey lyrics to the AC/DC tune is like turning on a dime and they make it perfectly. Steve Perry isn't an easy voice to emulate and Jess as I mentioned before needs to sing these songs more, nails them. Production wise again with everything going on there's no mud and its actually fun to try and listen closely to see if you can hear everything going on.
Sadly we're up to the last track 'Countdown to Fireworks' and as Europe's 'The Final Countdown' starts with I want to say the one of if not the most recognizable keyboards of the 80's (aside from 'Jump' don't yell at me, yes I know that's the pinnacle for most) but as it rocks up big time, it flips to Katy Perry's 'Firework' with a guitars underneath, again, all these pop songs could be so much better as big rockers, but hey, music these days… *sigh* I miss the 80's, but we go back to Europe as the chorus belts out before heading back to Katy. Jess, gotta say man, you can sing the hell out of this tune. Oh, I love this double chorus of both lyrically sung together. Chuck is back with a solo and nails it, and as the keyboards come back in the song turns into a big rock monster to finish it and sadly, the album.
What Rock Sugar have done here is something special, something fun, and it's what we need, the world needs some fun and if you're into something different and need a change from your daily music choices you're offered then I suggest getting on board with Rock Sugar. You won't find this on Spotify, Apple music, or any streaming services, so head over to the band's website and see just how you can enjoy these mashups and the genius that is Rock Sugar. You won't be disappointed, trust me.
Essential Information:
From: USA
Website: http://www.rocksugarband.com
Track Listing:
Walk In Black For Centuries
Crawling Numb To Somebody Bohemian
Faithful Child O' Mine
Shout At The Devil Dog All Night
Rebels Out Of Heaven
Wires Of Summer
Someone Like Home
Smells Like Teen Romance Of The Night
You Give Your Love A Bad Name
Since Ur Barracuda's Been An Immigrant
Another Edge Of The Tiger In The Air
Roll You in the Hurricane
Any Highway You Want
Countdown To Fireworks