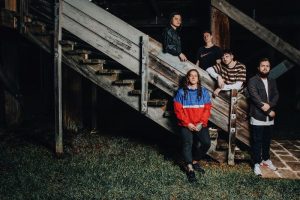 Sydney metalcore outfit Polaris are stoked to announce the Vagabond Tour which will see the band hit regional spots on the east coast throughout June with special guests, Deadlights.
"It's turned out to be kind of ironic that the lyrics of "Vagabond" mention this idea that "nowhere feels like home", which was originally a reference to constantly being on the move when we were touring… But after the last year of being unable to tour and travel, there were a lot of times when our actual homes didn't really feel like home either, because where we really wanted to be was out travelling the world and playing shows! We are so psyched to finally shake the rust off and get back on the road after what will have been 16 months away from doing what we love most. We'll be hitting some of those little pockets of the East Coast that we don't get out to as often, as well as some spots that we've never been out to before." says drummer Daniel Furnari.
To coincide with the tour announcement, Polaris reveal an epic music video for Vagabond, taken from their ARIA Nominated and #3 ARIA Album Chart debut record, The Death Of Me.
Drawing visual inspiration from classic movies such as Mad Max, Star Wars, Dune and Priscilla Queen of the Desert, and the aesthetics of festivals like Burning Man and Rainbow Serpent, the Vagabond music video was filmed entirely outdoors and shot in natural locations. Filming outdoors had its challenges such as facing high winds, intense heat, military planes flying overhead and a whole lot of factors which made filming a very interesting experience.
Watch the official Vagabond music video here.
"This video has been a long time in the making and is probably the most ambitious visual project we've ever worked on. When we first considered doing a video for 'Vagabond' we knew that the vibrant sunny attitude of the song's chorus was something we wanted to reflect in the visuals – something a lot brighter than what we'd normally go for. The name of the song and the sound of the intro guitar motif had always inspired desert imagery for us so we began the concept focusing more on the visual ideas we wanted to accomplish, with the narrative then forming naturally around those images and elements of the song's lyrics." says vocalist/bassist, Jake Steinhauser.
He adds, "With the initial idea for the video having been conceived in early 2020 there was also a desire to show off the beautiful Australian landscape we're lucky enough to call our backyard – a landscape that had recently been ravaged by a very long and intense bushfire season.
Over the months that followed, a series of lockdowns, interstate travel restrictions, and wild weather conditions all created complications for us. But between us and our friends Kez Ellis-Jones and Chris Elder, who worked on the video with us, we adapted and kept pushing ahead because we were all determined to see it brought to life. We had a lot of fun getting heavily into the concept with the outfits we put together to create our own little post-apocalyptic cinematic world."
While Daniel Furnari includes, "Getting to film that big "desert-rave" scene that closes out the video was so special. Something that we felt had been missing from ours and so many peoples' lives over the last year was the ability to get together with a large group of people and just celebrate life through music and dancing and self-expression. That search for a sense of community and togetherness not only became the driving force for the characters in the video's narrative, but also allowed us to do something that temporarily filled that void in real life for a night! And the best thing was that we could see that all the friends who jumped on board to be extras had been really craving that too, and I think that's why so many of them were willing to get around the idea, put together wild costumes for themselves and and trek into the dunes at night – they had missed it as much as we had, and there was a really exciting energy in the air because of that.
So much planning and crazy logistics went into that scene and there were so many points where we thought we wouldn't be able to pull it off. When night fell and we were about to start shooting, we finally turned around and saw the location lit up and filled with all these people in these amazing colourful outfits and we couldn't believe our eyes!"
The Vagabond Tour kicks off on June 10 and is supported by Brisbane post-hardcore band, Deadlights.
Deadlights have gone on to become a household name within the Australian alternative scene supporting acts such as Parkway Drive, Thy Art Is Murder, Every Time I Die, and so many more; dropping ever more creative singles along the way with Bathed In Venom and Sugarcoated Psychosis.
Tickets on sale Thursday 8 April at 5pm from polarisaus.com.au
Destroy All Lines & Resist Present 
POLARIS 
VAGABOND TOUR
WITH SPECIAL GUESTS
DEADLIGHTS
Thursday 10 June: Wool Exchange, Geelong
Friday 11 June: The York, Mt Evelyn
Saturday 12 June: Pier Live, Frankston
Sunday 13 June: Commercial Hotel, South Morang
Wednesday 16 June: Edge Hill Tavern, Cairns
Thursday 17 June: Magnums, Airlie Beach
Friday 18 June: Harvey Road Tavern, Gladstone
Saturday 19 June: Eleven Dive Bar, Sunshine Coast
Sunday 20 June: Coolangatta Hotel, Gold Coast
Wednesday 23 June: The Basement, Canberra
Thursday 24 June: Panthers, Penrith
Friday 25 June: Cambridge Hotel, Newcastle
Saturday 26 June: Uni Bar, Wollongong