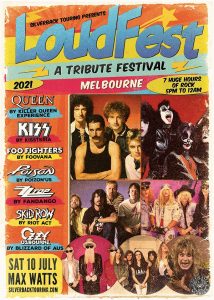 Tribute shows excite and polarise equally but there is no denying the thirst for nostalgia currently in Australia with the re-emergence of a vibrant tribute scene. Long gone is the stigma of "just a cover band" or as Danny Bazzi, from Silverback Touring, puts it, "tribute shows are now far from those which you would just catch, conveniently, while hitting your local for a ten buck t-bone".
The tributes that Bazzi refers to are world class, professionally produced, hit laden shows, delivered by brilliant musicians, which give punters the chance to hear, and enjoy the music they know, and love, in a time where seeing the original bands may not be all that practical.
Silverback has been at the forefront of delivering tribute spectacles throughout the Covid period with conceptualised tours celebrating the music of Kiss, Metallica, Bon Jovi, AC/DC, Van Halen and the entire '80s glam rock era, all of which have been received well by fans and staged in some of Australia's finest rock establishments.
The next installment for Silverback is "Loudfest", a tribute festival promising punters 7 hours of rock spanning generations. Bazzi explains, "the point of difference with Loudfest is the variety in the acts. This is a rock show first and foremost but it is not exclusively targeting a single sub genre of rock. It features everything from classic rock to hard rock, modern day rock and blues based rock".
The first installment, in Melbourne, is led by two of Australia's heaviest hitters in the tribute space. The Killer Queen Experience and Kissteria, both of whom have received world recognition for their authentic portrayals of Queen and Kiss respectively. The line-up is rounded out with tributes to Foo Fighters (by Foovana), Poison (by Poizon'us), ZZ Top (by Fandango), Skid Row (by Riot Act) and Ozzy Osbourne (by Blizzard of Aus).
Bazzi explains, "this is a day out for rock fans to just let loose and enjoy the music they know and love by some bands who put absolutely everything into their tribute shows. There is something here for everybody".
Love them or hate them, tribute shows are here to stay and have, perhaps been best summed up by Alasdair Belling in Blunt Mag who says that tribute shows are "performed by musicians in their prime, bringing the hits of our yester-decades to life (minus the inflated egos, carpal tunnel and substance withdrawals that you might find at a Scorpions or Whitesnake gig in years gone by)."
LOUDFEST – A TRIBUTE FESTIVAL – Melbourne, Saturday 10TH July, MAX WATTS
Tickets on sale now from: