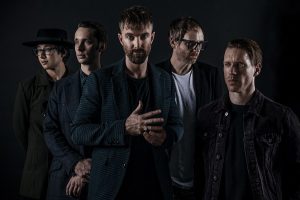 Coopers Brewery and Live Nation are today excited to announce the next round of artists to feature in the popular Live, Loud and Local gig series by today adding Client Liaison (Melbourne), Baker Boy (Melbourne), and Birds of Tokyo (Perth).
On Thursday March 11 new jack swingers Client Liaison bring their multisensory experience to Melbourne's The Tote. Then on Thursday March 18 Baker Boy, the fresh new prince of Arnhem Land, performs at Melbourne's The Curtin. And finally, on Sunday April 11 local legends Birds of Tokyo will rock Perth's Hotel Rottnest with a show not to be missed. 
About Client Liaison: Given their shared appreciation for storytelling and dignified belief in the Australian identity, Harvey Miller and Monte Morgan naturally found themselves writing music together. From the studio to the top end of town, Client Liaison's sound plays out like a long lunch followed by a round of cocktails. Describing their sonic palate as 'dance electric' and 'pop ballad', this multisensory experience will feed any listeners' appetite. International in flavour, cosmopolitan in style – put it on the company card. Too much is never enough. Think nothing. Feel everything. Pleasure is good. Fantasy is truth. Experience Client Liaison. 
About Baker Boy: Born in Darwin and raised in the remote Northern Territory communities of Milingimbi and Maningrida, Danzal Baker aka Baker Boy is the freshest new hip-hop talent to emerge from Australia. Young, strong and proud Baker Boy raps in English and Yolngu Matha language representing his Arnhem Land family. His totem is the Olive Python, his moiety is Dhuwa and his skin is Burralung/Gela boy. Baker Boy is a multidisciplinary talent working across rap, dance and acting. He hopes to inspire younger generations to embrace their culture and become leaders in their communities.
About Birds of Tokyo: Formed in Perth back in 2004, Birds of Tokyo have grown from independent roots to become one of Australia's most popular contemporary rock bands. Songs like "Good Lord", "Two Of Us", "Plans", "Lanterns", "Brace" and "I'd Go With You Anywhere" have all been top 10 airplay hits and have lead to appearances at every major festival in this country including Falls, Splendour In The Grass and Groovin' The Moo, as well as headlining slots at the AFL Grand Final and NRL's flagship State of Origin game. 
Each event will be produced by Coopers, in partnership with Live Nation.
For more information on the Live, Loud and Local tour go to: www.cooperslocal.com.au
COOPERS LIVE, LOUD AND LOCAL 
Adelaide – Bad//Dreems – February 19, 2021 – The Bridgeway Hotel (on-sale now)
Brisbane – Ball Park Music – March 3, 2021 – Fortitude Music Hall (sold out)
Melbourne – Client Liaison – March 11, 2021 – The Tote (new show)
Melbourne – Baker Boy – March 18, 2021 – The Curtin (new show)
Perth – Birds of Tokyo – April 11, 2021 – Hotel Rottnest (new show)
Tickets for Client Liaison, Baker Boy and Birds of Tokyo are all on-sale Friday Feb 12 @ 12pm (local time) – go to  www.cooperslocal.com.au for all tickets and info. 
The Live, Loud and Local series aims to support Australia's hospitality and entertainment industries as well as the local communities hit hard by COVID-19 and related social gathering restrictions. 
Melanie Cooper, Coopers Brewery Director and fifth generation family member, said the brewery wanted to build on the momentum generated by its initial Live, Loud and Local series which became Australia's biggest virtual pub experience during the national lockdown.
"Our first series was all about bringing the pub experience into Australian lounge rooms so patrons stuck at home could still enjoy a night out on the couch," Mel said.
"Now we want to help bring great Australian live music back to the stage and encourage people off the couch and into their local pub.
"It's been a really challenging time for venues, musicians and patrons. Live music is an essential part of our culture as is heading to the local for a social drink with friends. It's something we've all missed. We're putting together a great series of gigs that will allow fans the chance to see their favourite bands perform live again and support local venues in a socially responsible way."
Live Nation's President of Brand and Marketing Partnerships for Australia and New Zealand, Greg Segal said Live Nation was excited to be working with Coopers again. 
"Coopers is demonstrating a real commitment to supporting local artists and venues, via the Live, Loud and Local series. The industry couldn't ask for a better partner during these challenging times," Greg said.
Miles Wilson, the drummer of Bad//Dreems, said the band was pumped to be playing the Live, Loud and Local series in Adelaide.
"Like an early Elliott Smith song, 2020 has been sad and haunting," Miles said.
"We've really missed the atmosphere of playing live and we'll be approaching the gig with a sense of anticipation and fantasy."
Trent Fahey, Operations Manager, The Bridgeway Hotel said the venue was looking forward to the resurgence of live music in 2021.
"The Bridgeway is a South Australian rock n' roll institution, with more than 50 years of live music history and some of the biggest national and international artists having hit our stage," Trent said.
"South Australians love live music and have supported us on every step of the road back.
"Coopers has been outstanding in supporting us through these tough times and now the opportunity to host a Coopers Live, Loud and Local gig is truly awesome. Bad Dreems at The Bridgeway will be going up on our Legends Wall, for sure."