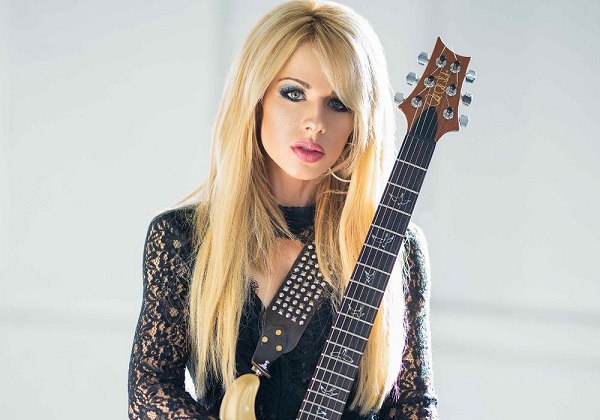 "…the thing is with an album we don't want to make the same record over and over again, and I don't want to bore myself and I don't want to bore the people that have been following me, I don't like to call them fans they're more like supporters and people that just dig your music because you want to keep them along for the ride…"
From Release: Platinum-selling recording artist and world class guitarist, Orianthi has signed an exclusive record deal with the legendary independent rock label, Frontiers Music Srl who will handle the release of her new album, "O" globally. This is Orianthi's first new studio album in seven years and her first new music as a solo artist in six years. Orianthi's first major solo artist success, as a singer-songwriter and guitarist, was with the Geffen Records release of "According To You," which is now RIAA-Certified Platinum® and has over 17 million streams on Spotify. Her music's ability to transcend time and remain relevant cannot be more clear than it's recent resurgence on TikTok. There are over 83 million views on the "According to You" hashtag making it a viral trend that is introducing Gen Z to Orianthi for the first time in a big way. Career-long fans are used to seeing their favorite world class guitarist playing arenas with rock royalty and global superstars like Michael Jackson, Carlos Santana, Carrie Underwood, Alice Cooper and more. The juxtaposition of her newly arrived online popularity and her lifelong pursuit of artistic credibility is the nebulous of this shining star.
In LA, Ori gave us a call to talk about her new album 'O', its creation, the diversity of the album, working with Richie Sambora, her new signature Gibson guitar, 2020, and more…
It's been just over four years since we last chatted when I sat down with you and Richie Sambora here in Sydney so it's great to chat to you again. To start off, the biggest question is, how has 2020 been treating you?
Pretty rough, I think everybody and all my friends shows were cancelled, I was about to go on a tonne of shows starting in Texas and that got cancelled, I'd probably be in Japan right now promoting my album. It's been non stop kind of like crazy and with the label "just put out this record" in the week of the election and everything *laughs* so it was a little mad but at the same time it's hopefully providing some people with entertainment at this time as well.
This year has been a funny one no doubt, and many bands and artists have been delaying or postponing albums, why was it important for you to bring the world new music now?
I think that honestly it just felt right, it's funny I was making a hip hop album before with a tonne of producers and experimenting with beats and all these sorts of things, and I met up with Marti Frederiksen who's been a friend of mine since I was like twenty years old, and 'Rescue Me' was the first song that we wrote and he's like "we should make a record" and I got back to LA, heard the demo and text him, he was with Aerosmith and he was like "yeah I'm down, totally down to do it" so in one month the whole album was done in twenty eight days.
Marti Frederiksen is one of the most legendary songwriters and producers around, so on 'O' what was he able to bring to this album that you felt had been missing on your previous releases?
You know, Marti has this kind of rock edge that I kind of dig, he's all about getting the raw energy and vibe out of the track and then producing the hell out of it but it's not over produced, it's not this polished production where it's too overdone, the song comes through and the feeling you get when you perform it live, so that's what it's like working with him and he's so fast ad a great songwriter, great producer and great engineer he handles everything. I went to engineering school perse when I was younger and worked in a studio in Adelaide and learned off my Dad how to produce as well, so I produced my first record in Adelaide and that's how I got my record deal. So to be able to contribute to some production things and programming as well with this record like bringing in different beats and different synth sounds and whatnot that was really cool as well.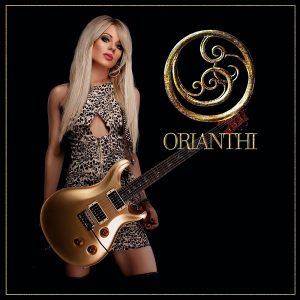 The album is such a diverse album and although you are one hell of a guitarist it's not always thrust in your face, was this a conscious decision to experiment and try new sounds and vibes?
Yeah absolutely, the thing is with an album we don't want to make the same record over and over again, and I don't want to bore myself and I don't want to bore the people that have been following me, I don't like to call them fans they're more like supporters and people that just dig your music because you want to keep them along for the ride cause it's gonna be a journey and the next record I'm gonna make is really different from this one I just made, I'm actually writing right now for that one. Yeah, it's a whole process you know it's kind of I don't know, it's a weird thing when you go in to make a record it's kind of like OK this is my vision for it but you kind of go more on the vibe you know.
Now it has been seven years between solo albums for you, in that time you did release the RSO album with Richie, how did the creative experience differ working on this album compared with someone else as a duo?
Working with Richie was awesome, he's an incredible songwriter and guitar player and everything and everything he's done, he's basically written songs that have reached everybody on this planet, so he knows how to connect with people and I learned a lot with him and we've been writing a lot lately too for my next record and whatnot. Yeah, it's a different thing when you work with different people opposed to writing by myself too which I like writing by myself because I can just go anywhere I want with the song and sometime I need to write with myself, I need to be alone with my pro tools set up or whatever it is and be in my own thoughts and no one interfering with that, it depends on my mood really.
Did you say you're writing with Richie for new stuff?
Yeah we've been writing lately, awesome songs, and he's got a brand new record that I think is coming out next year or something, pretty soon and that's awesome I heard it and it's just amazing, it's great to support each other in our solo endeavours, it's really good.
So what did this album allow you to do that you feel you couldn't have done seven years ago when you released 'Heaven In This Hell'?
This record is a little more experimental than 'Heaven In This Hell', 'Heaven In This Hell' was more of a straight up barebones rock blues record done in Nashville and that's what it sounds like, and it was awesome working with Dave Stewart he's a dear friend of mine. Marti actually wrote a song with me and Steven Tyler for that record too which was a bonus track, but yeah I just kind of felt for this next record I was listening to a lot of Hendrix and Nine Inch Nails to like Muse, to a lot of stuff before making it and Peter Gabriel and all this electronic stuff from the 80's and I was like you know I don't know I just felt like it was the right record to make at the time and I'm proud of it you know. Put it all in a blender and see what happens *laughs*
Obviously this year has stopped touring pretty much cold, but are there plans in the works to tour when the world allows live music to happen again?
Yeah I'm actually planning something really special that I'll be announcing and it's pretty frickin' amazing and I can not wait to do it, and yeah it's gonna be a different experience, it's a concert thing but it's not the normal concert situation, so we're doing something pretty out there. Aside from that next year there's been some dates thrown around but honestly I don't know because of this whole Covid thing, when it's safe, because it just seems pretty scary right now you want to be safe and you want people attending to be safe you don't want to be putting on shows for people to get sick, that's not what music is about.
Not even that, when do you think you'll be coming back here? Who knows when travelling will happen?!
Yeah that's gonna be probably by next Christmas, it's difficult. Thank god for facetime and thank god for phones because I call my family every day.
So over time it can be easy to say what can change but what would you say is the one thing that's stayed the same in your time making music?
My love for it, that's always stayed, when I'm alone I pick up my guitar and I'm sitting wherever, that joy never leaves, the simplicity of just picking up a guitar and feeling that joy that's just something that I know I'm meant to be doing. I started writing and strumming a guitar before I started playing leads and all that sort of stuff so for me it's just sitting with it and creating a melody or just strumming, it's a form a meditation too, it's not my job, I make it my job but it's something that I enjoy just doing and there's something beautiful about that way a guitar is just made and I have a few of them, so it's nice to have a choice and the thing is I use them all, I don't just love to have guitars and that's what I was talking about with my friend the other day, some people collect guitars which is cool, my Dad collects too but he plays, but I spend time with each one and each is used on different songs and have different personalities and sometimes it's necessary and I'm just really justifying my addiction *laughs*.
You also basically get to build a guitar, you've got your signature Gibson acoustic now right?
Yes I do, that's coming out next year and I'm really excited about that guitar because it's actually a hybrid which is really wild, it's the first time in history that Gibson have done this, they put a 345 neck on a J200 body and they followed me down the rabbit hole with this one because I went to Montana and the head of Gibson said "we'd really like to do something with you and I said that would be amazing, I was with Gibson about ten years ago and then went to Taylor, Martin, and PRS and then I don't even know what. So I went back to Gibson and I went down there and picked a J200 and they said "Isn't that a little big?" and I said no, it sounds amazing and I'm all about the sound, I mean it looks amazing too, it's massive, it's great, and it just projects well when you're in the room you can accompany yourself, you don't need anybody else, it's like a grand piano it's really is. I was like can we modify this to make it more playable for lead guitar players, not every J200 is the same you have different necks and they're slightly different, and I picked up the guitar from 'A Star Is Born', Bradley Cooper's guitar they had it in the corner and I started strumming it and I'm like "can we just fix this neck on it?" and they were like "ahhhh ok…" *laughs* I was such a child running around, I want this neck on this body and we're gonna modify it and put crystals on it, and lotus flowers and make it red and they were like OK and honestly, they did it *laughs* and they're just wonderful to work with. Robi Johns in Montana is one of the sweetest people that could ever work with and he was incredibly excited over this idea and his wife actually brought in the crystals, she's very spiritual and sources amethyst and that's in the pick guard and then we put down the lotus flowers in the neck and then we modified the pickup with LR Baggs over skype and went back and forth and made it really cut through so the mids and treble and I could go on about this guitar but it's probably the best acoustic I've ever played.
Do you watch The Simpsons?
I did… a lot…
Remember when Homer got to make a car and just had free reign over it all, it sounds like that's what you got to do with a guitar!
Pretty much *laughs* the thing is as an artist I always try and keep that childlike enthusiasm over things, very much a live with everything I do and I've just always been that way and I get really excited over things whether it be songs, or guitars, and that's the thing, I wanted to make a guitar that when people see it it brings out that kid in everybody that just wants to pick up a guitar, that's really important we've all got to keep that alive because there's a lot of darkness in this world and being excited over something, I'm always trying to keep that whether it be products, music, or whatever around me I try to bring colour to the world as much as I can.
When you stop being excited about things, then there's no point in doing it anymore, right?
Excited makes things, I always say that.
What if anything has 2020 taught you that you will now maintain through your life?
Well I think that it's kind of a thing where people are really looking within, this year has been I think a  very spiritual year too, people have been left alone so you're alone with your thoughts and you're less social, instead of going out and hanging with your friends at a bar you've got to be here at home, so I think that reflection and all that has taught me also who to let into my inner circle and how my energy level sort of is and which people are lights and which people are drains *laughs* and ultimately this year has been about being around people that I love and love to be around and care about, and people that are no longer in my circle which has honestly been a thing where I've lost a few people this year, they haven't died or anything they're just not in my circle anymore because it just became a bit toxic and a bit stressful so now it's like I just feel I have a really great team around me and that's professionally and personally too.
Let's look ahead to the future as we like to do. So forgetting the rest of this year, finish this sentence for me. In 2021 Orianthi will…
Hopefully be playing shows *laughs* and be out there connecting with people, that would be awesome and also putting out maybe at the end of 2021 another record. That's what I'm kind of thinking.
Essential Information
From: Australia / USA
Website: http://www.iamorianthi.com
Latest Release: O (Out now – Frontiers Music Srl)