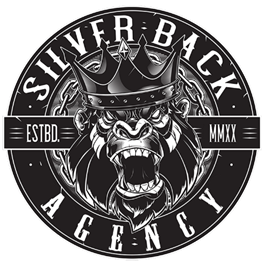 THE SILVERBACK AGENCY is a full-service artist and talent agency offering artist services in management, booking, touring, artist development, digital distribution, merchandise, publicity and media.
The agency was developed as the next phase in the evolution of SILVERBACK TOURING, the touring agency, which was established in 2018 and has established itself, in a short time, as a serious player in rock touring in Australia. Whilst the music industry came to a screeching halt in 2020 thanks to COVID-19, the Silverback team accelerated their plans for a local talent agency.
The focus of the agency is its artists first and foremost. Whilst the traditional model of talent agencies continues to operate, the Silverback team believe that it is a new world we are now in where the role of an agent extends beyond simply booking shows for its artists. The agency is adaptable and multi layered.
Silverback's Danny Bazzi elaborates, "the development of artists is paramount in this day and age. The roles of agents, managers and business managers cross over more today than they ever have. If we can offer our artists a team to get them up and running, put them in front of great audiences and, in the process, contribute to re-imagining the rock scene in Australia and extend that into New Zealand, Asia and the rest of the world , then we are doing our job".
The foundation Silverback roster includes a range of up and coming rock acts which sit comfortably side by side in the very wide and diverse lane that is hard rock and metal. The artists range from alt-metal, heavy blues through to straight up hard rock and glam.
In addition to the original artist roster, Silverback has also established a tribute arm to its roster of artists. On the topic of tribute acts, Bazzi says, "tribute acts are both loved and polarise at the same time. Some of these acts are amazing at what they do. Everyone loves nostalgia and we established our tribute roster to put these bands in front of new audiences, some on their first ever national tours, as well as into new territories. South East Asia is our first international stop for a number of these acts, a far reach from playing local pubs".
If 2020 has taught us one thing, it is that the local music landscape is rapidly changing. It is time to bring some of our amazing local artists to the forefront.
Silverback Agency Roster:
Original Acts
Artist: Bad Moon Born
Description: Big, dark rifs, heavy breakdowns with melancholy vocals.
For Fans Of: Avenged Sevenfold, Bring Me The Horizon, Asking Alexandria
More: silverbackagency.com.au/badmoonborn
Artist: The Black Cardinals
Description: Heavy blues with groove and soulful vocals.
For Fans Of: Rival Sons, The Black Crowes, Black Stone Cherry
More: silverbackagency.com.au/theblackcardinals
Artist: Wicked Things
Description: Good time hard rockers heavy on '70s and '80s influence.
For Fans Of: Van Halen, The Struts, '80s Rock
More: silverbackagency.com.au/theblackcardinals
Artist: El Colosso
Description: Huge riffs, infectious hooks with a massive sound.
For Fans Of: Black Sabbath, Corrosion of Conformity, Kyuss
More: silverbackagency.com.au/el-colosso
Artist: Massive
Description:  Full throttle beer drinking hard rock.
For Fans Of: AC/DC, Guns 'N' Roses, Green Day
More: silverbackagency.com.au/massive
Artist: Shepherds Reign
Description: Metal with melodic thick textures.
For Fans Of: Alien Weaponry, Metallica, The Hu
More: silverbackagency.com.au/shepherds-reign
Artist: Sisters Doll
Description: High energy riffs and hooks for days.
For Fans Of: Kiss, Poison, Melodic Rock
More: silverbackagency.com.au/sisters-doll
Artist: These Four Walls
Description: Heavy and high-powered music punctuated by powerful melodic vocals.
For Fans Of: Butterfly Effect, Alterbridge, Bring Me The Horizon
More: silverbackagency.com.au/these-four-walls
Silverback Tribute Roster:
Nirvana Tribute – Nirvana show from the United Kingdom
More: silverbackagency.com.au/nirvana-tribute/
Poizon'us – The Australian Poison Show
More: silverbackagency.com.au/poizonus/
Damage Inc – The Australian Metallica Show
More: silverbackagency.com.au/damage-inc/
Kissteria – The Australian Kiss show
More: silverbackagency.com.au/kissteria/
Iron Lion – '80s inspired glam and rock show
More: silverbackagency.com.au/iron-lion/
DJ Jordan Adam – Rock DJ
More: silverbackagency.com.au/dj-jordan-adam
Headhunters – hard rock live karaoke and covers show
More: silverbackagency.com.au/headhunters
For more information: info@silverbacktouring.com.au