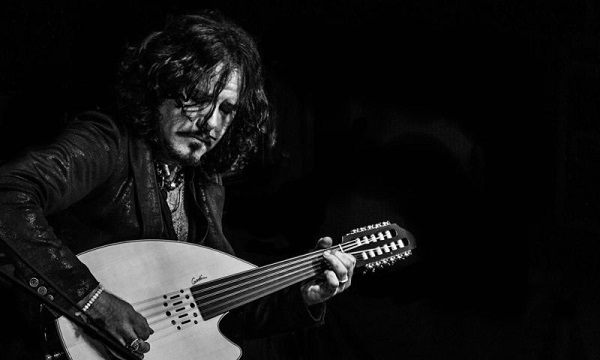 Well, this is different, and yes it's very easy to say that 2020 has been for everyone, but many would say none more so than musicians. With the inability to tour the world, their country, or even their hometown it has left many artists thinking well how will I survive? Enter the internet, where you can reach the masses with a click, where you can still perform but from the comfort of your own home or studio, or wherever it may be. So as I sit here in front of the computer I've been working from home from since March, tonight I get ready to see what legendary Tea Party front man Jeff Martin is going to do on this live stream.
I've seen Jeff and The Tea Party a number of times and to say the shows are nothing short of magic is an understatement, what he and the band can do musically is beyond the comprehension of many, and I for one am looking forward to what is sure to take magic to another level tonight.
As the lights go down… oh wait, sorry habit… as I turn off my lounge room lights to get into gig mode the roar of the traffic outside has me pumped… I kid. Let's go!
Set up on a stool and surrounded by candles and instruments, on a twelve string Maton guitar, Jeff sets the scene for the night and plays the intro to favourite, 'The Messenger' and as he opens his mouth and that voice as smooth as silk resonates in his space you could hear a pin drop and it just suits this to a tea (no pun intended). Amazingly there is almost more power in this version than I have seen in the past as it's almost like there's more meaning to being able to play these songs once again. 'C'est La Morte' merges its way in and as the song comes back around again, he belts it out and I can't wait to see what's next! "This is a very strange situation" you said it, Jeff. Changing guitars not for the first time I'm sure, and with tuning I'll never be able to figure out, that signature sound is just the best, and 'The Bazaar' is not only the best way to describe 2020, but this huge tune that when played on an acoustic really takes on a different feel and with the echo enveloping Jeff's voice there's just so much depth to it. Talking about the year, about hope, and light at the end of the tunnel, he introduces 'Requiem' and as it starts and he opens his mouth, damn I just got goosebumps, well done, Captain. As he morphs it into 'Hurt' by Nine Inch Nails you could easily mistake this as an original as Jeff plays it like its his, and builds it up with that power, all on an acoustic guitar. Brilliance.
Going back to the early days of The Tea Party and as he plays a medley including 'Sister Awake', 'Winter Solstice', and 'Save Me' and just watching him connect with his songs is a thing of beauty, this isn't being done tonight just because, you can see the passion that has never waivered from any time I've ever seen this man perform. Discussing the passing of their manager Steve Hoffman and dedicating 'Oceans' to him was beautiful, but as he picks up a double neck Maton, yes you read that correctly, wow, I need this guitar, 'Stargazer' has has always been a favourite of mine from The Tea Party catalogue, and hearing it acoustically tonight for the first time for me it did not disappoint tonight even if he gave his performance a 7 out of 10. I dispute that, Jeff, you just did something awesome with a brilliant song that should've been a big hit. 'Coming Home' picks the tempo up and you can't help but tap your foot along as it hits a groove in the chorus. He's warmed up now! "Now it's time to play some blues…" as Jamie Ashworth joins Jeff on the harmonica a slide comes out and yeah, I got the blues. An awesome medley of 'In My Time of Dying / Bring It On Home / Black Snake Blues' was great, and fun just watching them both jam out to some blues and I love a good harp rockin' out and Jamie sure now his way around one that's for sure. And with a thank you from Jeff, we're done.
Although missing the usual atmosphere of the screaming crowds, the lights, and the deafening volume we're all used to (which will be back soon… hopefully), tonight in just over an hour Jeff Martin delivered a set that was in a way more powerful than what we know and love. His delivery is something special, and if he does another live stream while the world is still a mess and you just want to be taken away to a happy place, then I highly suggest you spend your night with Jeff Martin. I'm so glad I did tonight.
Essential Information
Venue: Byron Bay
Date: November 14, 2020
Presented by: Global Live
Website: http://www.jeffmartinofficial.com
Set List:
The Messenger
The Bazaar
Requiem
Sister Awake / Winter Solstice / Save Me
Oceans
Stargazer
Coming Home
In My Time of Dying / Bring It On Home / Black Snake Blues