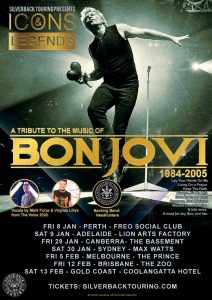 Silverback Touring is ecstatic to announce the launch of their new brand, Icons & Legends, a nod to the artists which have shaped our lives and popular culture as we know it. On the concept, Danny Bazzi, head of Silverback, says: "We wanted to bring the music of some of these iconic and legendary acts to the forefront. This is not a dress up tribute show, this is about the music and the legacy of the music, delivered by a killer band with some amazing voices up front and in some of our countries best rock venues. This is a celebration that will appeal to every single fan. We wanted to select bands that have that universal appeal and who better than Bon Jovi to kick things off".
When it comes to being a household name, Bon Jovi are hard to beat. Almost four decades into their career, the band led by the poster boy of well behaved rock idols, Jon Bon Jovi, has been a mainstay on commercial radio, television, in arenas and stadiums, on your playlists, in some of your cherished teen memories and at the top of your voices when you are belting out "Living On A Prayer" in almost any setting.
They are the band that your grandma knows, your little nephew knows and the band that your uncle Joe claims to have known "before they came out in '83". Simply put, there is no denying the cultural significance and importance Bon Jovi has had on us. Their music has simply been a soundtrack to many of our lives.
Icons & Legends: A Tribute To The Music Of Bon Jovi will focus on Bon Jovi's releases between 1983 and 2005 and will feature a hit and anthem filled set including: 'Livin' On A Prayer', 'Wanted Dead Or Alive', 'It's My Life', 'Runaway', 'Keep The Faith', 'Bad Medicine' and lots more. Leading the charge and up front on vocals are the massive voices of Virgina Lillye & Mark Furze who both gave Australia an insight into their rock credentials as semi-finalists on The Voice this year. The backing band, providing the soundtrack, are Melbourne band, HEADHUNTERS, an accomplished group of Australian musicians led by Brazilian guitar maestro, Marcelo Machado.
This is a show which is a must for not only any Bon Jovi fan, but any rock fan. Tickets are limited as all venues are operating in COVID safe capacities.
Touring Nationally
Icons & Legends – A Tribute To The Music of BON JOVI 2021 Tour Dates
Friday 8 January – PERTH, Freo Social Club
Saturday 9 January – ADELAIDE, Lion Arts Factory
Friday 29 January – CANBERRA, The Basement
Saturday 30 January – SYDNEY, Max Watts
Friday 5 February – MELBOURNE, The Prince
Friday 12 February – BRISBANE, The Zoo
Saturday 13 February – GOLD COAST, Coolangatta Hotel
Tickets On Sale Now From: https://www.silverbacktouring.com.au/icons-bon-jovi/