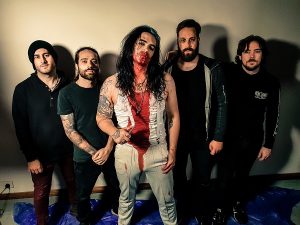 Alternative rock band Bad Moon Born have spent the last four years tearing up stages in their home country of Australia and the US, as well as on playlists and radio.  The band showed no sign of slowing down with the release of self-produced single, 'Noxa' earlier this year, stepping away from their 90s rock/metal sound of previous EPs and showcasing a modern, heavier side to the band.
Now, the five-piece pay homage to pop-icon Billy Eilish with a dark, groovy and hard-hitting take on, 'Bad Guy' with single and video clip which is today available worldwide on all streaming platforms.
"Whilst we're beginning to move towards a much heavier sound, we're also starting to pull a bit of influence from modern dark pop. As the new direction is quite a deviation from the previous iteration of the band, we felt this cover to be a great bridge for that transition.  Some of us are also quite big Billie Eilish fans, so the process of re-imagining her work was a lot of fun."  – Jordan Von Grae (vocalist)
Bad Moon Born burst onto the scene in 2016 with the release of debut EP, Chemical Lullabies.  After relocating briefly to Los Angeles in mid-2018, the group produced sophomore EP, War Is One which was met with critical acclaim, and saw lead-single, 'Witch Trials,' landing spots on Spotify's New Noise, Riffs and Hard Rock playlists.
Since War is One, Bad Moon Born have toured locally and internationally supporting the likes of Atreyu, Buckcherry, Hardcore Superstar, Skid Row and Pop Evil and both EPs have been streamed over 400,00 times on Spotify.
After bringing on new vocalist, Jordan Von Grae earlier this year, Bad Moon Born continue to move towards their heavy modern rock sound with new EP to be released early 2021.
'Bad Guy,' (Billie Eilish Cover) is out now on all streaming services.