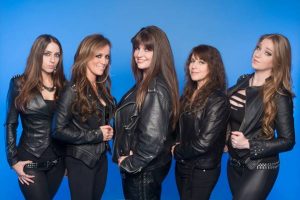 In light of the Australian Government COVID-19 directives, including the compulsory 14 day quarantine of all international travellers, and the closing of all live venues, together with the uncertainty of the time frames surrounding these directives, we have decided to postpone the The Iron Maidens tour scheduled for April..
More importantly, we are also mindful of the safety and well-being of ticket holders, artists, our staff and venue staff.
We encourage ticket holders to retain their existing tickets as these dates will be honoured for rescheduled shows. This will go far to assist a sector which is facing a significant recession. If you cannot attend the new dates, please seek a refund from your point of purchase.
Both Silverback Touring, The Iron Maidens, thank you for your support and understanding during these unprecedented times. Stay safe and look after each other.
All tickets for the new dates are available for purchase at https://silverbacktouring.com.au/iron-maidens-2020/
Please note: due to scheduling, the Canberra show is cancelled. Refunds may be obtained from the point of purchase. The Adelaide show will now be held at Lion Arts Factory. All tickets purchased for The Gov remain valid for this venue.
#KeepYourTicket
Silverback Touring would like to welcome back THE IRON MAIDENS to Australia in September and October 2020!
THE IRON MAIDENS are the world's best (and only all-female) IRON MAIDEN tribute act and have proven this for a solid 19 years gaining international recognition as well as approval from Iron Maiden legends, Steve Harris and Bruce Dickinson.
Following a sell-out debut Australian tour in 2018, the Maidens are back to satisfy Australia's craving of all things Maiden with their intense and electrifying live show which has received rave reviews the world over.
"This is not just a novelty band – these girls are technically excellent musicians and that is on full display here." – The Rockpit
The band, consisting of:
Kirsten "Bruce Chickinson" Rosenberg (vocals), Linda "NikkiMcBURRain" McDonald (drums), Courtney "Adriana Smith" Cox, Nikki "Davina Murray" Stringfield on guitars, and Wanda "Steph Harris" Ortiz (bass) has built a reputation for their musical prowess and stellar performances which covers all eras of Maiden as well as fan favourites. Like any classic Maiden show, the theatrics are not held back and fans can expect appearances from characters including Maiden mascot, Eddie, the Devil, Grimreaper and more.
This is a show not to be missed by any Maiden fan or fan of the genre.
"Casual and hardcore fans as a whole will love The Iron Maidens. No doubt it is the premier alternative Iron Maiden experience." – SYN FM
THE IRON MAIDENS September and October 2020 Australian Tour Dates:
Friday 25th September – SYDNEY – Manning Bar
Saturday 26th September – NEWCASTLE – Cambridge Hotel
Tuesday 29th September – ADELAIDE Lion Arts
Wednesday 30th September – PERTH Amplifier
Thursday 1st October – MELBOURNE Max Watts
Friday 2nd October – BRISBANE – The Zoo
TICKETS ON SALE NOW FROM: https://silverbacktouring.com.au/iron-maidens-2020/