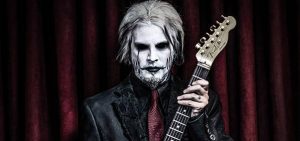 In light of the Australian Government COVID-19 directives, including the compulsory 14 day quarantine of all international travellers, the restriction on gatherings of over 500 people, together with the uncertainty of the time frames surrounding these directives, we have decided to postpone the John 5 and Jared James Nichols Australian tour, scheduled for April.
More importantly, we are also mindful of the safety and well-being of ticket holders, artists, our staff and venue staff.
We encourage ticket holders to retain their existing tickets as these dates will be honoured for rescheduled shows. This will go far to assist a sector which is facing a significant recession. If you cannot attend the new dates, please seek a refund from your point of purchase.
Both Silverback Touring, John 5 and Jared James Nichols thank you for your support and understanding during these unprecedented times. Stay safe and look after each other.
All tickets for the new dates are available for purchase at https://silverbacktouring.com.au/john5-2019/
JOHN 5 is one of the most influential guitarists of our generation. Best known for his time in Marilyn Manson and as the current guitarist for Rob Zombie, JOHN 5 has been a guitar player for some of the biggest headlining rock bands in the world as well as playing session with Paul Stanley, Rod Stewart, Lynyrd Skynyrd and more. Now JOHN 5 is heading to Australia, for his first ever solo shows here, to shred our nation to pieces thanks to Silverback Touring. Accompanying him is American blues-rock guitarist and singer JARED JAMES NICHOLS who is rated as one of the hottest players on the scene, also making his debut appearance in Australia.
JOHN 5 is undoubtably one of the most dominant shredders on the planet. His impressive resume of working with frontmen such as Manson, Zombie, as well as, Rob Halford and Dave Lee Roth, shows his impressive skills have not gone unnoticed, but it doesn't do him justice to label JOHN 5 as a shredder – he's a guitarist, a great guitarist – and there's little he can't put his hand to.
How does one define JOHN 5? Is he rock? Is it country? Is he heavy metal? What about emo, industrial or bluegrass? Truth is there is no one set genre to fit JOHN 5. In a world where music must be defined, JOHN 5 breaks every mould by continually changing and adapting his style. Although he is unmistakably JOHN 5 in his sound, he mixes around with the foundation with every new track he writes, every album he guests on and every time he picks up the guitar. His versatility can be heard on his brand new album "Invasion" which was released on 31 July.
You can't teach the blues. It's not something that can be codified in music books or learned on YouTube. It goes much deeper than that and it comes from the inside. It's about the way the guitar strings are bent and the sound gets transmuted directly from a player's soul. It's simple at the end of the day. Either you've got it, or you don't. JARED JAMES NICHOLS has definitely got it. The Wisconsin-born, Los Angeles-based singer, writer and guitarist's channels blues grit and gusto through bombastic arena-size rock 'n' roll. It's raw, raucous and righteously real.
JARED JAMES NICHOLS is best known for his high-energy performances and 'pick-less' electric guitar playing technique. He is rarely seen without playing his "signature" single-pickup Gibson Les Paul Custom P90 nick-named Old Glory. He fronts a power trio under his name, rooted in the early 1970s hard-rock vein of Cream and Mountain.
Get set for a night of pure guitar driven ecstasy where shred meets the blues and plenty of technical genius on display.
John 5 and The Creatures September 2020 Tour Dates:
Thursday 10th September – MELBOURNE, The Prince
Friday 11th September – SYDNEY, The Manning Bar
Saturday 12th September – BRISBANE, The Zoo
Tickets:
On Sale Now From: https://silverbacktouring.com.au/john5-2019/