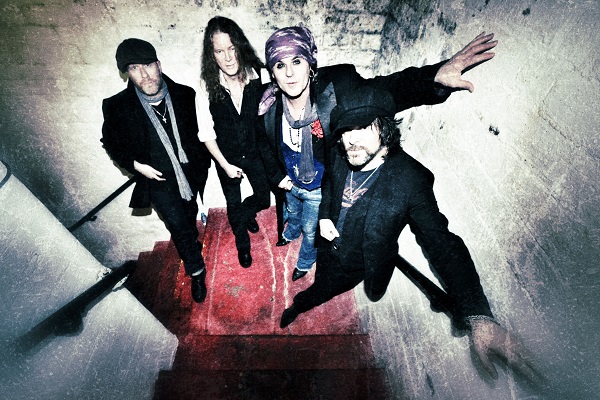 "That's one of the great beauties of this band, it's not some strict regime and the audience are very involved."
From Release: Quireboys have been at the forefront of rock music for nearly four decades. Following the band's inception in London in 1984 – originally as The Choirboys, then The Queerboys, before settling on the less controversial name of The Quireboys – there followed 6 years of hard graft and personnel changes before the inevitable happened – a UK number 2 album. Spike and Guy have been the backbone of this quintessential British rock'n'roll band ever since. Quireboys are enjoying a revival – selling out venues around the world including their headline show at London Forum in 2018, also taking in The Monsters of Rock Cruise, Hard Rock Hell, Sweden Rock and Wacken Festivals. They recently released their 12th studio album 'Amazing Disgrace'.
At home in London, we gave Paul a call to talk about Quireboys upcoming first ever tour of Australia, making music, changes, a brilliant Bon Scott story, and more…
Thanks for your time, Paul, now of course this will be your first trip to Australia, so when coming to a country for the first time, what's the process like putting a set list together?
Well you know we've been talking about this and obviously we've got a lot of albums but when you go to a new territory in reality the first album is the most well known album. So we don't all agree on anything *laughs* but that's bands, we're all great friends, but it would be silly not to be top heavy with the first album and have seven or eight songs in there from the last ten albums etc. The thing is, we know all the songs so if on the first night people are shouting for something else we can do it. Obviously we know England and Europe inside out and then they're quite fun because someone will shout something out and we'll say "do you remember that one?" "kind of… OK let's do it." That's one of the great beauties of this band, it's not some strict regime and the audience are very involved.
What if anything have you heard about Australian rock crowds?
There's a friend of mine, Cliff The Riff and he's in a band called Tank and he's just been over there, well I speak to Cliff all the time and I said come on, tell me stuff and include stuff about customs with guitars, you know the boring stuff, but I've done my research. I guess it's going to be like a 50/50 of intrigued Australian and ex-pats. It's the same when Jimmy Barnes comes to England, it's 80% ex Australians and people that have fallen in love with him over the years with his music, but that's to be expected. As long as there's people there. As long as there's a good blend of people that love rock and roll, we've got to come and deliver and it's so mind blowing for us as a band and me personally. I'm one of these people who doesn't like to tempt fate, if I think too hard about it it won't happen, but deep down I thought one day we'd get to Australia and it's been talked about for many years, we've done Japan, South America, America, you name it but it's the last uncharted territory for us. You know what's lovely, we've been here 35 years we're just seeing the excitement and we're chatting about it in the dressing rooms before shows and everything because it's such a momentous thing for us to actually achieve the fact we're coming.
I believe you have quite a connection to Australia, what's your best story about your love of Australia you can share with us?
Are we talking Bon Scott? Well listen, I get shivers thinking about it, I learned so much from that fella. I mean we're talking about 1978 / 79 and there was a legendary rock club in England called Newcastle Mayfair and I'm from Newcastle in the north of England, and I used to go to college about a mile north of the Mayfair, so in my lunch hour AC/DC were playing that night so I went down in my boiler suit because I'd been welding and all that stuff, just hanging around, just trying to meet them all. They all pulled up in these Range Rovers and Bon got out and he went, and I'll never forget it, he went "How long you been standin' 'ere?" I said "For hours" he says "why?" I said "I just wanted to meet you cause since I heard AC/DC I know now 100% what I want to do with my life" and he went "You deserve a drink." He took me into the venue and all the crew are setting the gear up and he stood in the middle of the dance floor and said "Everybody, this is Paul and he's with Bon, no one messes with him." I was a scrawny teenage and it was just so amazing and he was so, so lovely. Then he took me in the dressing room and we had a beer and he says "Listen I've got stuff to do, do you want to stick around?" but I felt like I've been sort of out of my depth, I said "No, but I'll be at the show later" and of course it was amazing. Then in 1980 when the bus came I was stood there again and he went "Paul!" and I couldn't believe it, "Come for another beer?" and he was just the most fabulous man, and that memory will never leave me because how he treated me as this young scrawny fan I've lived my life like that.
Quireboys have been pumping out music pretty constantly over the last twelve years, what's the process like in making music with these guys?
Do you know what? I personally think and this isn't an arrogant thing that would scare most bands because our manager I mean he's ruthless in a great way, each year he says "right, lads, the studio is booked" "we've got no songs" "well write some" and you know what? It's worked every time. We spend 80% of our lives on the road and as much as you think to yourself well I'll work on this and that you never get any time and the down time you just want to catch some sleep. It's fabulous because what happens is like the latest album "Amazing Disgrace" we recorded it at Rockfield you know where Queen did 'Bohemian Rhapsody' and it was just magic for us, we arrive on the first day and Guy he has this garage band, I have mine and we'll spend the first few days we'll sit and have dinner and a few drinks and play our ideas, and literally it's like that's great, change this, change that, boom in the studio and off we go. There's no pre-production there's no rehearsals, nothing.
Obviously line-up changes can bring a different dynamic to a band, do you find this has been a help in the way this band continues having different people come in and through?
Well I don't know if it's a help but the reality is that when you've had a band that's been going for thirty five years, it doesn't matter if it's the Quireboys or KISS or anybody, the reality of life is people retire, people pass away, people aren't well enough, if the golden rule was it's only original members only I don't think there'd be a rock scene. It's interesting, see to me I'm obsessed with drums even though I'm a guitar player and how the whole thing changes with a change of drummer, but we've got such telepathy in this band it just takes one gig to morph into the situation of the new drummer. Honestly,. Playing with Guy, and Gary, and Spike, and Keith it's the same as having this conversation with you, it's just so natural to me. On the tour that's coming up, America and Australia we've got Bam who was in Dogs D'Amour and Wildhearts and everybody's known everybody for thirty years, so he's playing the drums for us over the next two months. Don't forget, myself, Spike, Guy, and Keith, we've all been in this band but obviously Spike and Guy before, but the four of us we're all twenty years in even though people think you're the new boys it's like Ronnie Wood *laughs*.
Over time it can be easy to say what can change but what is the one thing that's stayed the same for you over your time making music?
What's never changed for me is the absolute joy of it, and the funny thing is I've been in so many situations where I've been asked to do something and it's something I don't really want to do and from that situation always something good has come, like the synchronicity. My favourite thing in the whole world and I do go off track like I'm sorry but, but the chair I'm sitting in right now for instance when I wrote 'Beautiful Curse' I wrote it in this chair and then a few months later you stand on a stage in San Paolo and people are singing the words and it's just still brings you so to Earth thinking I'm just from this town in the north of England and here I am, I just tried my best writing this song and all of a sudden people around the world know it, and, I'd love to ask each one of them what they think it's about. What hasn't changed in my life as I get to this age is the camaraderie between people who were all vying for the same spot thirty years ago and everybody's kind of done alright, some haven't, but the friendship is just amazing. It's like a friend of mine plays with Holy Holy, Tony Visconti's thing and we talk all the time and just different times and different places, it's just brilliant. It's a community.
Other side of that, what would you like to do with this band that you haven't yet had the chance to do?
I think you may have stumped me here… can I be honest right… it's not so much what I would like to do with the band, it's where I would like to record, it's like we did a couple of albums with Chris Tsangarides who did Gary Moore 'Parisienne Walkways' did Thin Lizzy 'Black Rose', all these things are like boxes ticked for me working with these people and it keeps you on your toes. I remember the first day rerecording with Chris and I was thinking he has recorded Gary Moore, he's gonna think I'm a ham fisted fool and throw me into the ocean but he didn't and we became superb friends, and then to go to Rockfield and record with the same piano Queen did songs on and that, and you just appreciate everything. What I really like to do is record at Muscle Shoals that's again my wife laughs at me because I make lists *laughs* I thought if I don't make a list I won't remember, but Muscle Shoals is again another what I would like to do with this band and the legendary equipment and because where you are and what you're using does influence what you come out with. Another thing is I'm really hoping this trip to Australia is a success then it means hopefully we can do it once a year and work hard build up a new following in Australia.
Lastly let's look ahead to the future, finish this sentence for me, in 2020 Quireboys want to…
Have you got all night *laughs* obviously conquer Australia, go back to South America, revisit Japan, and come out with another killer album. You put me on the spot there, Troy *laughs*.
Catch Quireboys live in February 2020, with special guests Palace Of The King:
Tickets on sale now Thursday February 20 – The Gov, Adelaide
Tickets HERE
Friday February 21 – Factory Theatre, Sydney
Tickets HERE
Saturday February 22 – Prince Bandroom, Melbourne
Tickets HERE 
Sunday February 23 – The Triffid, Brisbane
Tickets HERE
Essential Information
From: England
Band members: Spike – vocals/ harmonica, Guy Griffin – Guitar, Keith Weir – Keyboards, Paul Guerin – Guitar
Website:  http://www.quireboys.com/
Latest Release: Amazing Disgrace