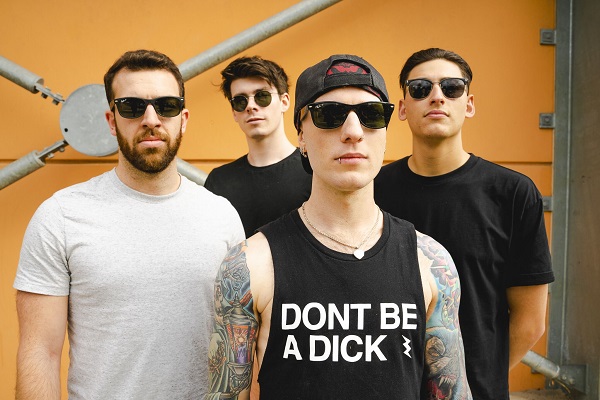 "Right now, we're just enjoying the process as well as being in each other's company. There's a good morale in the band at the moment."
From Press Kit: Molly and the Krells blend punk, rock and their personal stories into a scintillating sonic cocktail. The Sydney band have drawn comparisons from producers and fans to the likes of Weezer, Springsteen & Foo Fighters, caught in the endless pursuit of capturing the combination of a 'good song' and a 'hit song'.
We love a bit of power pop rock and a band like Molly & The Krells delivers nicely on a killer sound. We had the guys answer some questions for us and they are our newest Best Thing You've Never Heard…
Let's start with the basics; for those that aren't aware of you, can you please give us the abridged version of the Molly & The Krells story, and how you would best describe your music?
We come from Sydney, Australia and there's a bit of punk and a bit of rock intertwined with melody and angst.

Can you now please introduce each band member including yourself, and give us a rock 'n' roll fact or myth about each of you?
Blake is the singer and bass player. A random punter at a gig spilt his entire beer over Blake's pedalboard after stomping on it, once confronted he offered 80 cents to pay for the damages.

Ian plays guitar and provides backing vocals, after a show a drunk girl once yelled at him demanding him to suck her forehead. To this day, he's still confused as to whether is was a threat or an invitation.
Dan plays guitar and provides backing vocals as well! Our producer for What Went Wrong, Stevie Knight, described his playing style as having "cinderblock hands", with the rate he goes through strings, we feel like chumps for not having invested in Ernie Ball shares.
Chip is the drummer, he has synesthesia where he associates numbers with specific colours. He associates the number 6 with the colour orange – What Went Wrong was the 6th song that he's recorded and released with Molly & The Krells so we went with an 'orange' theme for the release.
You've just released your newest single 'What Went Wrong', instead of giving us a standard review, let's say if you had to give us your best door to door sales pitch to try and convince someone to listen to it before they slam the door in your face, what do you say to them?
This song is real, honest and leaves you with a few questions to reflect onto yourself once it fades to silence. Combine this with melody and a fresh sound, you've got all the ingredients for a song that will stand the test of time.
With your song writing, what do you consider to be the most important ingredients that make up one of your songs?
The chorus. I'm a sucker for a catchy chorus and think I try to apply that to everything I write – even to a fault at times. There's a time and place for it, for What Went Wrong, it was exactly the right time and place.
I also try to come from an angle of realness and directness. No cryptic metaphors or sci-fi themes, just real, honest and (hopefully) relatable content.
With an EP and few singles under your belt now, are there plans for more one the way or possibly even an album in the near future?
The album format is something of a fading tradition and we're not in a position to change that or even attempt to. We're planning a few more things for 2020, including some more music. Right now, we're just enjoying the process as well as being in each other's company. There's a good morale in the band at the moment.
So what bands did you grow up listening to and how did they help create the style of music that can now be heard throughout your music?
I grew up listening to a lot fo different things – but pretty much all rock orientated. My Dad showed me all the English greats of the 60's and 70's and Jack Bruce of Cream was the guy that sparked my interest in bass.
The first two albums I ever owned were Jet – Get Born and Green Day – American Idiot. I fell down the 80's glam rabbit hole when I joined my first band in high school at 12 years old and was down that hole for probably close to 10 years until I began to yearn for something more –  then bands like The Ramones & Social Distortion came calling. Along the way I was introduced to Butch Walker, I fell in love with his songwriting and whilst immersing myself in a Swedish punk rock band called Backyard Babies, the singer posted on Instagram about some guy called Frank Turner. I looked him up and he hit me like a ton of bricks (lyrically speaking).
At this point in time, Butch Walker and Frank Turner are my biggest musical inspirations whilst staying on the lookout for anything current that's flying the flag of rock, punk or just damn good songwriting.
In terms of touring, here's your chance to plug any upcoming shows, and for those that haven't seen you, how would you describe a typical live show of yours?
Molly & The Krells are currently on tour! We've just wrapped up the QLD leg with two awesome shows at Tomcat in Brisbane and Vinnies Dive on the Gold Coast.
Next up is Sydney on March 6th at The Chippo.
Followed by:
March 20th @ La La La's, Wollongong
March 21st @ The Area Hotel, Griffith
May 15th @ Old Bar, Melbourne
May 16th @ The Eastern, Ballarat
For a bit of fun, say you get the chance to open for any artist or band in the world, who would they be and why?
Personally, Frank Turner. Hands down.
But there are so many other great bands out there right now both locally and internationally that a) we'd suit to share a show with and b) we're big fans of!
So, any band in the world?
Green Day or Metallica because they'd be absolutely epic shows to be a part of.
If you were to cover one song that no one would expect that you'd cover what would it be and why?
The Interrupters showed me how cool a ska version of Billy Eilish's Bad Guy can be so the possibilities really are endless. We scratched that itch on the last EP but punking up the Joan Jett song Fake Friends. It sounds odd to say that like, how can you 'punk up' a Joan Jett song? – her version is swung and slowed, so in actually fact, you could say we just 'Me First And The Gimmie Gimmie'd' it.
Off the top of my head there are no absolutely killer left of field songs with lyrics that hit the nail on the head that I'd want to arrange for Molly & The Krells, but who knows, I might have an answer for you next time we do something like this.
Lastly, here's a chance to grab a magic lamp and from it you are granted three wishes.  They are:
1. To keep writing music I'm proud of and to carry myself with integrity until the day I die.
2. For KFC to a) be open for, and b) have a breakfast menu.
3. To find out what that girl meant when she asked Ian to suck her forehead.
Essential Information
Location: Sydney, Australia
Band members:  Blake Cateris – Vocals/Bass, Ian Knighton – Guitar/BV's, Dan Taylor – Guitar/BV's, Christian Scanu – Drums
Website:  www.facebook.com/mollyandthekrells
Instagram: @mollyandthekrells