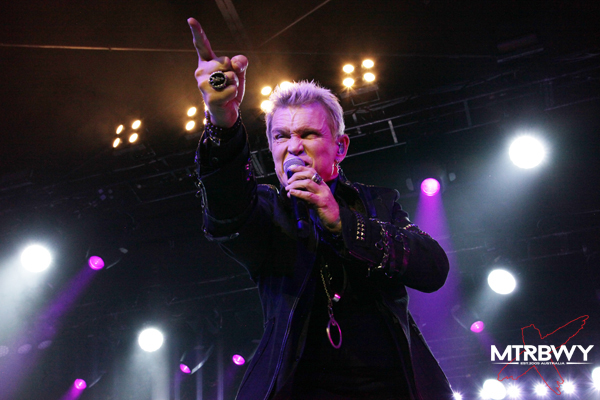 RIGHT!!! Let's do this.
Lights go down as the band walk on stage under red lighting and then as Steve Stevens walks on stage the crowd cheers and they kick into 'Cradle of Love' as Billy Idol bounds onto the stage and the place goes nuts. This takes me back and that's what I'm hoping tonight is all about, a fun night of nostalgia and tunes that were part of my upbringing. Without wasting any time the drums hit that all familiar beat before the guitar rings in 'Dancing With Myself' and with an 'oh oh oh' the place is happy and singing along. This is already so much fun. Huge huge cheers as the song ends and deserved so far. The place erupts as Billy removes his shirt and the slower 'Flesh for Fantasy' takes its place in the set. I'm tipping tonight is just going to be hit after hit and I am 100% OK with that. This is my first time seeing Billy Idol and so far I am impressed and loving out a dream of seeing the Cyber Punk live.
Pledging T-shirt sales to help with bushfire support is amazing. You go, Billy! Legend. Then throwing in one from his last album of a few years ago 'Can't Break Me Down' fits into the set nicely. 'Scream' rocks things up and after talking about his parents and the love of his last album and then playing 'Ghosts in My Guitar' for him that was pretty cool. As the band leave the stage apart from Stevens he leads the band into 'Eyes Without a Face' and allows him to shine throughout.
Stevens stays on stage and delivers a guitar solo on an acoustic covering all sorts of things which was different and amazing. The band returns to bring the tempo back up with 'Soul Standing By' then taking it way back to 1977 with the first Generation X single 'Your Generation' it gets very punk and rightfully so and with a "ready steady go" people are happy. Stevens is left on stage alone again before starting 'Blue Highway' and regardless of this song nothing else matters as Steve Stevens just played part of the Top Gun Anthem and I am done. I am happy. I'm going home. Thank you and goodnight.
OK I'm still here and Now with two words, those being 'Rebel Yell' we all want more more more. That was so good and hearing it live just cements how good a track that is. That is rock and roll epitomized. The band leave and only to return for an encore. Which consist of Billy and Steve on stage and on an acoustic the two of them belt out 'White Wedding' and as the band returns to rock this one up as it deserved to be the place goes wild.  The band once again leave the stage with only the drummer left to solo and intro the only song it could be and with a "yeah yeah get fucked" it's time for 'Mony Mony' and it straight up rocks. As Billy straps on a guitar he keeps the groove going and things chunk along nicely.
They end the show to rousing applause and well deserved applause. That was a huge dose of nostalgia and rock and roll. Billy still has it. All of it. That was a damn fun night and even though it was so hot in the city today, he didn't play it but had no need to as we felt it.
What a show!
Essential Information
Venue: The Hordern Pavilion
Date: February 1, 2020
Presented by: Frontier Touring
Photo By: Every Day Is Saturday
Website: http://www.billyidol.net 
Set List:
Cradle of love
Dancing with myself
Flesh for fantasy
Can't break me down
Scream (All night long)
Ghosts in my Guitar
Eyes without a face
Soul Standing By
Your Generation
Ready Steady Go
Blue Highway
Rebel Yell
White Wedding
Mony Mony