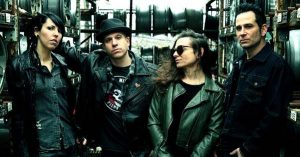 LIFE OF AGONY recently toured Europe with DOYLE (Misfits) and now they are bringing the evil one with them to Australia.
"We had so much fun touring Europe with Doyle we've decided to pair up in Australia too. To make our schedules line up we have to move the dates to May 20th – 23rd 2020. We are so excited about our first time in Australia and so happy to have our brother Doyle join us. All original tickets will be honored on the new dates. See you soon!" LIFE OF AGONY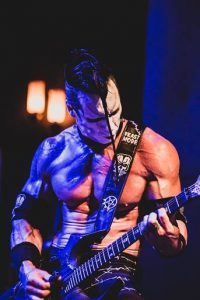 DOYLE is a key figure in the world renowned, blood-soaked form of music known as horror punk and part of the legendary MISFITS. He is poster child and originator of the genre, himself, has once again unleashed an evil noise on an unsuspecting world: Doyle Wolfgang Von Frankenstein and his eponymous band, DOYLE.
LIFE OF AGONY recently released their new album 'The Sound Of Scars' and it was received to stunning reviews from critics and fans alike. It has also made several top album polls for 2019.
LIFE OF AGONY emerged from the New York music scene in the early '90s with one of the most distinctive sounds in its genre. Now the band with a new album in toe 'The Sound Of Scars' head to Australia for a string of shows in May 2020 thanks to Silverback Touring.
Best known for its 1993 metal/crossover debut "River Runs Red" named by Rolling Stone as being one of the "100 Greatest Metal Albums of All Time" the band instantly built a die-hard, cult following attracting a wide fan base across the Metal and Hardcore Genres. For over two decades, the group toured relentlessly all over the world, sharing stages with the biggest names in rock, including Metallica, Black Sabbath, Ozzy Osbourne, Foo Fighters, and The Red Hot Chili Peppers. LOA went onto release two more studio albums 'Ugly' ('95) and 'Soul Searching Sun' ('97), before signing to major label Sony/Epic Records in 2005 to record 'Broken Valley'. In 2017, the group released the highly acclaimed 'A Place Where There's No More Pain'. LIFE OF AGONY has sold over one million albums to date.
LIFE OF AGONY's hard-hitting, emotional concept album 'The Sound of Scars', was released October 11th, 2019. 'The Sound of Scars' continues the haunting narrative from the band's groundbreaking 1993 debut 'River Runs Red'.
Check out their new track / video ''Black Heart'': HERE
"By far, this is the best Life of Agony record you've heard in years," explains guitarist Joey Z. "We really went back to our roots on this one and tapped into the mindset we had when we first started the band."
Get ready for a firebrand show that drips energy and one that will bring with it all the classic tracks that put LIFE OF AGONY on the world stage and a spattering of their latest material
LIFE OF AGONY and DOYLE May 2020 Tour Dates
Wednesday 20th May – SYDNEY, Crowbar
Friday 22nd May – BRISBANE, Crowbar
Saturday 23rd May –  MELBOURNE, Northcote Social Club
Tickets on sale now from: https://silverbacktouring.com.au/life-of-agony-2020/
'' Mina Caputo to weave her devious, heartfelt, soul stirring melodies. How someone so utterly captivating isn't one of the biggest stars on the planet is an absolute mystery; taking your eyes off of her is almost impossible throughout and her voice remains a thing of wonder.'' – Louder Sound
''The crowd was fired up as Life Of Agony stepped on stage as the band ripped into the set. What makes Life Of Agony unique is their fusion of heavy metal and punk that breeds this undercurrent of aggression that builds until it boils over and has the crowd moshing.'' – Go Venue Magazine
''She was a charismatic presence, tightroping across the stage monitors and expressively guiding the band's stage show, slinging water bottles into the sweaty pit of shirtless thrashers.'' – Consequence of Sound
''When Life Of Agony takes the stage they instantly catapult the room back to 1993 by launching into 'River Runs Red'. Caputo extends and changes vocal passages through each track, showing her ability as a vocalist with excellent diction and spine chilling range.'' – Punktastic