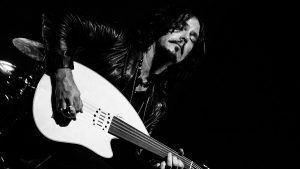 Jeff Martin (The Tea Party) will step out on his 27 date Australian tour to celebrate the release of "Set in Stone" – kicking off in March, Jeff (and special guest Nathan Cavaleri) will be taking in some of his favourite live music rooms across the land, and creating some new stomping grounds along the way.
Promising to be a whole new live experience, the tour will feature songs from Jeff's upcoming solo release, including single "Set in Stone", as well as crowd favourites for good measure.
"Set in Stone" is a "deep, dark and dirty" blues jam that borders on a "religious experience" featuring some extraordinary musicians, including drummer/percussionist Terepai Richmond (D.I.G, John Butler Trio), vocalist Lisa Hunt, and Jamie Ashforth on harmonica, and of course, Martin's powerful vocals and multi-instrument prowess.
"When I first picked up the guitar at 7yrs old, even at that young age, I was drawn to the blues. My father always had blues music playing in the house, artists such as Robert Johnson, Leadbelly, Howling Wolf, just to name a few.  When I started writing Set In Stone last year I found myself revisiting some of my earliest blues influences. The song just opened up Pandora's box, as if I'd written this song years ago, and suddenly I could hear every detail of every instrument and every melody. There's no denying, of course, my great love and resounding influence of Led Zeppelin will always find its way in to songs like this.
The story behind the lyrics of Set In Stone is about the eternal battle between the light and dark side of our psyche. It's that battle that continues to fuel my poetic fire.  To understand and respect both sides, for me, makes me feel complete as an artist.
To be able to tour and play my new music is going to be a powerful experience that I look forward to sharing with the audience. We will all go on this journey together". Jeff Martin
"Set in Stone" is available as free download now via www.jeffmartinofficial.com
THE MUSIC PRESENTS:
JEFF MARTIN SET IN STONE AUSTRALIAN TOUR
Special guest Nathan Cavaleri
Thursday 26 March – Dainton Brewery, Carrum Downs*
http://bit.ly/SetInStoneDaintonBrewery
Friday 27 March – Spotted Mallard, Brunswick*
http://bit.ly/SetInStoneSpottedMallard
Saturday 28 March – Jive, Adelaide
Thursday 2 April – The Lansdowne, Sydney
http://bit.ly/SetInStoneTheLansdowne
Friday 3 April – Narrabeen RSL, Narrabeen
http://bit.ly/SetInStoneNarrabeenRSL
Saturday 4 April – Heritage Hotel, Bulli
http://bit.ly/SetInStoneHeritageHotel
Friday 17 April – Baroque Bar, Katoomba
http://bit.ly/SetInStoneBaroqueBar
Saturday 18 April – Milton Theatre, Milton
http://bit.ly/SetInStoneMiltonTheatre
Sunday 19 April – The Basement, Canberra
http://bit.ly/SetInStoneTheBasement
Friday 24 April – Long Jetty Hotel, Central Coast
http://bit.ly/SetInStoneLongJettyHotel
Saturday 25 April – Lizottes, Newcastle
http://bit.ly/SetInStoneLizottes
Sunday 26 April – Bellingen Brewery, Bellingen
http://bit.ly/SetInStoneBellingenBrewery
Thursday 30 April – Workers, Geelong
http://bit.ly/SetInStoneWorkers
Friday 1 May – Sooki Lounge, Belgrave
http://bit.ly/SetInStoneSookiLounge
Saturday 2 May – Memo Music Hall, St Kilda
http://bit.ly/SetInStoneMemoMusicHall
Thursday 7 May – Railway Club, Darwin*
http://bit.ly/SetInStoneRailwayClub
Friday 8 May – Tank Arts Centre, Cairns*
http://bit.ly/SetInStoneTanksArtsCentre
Saturday 9 May – Empire Live, Townsville*
http://bit.ly/SetInStoneEmpireLive
Thursday 14 May – Kingscliff Hotel, Kingscliff
http://bit.ly/SetInStoneKingscliffHotel
Friday 15 May –Imperial Hotel, Eumundi
http://bit.ly/SetInStoneImperialHotel
Saturday 16 May – The Zoo, Brisbane
http://bit.ly/SetInStoneTheZoo
Thursday 21 May – The Rosemount, Perth*
http://bit.ly/SetInStoneTheRosemount
Friday 22 May – Mojos, Fremantle*
Saturday 23 May – The River, Margaret River*
http://bit.ly/SetInStoneTheRiver
Thursday 28 May – Bridge Hotel, Forth*
http://bit.ly/SetInStoneBridgeHotel
Friday 29 May – Royal Oak, Launceston*
Saturday 30 May – Republic Bar, Hobart*
http://bit.ly/SetInStoneRepublicBar
(* Nathan Cavaleri not appearing)
All tour details: www.jeffmartinofficial.com