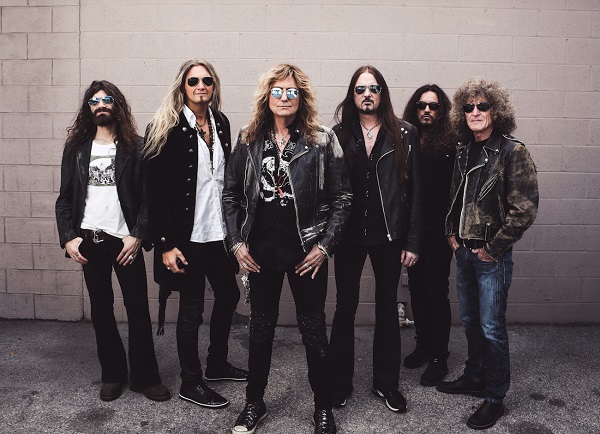 "It's one of the reasons I'm doing this at this time in my life, I'm still having more fun than I can with my clothes on."
From Release: Founded in 1978 by former Deep Purple singer David Coverdale, the band have earned multi-platinum albums including 'Trouble', 'Lovehunter', 'Ready And Willing' and 'Come An' Get It' through to the explosive hard rock of the revamped 'SNAKE sound with the multi-platinum 'Slide It In' and having just celebrated the 30th anniversary in 2017, the 1987 self-titled mega-million-selling smash-hit album, 'Whitesnake'.  From these albums came multiple top 10 hits worldwide, including two number one singles with "Here I Go Again" and "Is This Love" as well as the unforgettable hammer of "Still Of The Night" all leading to virtual 24-hour domination of MTV around the globe.
In his studio, David Coverdale gave us a call to talk about the return of Whitesnake to Australia, their latest album 'Flesh and Blood', changes, his time in the industry, and more…
Of course we're here because you're heading back to Australia after over ten long years, tell us what can people expect to see at a Whitesnake show in 2020?
Oh my god has it been ten years? About fucking time! You can expect balls to the wall, expect your ass to be kicked in the most positive way, and hopefully singing along with every song and have a sore throat at the end of the night. You've got a double whammy with Scorpions, we're very old friends the boys, Klaus, Matthias, Rudolf and I, we go back a long ways but we both have the same professional perspective which is to give you as much bang for your buck as we can, that we emotionally can, and it works very well. Two very supportive bands of each other, there's no BS going on, nobody's trying to outshine the other, it's a very palatable social scenario, and I've been blessed with not only amazing musicians who are terrific singers, but they get on great as a band, there's not the animosity like other chapters and other contemporaries of mine.
With a catalogue as vast as yours does it become hard to put a set list together coming back to a country after so long?
Well I share that responsibility with my guys because I want them to be happy and committed to the songs that we do, so it's pretty much at this time in my life you're going to get a best of Whitesnake, pretty much getting some of the 'Flesh and Blood' album, and what's amazing about that is that at this time in my career we released an album that has sold very well and the songs on there are sitting like a beautifully tailored suit and revitalises the older songs. So it's a win win situation for us. We're adding something new for 2020 because we've already started the Flesh and Blood world tour of course in 2019, but we're adding some stuff to keep it fresh for us but god willing there's going to be no disappointment there. There's no way I can play everything over an almost fifty year career that's for sure. There might be a sneaky old Deep Purple song thrown in thee, who knows? I like surprises and I try to encourage people who follow me on social media to keep the set list themselves so the next night the audience don't know what's coming, so we try to make it as much as a surprise as possible. It's one of the reasons I'm doing this at this time in my life, I'm still having more fun than I can with my clothes on.
With your newest album 'Flesh and Blood' out now, you've made one hell of a rock album, how has your approach to song writing changed if at all over the years?
Well this particular one was fueled by synthetic opiates because I was recovering from having both knees replaced and part of the plan wasn't to do a whole new fresh album for gods sake but I'm always writing, Troy, so I have bits and pieces all over the place and considering Reb Beach is the longest surviving member of Whitesnake we've never really sat down to write, he's co-produced stuff with me but we've never really sat down to write, and it goes to say with Joel after I made my album in 2011, sitting down and bouncing ideas off both Reb and Joel was hugely inspirational not only for them but for our colleagues, I mean you can hear it from the drums, Tommy comes in gangbusters playing like a twenty five year old punk with serious chops, and the rhythm section with Devin on bass it's so solid and powerful it's great foundations for the rest of us to launch from. So these songs, the new songs from Flesh and Blood, the album itself is doing amazingly well, but we've played four from it and the crowd is singing as comfortably as they do with 'Here I Go Again' or 'Is This Love', it was amazing, it's really connected deeply with the Whitesnake fans and that's a thrill for me as you can imagine for what will very likely be the twilight of my touring, really.
Whitesnake for me have always been like an ever-changing supergroup with some of the best players ever to pick up an instrument being in the band over the years. As the one constant the entire life of the band is there a different process for you as new players come along to work with the band?
I look at musicians, it's fascinating, Troy, I've never really met an audition before, there's always somebody submitting, some well-known people too, submitting their CV's, and if you're ever looking for someone, and so really whenever we're going to choose somebody there's already on file these amazing musicians. My criteria is who can help me take Whitesnake another step or two up the ladder? Who's gonna kick my ass? Who's gonna inspire me? Motivate me? Those are the kind of things I look for, and I'm really blessed with this. The band not only connects fantastically as musicians to make an extraordinarily solid band as you will see and hear, but socially we get on great, we're all friends, we have a group text thread that every day somebody is sending something funny or celebrating one of their kids birthdays or whatever, it's a very happy scenario. I'm not somebody who embraces dramas and soap operas or conflict if I'm honest, I like it to run and purr like a Rolls Royce engine *laughs* and it does with a Ferrari thrown in.
Over time it can be very easy to say what can change, but what would you say is the one thing that's stayed the same about Whitesnake (besides you)?
It's the same elements, it's the elements I've always wanted to do which is rock, blues, rhythm and blues like soul music, I'm hugely inspired by Motown in the 60's, the fact that they have these big big powerful voices it's so inspiring and motivating to me to try to recreate that style of singing. Because we only had a few in my own country, we had Stevie Marriott, Rod Stewart, singing with a gritty voice, Joe Cocker of course, so those guys helped open the door for me and getting my ass kicked in local working men clubs to sounding like an African American, it was embraced and I could pursue the way I wished to express myself as a vocalist. There's a lot of stuff I can't do obviously as a three score and eight year old guy, stuff that I did in my thirties, so really this 'Flesh and Blood' album I specifically wrote that it wasn't going to be too challenging for me to perform live, I think that worked out beautifully for me. It's the inspiration to write songs, it's the same stuff, hard rock, rhythm and blues, great riffs, it's all of the elements that Hendrix had. Are you old enough to remember The Allman Brothers? The Allman Brothers was a big inspiration to me, they harnessed Muddy Waters songs and turned them into mini epics with two guitar harmonies, very orchestral, very symphonic. That was very much of the product of Whitesnake, and I've maintained those elements because that's really what I like.
Being in the business now for forty five or so years spanning now six decades and over your time as a musician you would've seen changes in trends, technology, and more. What for you has been the most pivotal moment you've seen happen in music over that time?
Oh by the major record companies promoting Napster it was the most foolish thing and shoot yourself in the foot I've ever seen. They promoted Napster to the point where it completely gutted the industry and we still seem to be reeling from that. Paul Stanley from KISS and I are friends and we were saying thank god we made our big success when people were not only buying vinyl and cassettes, but CD's were introduced and suddenly we sold the same amount of records all over again. It was astonishing, and thankfully I'm still one of the few acts that still sells physical records. As you say, I've played to three or four generations of people in my audience, it's pretty amazing. But technology for instance, I'm in my studio which is all digital, pro tools, high definition and that's the way I've been recording for years, so instead pf having gigantic old recording machines, analogue, which is beautiful and serves a purpose, this is so practical, so convenient for me I have a home office and studio where I've done the last five projects I think. It's a huge advance in technology which when used in impossible ways is extraordinary. I've got millions of people who promote Whitesnake just because they love the band through their facebook, through their Twitter, through their Instagram, you know whereas normally you have to do some slavery deal through the record company in order to pay for promotion. The stuff now, I'm sitting promoting various people every morning when I tweet a cartoon, or a bit of philosophy, or tell them it's my meditation time and see you in an hour. It's an incredible thing to embrace, like my son I don't think has ever bought a physical CD, he was born in an age when it was iTunes so he just downloads from iTunes onto his iPhone and it's just the natural way of things it's amazing. I still work, I'm still working with amazing record company people who are not just business people, they have a love. That was a big transition for me, anybody I worked with when I was in Deep Purple at EMI and Warner Brothers they were all musicians they knew what the artist was trying to do, then in the 80's and early 90's they became such a corporate scenario they were hiring guys and gals straight out of business school who has no street, no finger on the pulse, that contributed to the spiral for a lot of people and I have to say with Whitesnake now into the second year of touring our Flesh and Blood album it's not that we're asking to go out there, people are inviting us out, it's happening so we're kind of recession proof *laughs* oddly enough.
Lastly let's look ahead to the future, finish this sentence for me, in 2020 Whitesnake want to…
Australia, New Zealand, Singapore, Jakarta, Japan, Europe, UK, and the United States of America, all the way from February all the way through to August. I'll take a bunch of breaks within that time. Sammy Hagar and I are very dear friends but Sammy and I go back to 1974, 75 I think it was he was in a band called Montrose, we had him open for Deep Purple for a couple of shows and that's where I got to meet the drummer who I would ultimately work with years later, Denny Carmassi who was also in Heart. Sammy and I have been talking about trying to get a 'Sam and Dave' tour together *laughs* for a while and we're going to do it this year, so that's really exciting. He has a slight advantage on me in terms of years so we're looking at it in a respectful way of who we are and what we do and not put our bodies through too much stress at this time in our lives. It's the travelling that kicks our ass.
Well you're about to do that on that long flight to come and see us…
Oh I've been there and done that thankfully and I'm very grateful for the invitation and the opportunity to come back. I don't know this is possibly the twilight time for me so I'm really very happy that I'm getting visit some parts of the world, before I send my rock and roll shoes to the Smithsonian. *laughs*
SCORPIONS AND WHITESNAKE
Australian Tour 2020
ROD LAVER ARENA, MELBOURNE
WEDNESDAY FEBRUARY 19
QUDOS BANK ARENA, SYDNEY
SATURDAY FEBRUARY 22
BRISBANE ENTERTAINMENT CENTRE
MONDAY FEBRUARY 24
For complete tour and ticket information, visit www.livenation.com.au
For your chance to WIN a double pass to see this amazing tour in one of the above cities, CLICK HERE
Essential Information
From: England
Band members: David Coverdale – lead vocals, Reb Beach – guitars, Michael Devin – bass, harmonica, Tommy Aldridge – drums, Joel Hoekstra – guitars, Michele Luppi – keyboards
Website:  http://www.whitesnake.com/
Latest Release: Flesh and Blood (Frontiers Records)